There's nothing funky about being in a funk. You know those days when you'd rather endure a hot chilli enema than stare at that blinking cursor and blank page for one second longer? Those days can stretch on into weeks. Those weeks can turn into months. And those months can turn into a brain aneurysm.
But it doesn't have to be like that. There are countless ways to break out of a writing funk and get your literary mojo back. Here are ten of my favourites….
1. Get some new toys
Remember Toys"R"Us?
Remember how excited you used to get when your parents took you there?
Remember how you used to throw up in the car during the drive over because you just couldn't wait? 
Remember how your parents said you could just get one toy and you responded by screaming and crying and throwing yourself on the floor and pretending you were molested until they bought you a whole bag full of goodies?
Those were the days.
If you're in a writing slump, one of the best ways to access your motivation, creativity, and energy is to unleash your inner spoiled brat.
Treat yourself to something that will reinvigorate you and put you back in touch with your love of writing.
Bodybuilders treat themselves to high quality headphones, tasty new protein supplements, and foam rollers.

Sexperts treat themselves to vibrating bullets, fluffy handcuffs, and regular chlamydia checkups. 

Chefs treat themselves to knives and cookbooks and new exotic ingredients.
Take a lesson from all the bodybuilders, sexperts, and chefs and buy yourself some new toys that will support your craft.
Recommended writing "toys":
Final Draft 10 – I recently experimented with this screenwriting software after taking Aaron Sorkin's Masterclass. It made writing such a joy that I didn't even know where the time went. I wrote 18 pages of a 1-hour TV drama and stayed up past midnight to do so (very out of the ordinary for me). Check it out. They have a free trial.
Scrivener – If you haven't made the conversion from Word to Scrivener yet, I HIGHLY recommend you make this your next writing "toy". Although to call it a toy is doing this powerful software a massive injustice. Simply put, this is the best writing software for novelists. It's intuitive, a joy to use, and feels like it was actually designed with writers in mind. Try their free trial and you'll fall in love.
New notebook – There's something about buying a beautiful new notebook that can crack even the most stubborn case of writers' block. Sometimes all you need to get out of a writing funk is to spend some time alone caressing a gorgeous notebook and filling its pages with ideas.
2. Learn something new about the craft of writing
Writers are naturally curious beings. We're like children really. Geeky, self-absorbed children. 
Deep writing funks are often the result of our curiosity not being indulged enough. We're bored. Forget that nonsense about curiosity being a cold-hearted cat killer. Curiosity is the life-blood of every great book ever written. Dickens, Shakespeare, and E. L. James all asked themselves, 'What if?' Then they followed the answer down the rabbit hole.
One of the best ways to stimulate your curiosity is to get a good schooling in your craft. I don't know about you but when I learn a new writing tip or "trick", I want to test it out immediately. Learning about writing is the springboard to actually writing.
I highly recommend Aaron Sorkin's Screenwriting Masterclass. You'll learn a ton about writing from the don who penned A Few Good Men, The West Wing, and The Social Network. 
I also recommend you grab a stack of Donald Maass books. They're all winners. You can't go wrong with any of them. I read one of Maass' books every 3 months this year and each time was like mainlining crack straight into my writing fingers.
Related reading:
3. Get motivated by surrounding yourself with writers
It's never been easier to surround yourself with likeminded people.
You don't even have to leave the house. There are tons of writing forums online (like the KBoards' Writers' Cafe and Absolute Write). You can talk to people on Quora. You can have a weekly mastermind/writing metope through the power of Skype or Google Hangouts. You can use Meetup to find other writers in your area and go grab a beer with them.
In addition to this, you can surround yourself with writers before your time or at the top of their game. You can watch Ray Bradbury, Toni Morrison, and Stephen King on YouTube. You can put a picture of Jack Kerouac, Alice Munro, and Arthur Rimbaud on your wall.
Remember: you are the sum of the 5 people you surround yourself with. So surround yourself with writers and you'll be a writer.
4. Write something different
I've been working on a fantasy romance trilogy for about a billion years. Actually it's been more like 6 months. But it feels incredibly long. 
That's a long time to just be writing about one topic in one style. Even if you do love the characters you're spending your time with.
So here are a few things I've done to break myself out of writing slumps along the way:
I started writing screenplays (mostly for potential TV shows but plays and movies too).

I wrote poems (this is very much a literary muscle that has atrophied).

I wrote articles (like the one you're reading now).
If you're in a slump, it's time to mix things up. Continue with your work-in-progress, but have a little foray into other literary territories on the side. It will show you that you still have blood pumping through those veins of yours.
5. Follow the Pulitzers & Pulp Diet
Don't wanna write?
I have a question for you:
How much do you read?
I have noticed that every single time I have hit a writing funk – every single time – I'm also not reading. My reading and writing habits are tightly correlated.
More reading = more writing.
If you find yourself struggling to writing, you need to examine your reading habits. Then make the conscious decision to read more. 
Read first thing in the morning after waking. Read right before your head hits the pillow at night. Read on the toilet. Read on your lunch break. Read during your commute. Read during sex. You get the picture. Read.
I have a very simple reading diet I wish to prescribe you. It's called the "Pulitzers & Pulp Diet". 
All you have to do is read equal parts high-brow literary stuff and equal parts trash. In short, read everything. Don't discriminate. Gobble up Man Booker Prize winners in the same day you inhale comic books. 
You'll find your head stuffed with so many ideas that you won't be able to stop yourself from rushing to the page.
Recommended reading:
6. Go on long solitary walks
Walking gets the blood flowing. It allows you time to decompress from the world. It gives you space away from the computer monitor glow. It also gives your thoughts time to develop.
I've had some of my greatest plot breakthroughs while taking an early morning or late night walk. Early morning and late at night are the best times for walking because you are more likely to be alone. I prefer this because when I walk I often act out scenes in my head and don't realise that I'm moving my hands and lips. I look like a crazy person. Okay, I am a crazy person.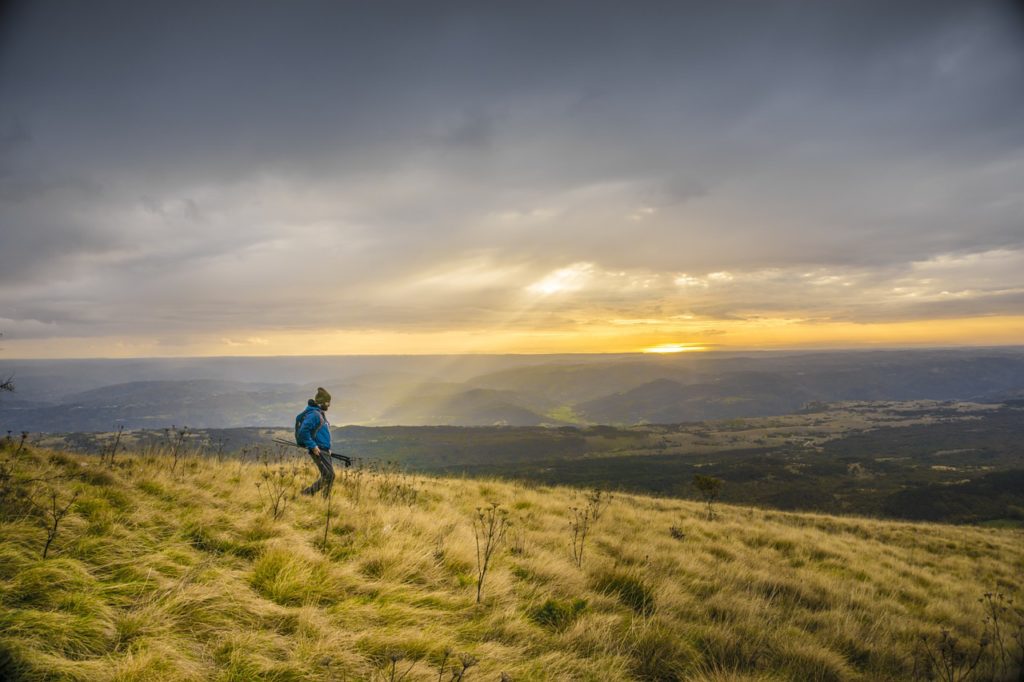 Silence is best. Leave your stupid smartphone at home. You don't need your Snapchat or Grindr blowing up while you're trying to have some YOU time and bust out of a writing funk.
If you really can't stand silence and solitude, the next best option is to download an audiobook. At least you'll learn more about the craft of storytelling while you're getting your exercise.
7. Talk about art/your work/your ambitions
A lot of writers say you should keep your mouth shut about your current work-in-progress until it's completed. There's this belief that if you talk about it, you'll kill it. Your mind will believe you've already finished it and you'll have difficulty actually finishing it.
Hemingway is just one of many writers that talked about making sure the creative well is always filling or full. When he set his pen down for the day, he refused to talk or think about his work. He wanted his subconscious mind to mull it over until he came back to the page the next day.
I kind of agree with this sentiment. BUT…. If you're already suffering from writers' block, there's no harm talking about what you want to write/what you're currently writing. If anything, it will be like CPR and will kick your ass back into action.
So next time you're sitting around the dinner table with friends or family, start boring them to death with everything related to your craft and your hopes for the future. You'll soon realise it's time to start making all that talk into something real.
8. Change your writing style
This is something I always try to do with every new work. Every new book, short story, article, whatever, is not just an exploration of story and character but a chance for me to challenge myself.
Stuck on sci-fi? Try romance.

Stuck on romance? Try horror.

Always writing ladies? Write fellas.

Used to writing dudes? Write gals. 

Used to writing in first person? Write in third.

Are you a plotter? Pants than mo-fo like it's going outta style.

Are you a pantser? Plot your next novel within an inch of its life.

Used to writing from one character's POV? Write from multiple POVs. Or write in an omniscient POV.
You get the picture. Constantly evolve. Constantly seek to test yourself. Experiment. Play. Live. Write.
9. Change your writing time and location
I've been travelling over this sorry mass of hatred, rubble, and self-pity we call the globe for over 3 years now. There's one thing I've learned about travelling and writing.
Travelling = inspiring.
But…. Constantly switching up your work station is a bad idea 90% of the time.
I know there are some writers that can work out of motel rooms and on park benches. Believe me, I'm not one of them. Most people aren't. I've written on planes, trains, and blood stained mattresses and it almost always negatively impacts my creativity and speed of writing.
However… Whenever I'm in a writing funk, switching up my location usually does wonders for me. Strange. 
You might also want to switch the time at which you write. I'm naturally an early morning writer. But whenever I hit a slump, I put a halt to my morning writing sessions and start writing before bed. Again, like magic, I'm able to produce.
You can also try switching different staples in you writing routine:
Always write with coffee? Try green tea. Or beer. 

Always write with a word processor? Try a typewriter. Or by hand.

Always work out after writing? Try working out before you sit down to write.
10. Stop being a pussy
No offence to kitty cats. My cat Sammy is a complete badass. Rumour has it that Hello Kitty cheated on her boyfriend (Daniel) when Sammy rode into town on a bike with a leather jacket.
But the fact remains: writers are big babies. 
When we hit a slump, we cry about the plight of writers' block and act like the world is crumbling down around us. We do everything we can to find tips and tricks and magic potions to rid ourselves of this horrible affliction. Everything except actually writing.
Even if you don't feel like writing…
Even if it pains you and you churn out nothing but crap…
When all else fails, you've just got to write. You've just got to put one word after the other until you finally break free from the funk.