If you read my review for week 3 of the Aaron Sorkin Masterclass, you'll know the class left me invigorated. It was the best week of a great course and I couldn't help speeding ahead. So I wolfed down the fourth week in two evenings. Here is my Aaron Sorkin Teaches Screenwriting Masterclass review for the midway point of the class.
This week we looked at writing scenes. This included:
The purpose of a scene

How to write comedy scenes

Rewarding audience patience 

Launching from one scene to the next

How to introduce characters into a scene

The American President character introduction scene analysis

How to lay the theme and grab the audience in the opening scene

Steve Jobs scene case study: intention, obstacles, tactics, and description
The West Wing scene case study: humanising characters and drawing from own perspective
One of my favourite parts of this week was analysing this scene from The West Wing:
h

Sorkin tore this scene to pieces and showed us how it worked on many different levels. It was a real treat and something that I have watched and studied repeatedly. It's one of many scenes I will return to again and again with Sorkin's notes to remind myself of how to structure a scene, reveal character, and craft dialogue.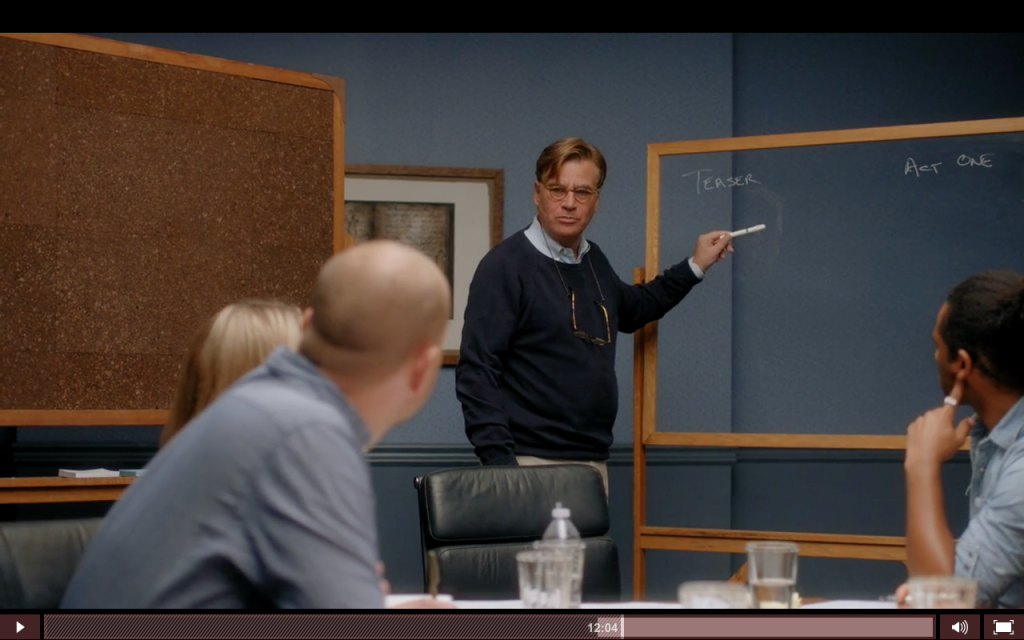 Another thing that really stood out about this part of the Masterclass was Sorkin's notes on dialogue.
Learning about dialogue was the main reason I took this course so I paid extra attention to what Sorkin had to say here. He did not disappoint. 
I don't want to give the course away but there is a lot to be said for thinking about dialogue as music. Studying musicals and operas in addition to playwrights like Mamet and Sorkin himself are key endeavours for any writer wishing to improve their dialogue.
"It's not just that dialogue sounds like music to me. It actually is music." – Aaron Sorkin
If I had one niggle with the course so far, it was the up-sell for Final Draft, a piece of screenwriting software. In one part of the class, Sorkin mentions how he now uses Final Draft (after much convincing) and then, a few days later I got an email from Masterclass saying they were partnered with Final Draft and offering 50% off. 
This isn't the worst up-sell. In fact, 50% off for the software is a great bargain (although I'm happy with Scrivener at the moment). But I felt I had to offer one criticism of the course because up until now my review has been glowing and I want it to be impartial. 
I personally wouldn't have minded the up-sell if Sorkin hadn't mentioned it in the class. If it had just been offered, I would have been more likely to buy it. But I understand I'm not the typical consumer.
That small thing aside, the course has been wonderful so far and I'm very sad that it will be ending soon. I will certainly go back over the classes and my notes. Of course, I still have A LOT of homework to do.
Like I said in my Masterclass review for week 3, let me know when you buy the course so we can set up our own little screenwriter's roundtable. It will help with some of the homework.
Now, onwards to week 5!
You can buy the Aaron Sorkin Teaches Screenwriting Masterclass here.
Read my other Aaron Sorkin reviews here: