I am writing this review with tears in my eyes and severe cramps in my thumbs and fingers. Tears because I have just one week left of the Aaron Sorkin Masterclass. Cramp because the class has been such as huge writing motivation that I have been relentlessly tapping away on my keyboard for a month straight. If you haven't already read my reviews for the first 4 weeks of the Aaron Sorkin Teaches Screenwriting Masterclass, you can do so here:
Now, it is with a heavy heart that I pen the penultimate Aaron Sorkin Screenwriting Masterclass review. Let's get into it!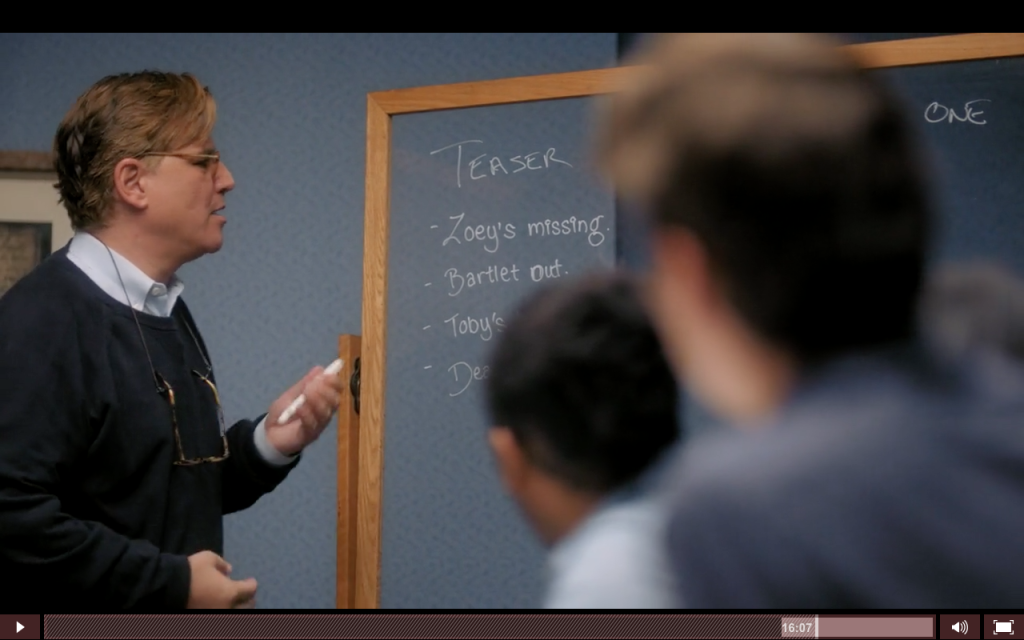 Week 5 of the Aaron Sorkin Masterclass was incredibly insightful. The main reason I signed up to Sorkin's Masterclass in the first place was to learn about dialogue. I wanted to improve the dialogue in my novels and I ended up getting a lot more out of the course than I could have anticipated. 
I got so much value out of the first month and week 5 was no different. This is just some of the stuff we focused on:
Dialogue as music

Writing captivating dialogue

How to read and ask for notes

Imitating real people (don't do it)

Rewrites, the first draft, and notes

Being physical when writing dialogue

Performing dialogue in order to test it

Dialogue case study of The West Wing

How to avoid stilted tv-sounding dialogue

Knowing what to get rid of and how to do it

Getting the right script editors and who to listen to
One of the most fantastic and liberating pieces of advice that Sorkin gives is that screenwriting is different from how people really talk. It mustn't strive to be an accurate replication of how real people talk but neither must it sound false or like "tv-talk". If anything, good writing is music. Sorkin goes real in-depth on this subject and it's an absolute joy to hear him talk about this.
As part of the homework for this week, along with churning out reams of my own dialogue, pacing my apartment and acting them out, I've also been devouring good dialogue and studying it to death. 
Here are a few of my favourites:
h

In addition to studying a ton of different dialogue scenes, I've also found renewed purpose to visit the theatre and watch opera. Sorkin gave me the great idea to pair opera studies with studying the dialogue of Mamet (e.g. Glengarry Glen Ross, Speed-the-Plow, American Buffalo). As Sorkin says, "David Mamet is a virtuoso at dialogue. A particular type of dialogue. There's no one better than David Mamet at writing a conversation between two people who don't know how to communicate with each other." His plays "always feel like allegros. Kind of sharp, violent duets playing off each other."
Now that the fourth week is completed, I'm going to pace myself with the fifth week. I've enjoyed the Masterclass so much and, like a good book, I don't want it to end. Of course, I will play back the course, revisit bits when I need them (e.g. the revising module will help in a couple of months), and I've still got a ton of homework.
On a related note, I've noticed that several people have signed up to the Masterclass after reading my reviews. I'm glad I managed to help a few of you make your decision. Let me know how you enjoy the course but also remember my offer about forming a writers' group. It's part of the homework a few weeks back and I still haven't done it yet.
If you haven't signed up yet, you can access the Aaron Sorkin Teaches Screenwriting Masterclass here.
Read my other Aaron Sorkin reviews here: