The Annie Leibovitz Teaches Photography MasterClass was a bit of a mixed bag. Don't get me wrong. I enjoyed this masterclass and I love Annie Leibovitz's body of work but I cannot say with any certainty whether I think you will enjoy it or not.
Each video module on the MasterClass platform has a comment section for students to add to the lesson and deepen the discussion (there's also a more involved Student Hub). I noticed that the closer I got to the end of this MasterClass (which is under 3 hours), the comments from some students changed from enthusiastic to disappointed and a small minority were even angry.
So let's get into this Annie Leibovitz MasterClass review. In the interests of full disclosure, I signed up as an affiliate for the company after falling in love with them but my opinion is entirely my own. If you enrol after clicking one of my links, I may get some change which goes towards the upkeep of this site.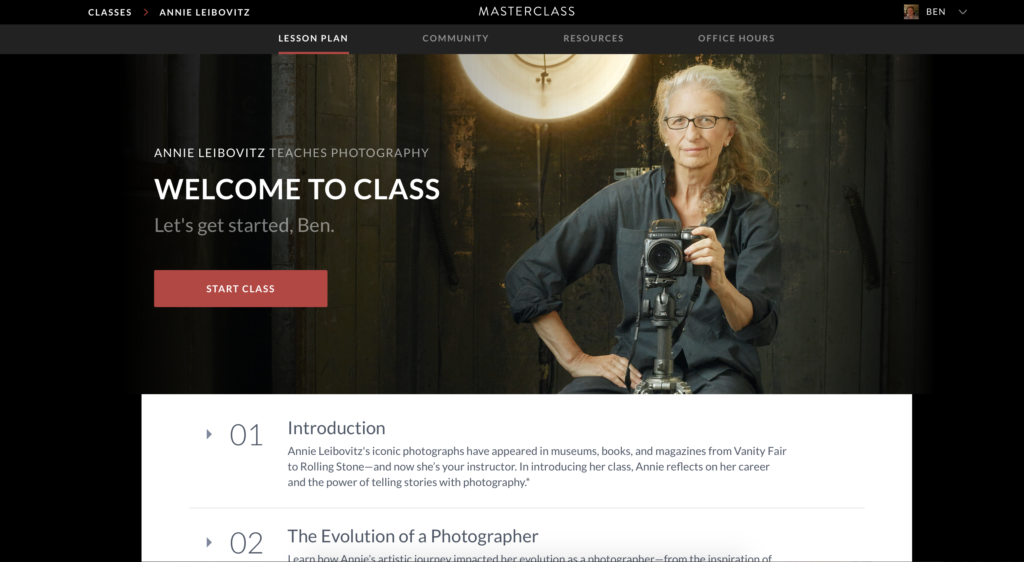 I've taken a lot of MasterClasses now and I've always seen students be unanimously impressed with the courses offered by the likes of James Patterson, Aaron Sorkin, and Werner Herzog.
But I've yet to see such a divisive split in opinions such as is here in the Annie Leibowitz MasterClass.
It seems like half of the students commenting

loved

this masterclass.
They got all their value for money and more and found the course to be fascinating.
Then the other half expressed disappointment.
Interestingly, many of the ones who were disappointed said they still enjoyed the course but they enjoyed it as a documentary/interview with Annie rather than "Annie Teaches Photography".
Their disappointment stems from what they feel was badly managed expectations. They expected something more in-depth, especially in regards to technique, than what they got.
I'm pretty sure they got their money back and I saw MasterClass doing a beautiful customer service job and reaching out to those dissatisfied – they're a fab company that clearly places utmost importance on customer satisfaction.
My personal opinion?
As a beginner photographer (I chose drama instead of photography and regret it) I found the course immensely entertaining and thoroughly motivating but I didn't learn much about technique.
I realised I was motivated but hadn't learnt anything concrete after I spent half an hour taking portrait shots of my wife. She actually modelled before and clearly knows how to pose. She also knew that I knew nothing about photography.
I smiled and snapped away but it became clear I'd need something more 'Photography 101' if I was actually going to take a half-decent picture. 
"What do you want me to do?" she said.
"I dunno," I said.
But here's the thing:
I am not the ideal target audience for this masterclass. And anyone expecting a course about the nuts and bolts of craft (something you can learn from a five dollar paperback or some free YouTube videos) is not the intended audience either.
You don't listen to a master of their craft and watch them doing their thing in order to learn about shutter speeds.
You go to a master because you want their hard-won insights from a long and rewarding career. 
You go to a master because you are already reasonably far along that path. Or at least you're far enough along that you don't need to ask "what lighting equipment do you recommend?" Annie herself says she won't give camera or lighting or editing recommendations because it's not about that. 
You can have what you think is the "best equipment" but it doesn't help if you can't see. – Annie Leibovitz 
Annie does discuss technique, from 35 mm to the gutter and zoom lenses and natural and strobe lights and all that, but the value here is listening to her rationale for photographing what she does and how.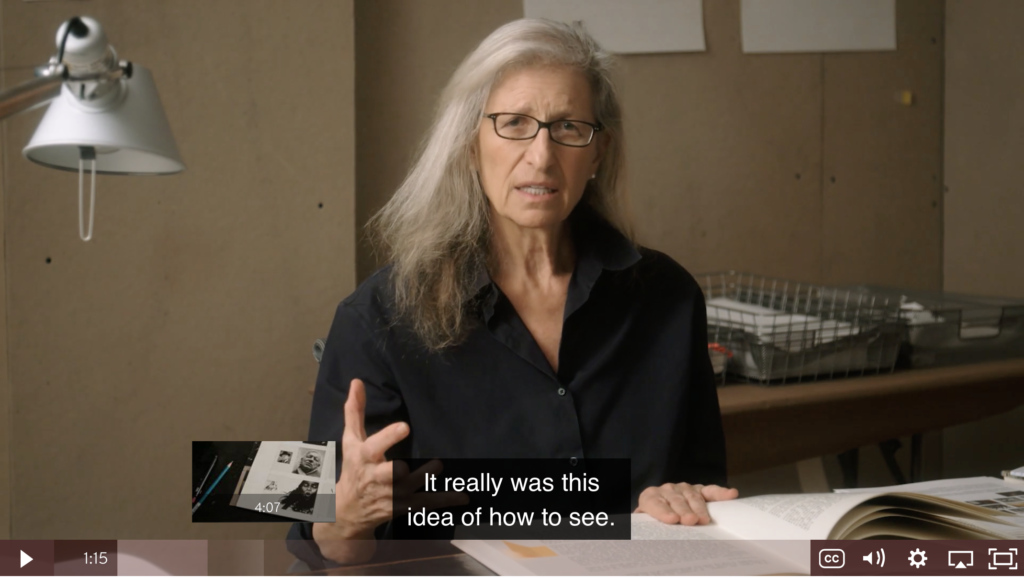 It's a joy to listen to Annie discuss concepts and how they develop from the start of a shoot and change into something completely different by the end.
It's fascinating to hear Annie discussing pushing one lens to the limits of personal reportage and photojournalism.
There are incredibly moving moments in which Annie meditates on life, death, and age. We get to hear what inspired her to pick up a camera and what inspires her to keep shooting today.
It's beautiful and moving to see her pore over the personal photos that most affected her and the ones that most inspire her – from old amateur family shots on the boardwalk to Alfred Stieglitz's photographs of Georgia O'Keeffe.
In addition to the video modules of Annie Leibowitz speaking directly to us, speaking to a group of photography students, and working with and editing a new photo, the value you get from this masterclass is in the course booklet, which will provide you a structure to start experimenting with photographing and putting together your own portfolio.
Did I learn everything there is to know about photography? No. Absolutely not.
Did the masterclass motivate the hell out of me and give me insight into the process of a master of their craft? Hell yes.
I did end up taking a lot of photos and getting more comfortable with the act of photographing.

I did order a couple of big books of photography because I was in awe of all the photos we studied in the course.

And I did make notes of different artists and techniques name-dropped so I could follow the breadcrumbs and educate myself further.
I took the Annie Leibovitz Teaches Photography MasterClass as part of the All Access Pass and, as part of that, it was easily worth it.
I was planning to take it for $90 one-off and I still would have been happy with it.
But my advice is make sure you know you're not getting in-depth lessons about technique and, if you're happy to still pay for it, go for the All Access Pass and you won't be disappointed.