Disclosure: Please note that this David Mamet Teaches Dramatic Writing MasterClass review contains referral links. That basically means I'll earn a small commission if you decide to grab the course after clicking. I recommend this course because I personally bought it and benefitted from it first and my review would be exactly the same with or without referral links. Please only purchase this course if you personally decide it's right for you.
This was the reason I took David Mamet's MasterClass. I was looking forward to week 3 of the MasterClass since I first signed up and saw the syllabus. If you're a Mamet fan, you can already guess why I'm so excited and what this week involved. Week 3 of the David Mamet Dramatic Writing MasterClass looked like this:
Plot Structure Case Study of Glengarry Glen Ross
Dialogue: writing dialogue rhythmically, dialogue and characterisation, bad dialogue, dialogue writing process, poetry, drawing language from different cultures, drawing language from masters, examples of great dialogue.
Narration and exposition: telling and showing information, how to present facts, thoughts on exposition as excess flesh, narration and TV, how and when to fix narration problems, shooting for show and cutting for dough, how to make the audience care, getting the audience to help you.
There we go! Now THAT'S a David Mamet MasterClass.
Don't get me wrong. The first and second weeks already gave me more than my money's worth. This MasterClass may just be the most "class-like" yet. 
But the third week was where we really got stuck into the meat. 
Most people's entry to David Mamet's work came from Glengarry Glen Ross (I saw the movie before the play) and the number one thing most writers want to learn from Mamet is dialogue. Because he is one of the best dialogue writers. That's indisputable.
So, how was the third week of the David Mamet Dramatic Writing Masterclass?
David Mamet Dramatic Writing Masterclass Review (Week 3)
Mamet kicks off the third week of his MasterClass by talking about his inspiration for Glengarry Glen Ross. During his time at a cold-call center, at a Chinese restaurant, he overheard a bunch of scumbag salesmen talking about their crook exploits.
He could just hear a little bit and he didn't know all the info. But he was intrigued. And wanted to hear more.
Bam.
That's how we start our stories.
The cardinal rule is:
Don't write exposition and don't write narration.
That's not real life. That's not intriguing. We want to throw the audience headfirst into the middle of a new, intriguing situation (what the Romans called in medias res).
We do this all the time in real life.
We turn on the TV or come into conversations halfway through all the time and we know how to piece things together. We know what's going on. 
We don't need a narrator explaining everything to us in real life. So we don't need to do this in our stories.
Mamet's advice for making any movie better  is to "burn the first reel". 
That means taking the first 10 minutes and throwing it away.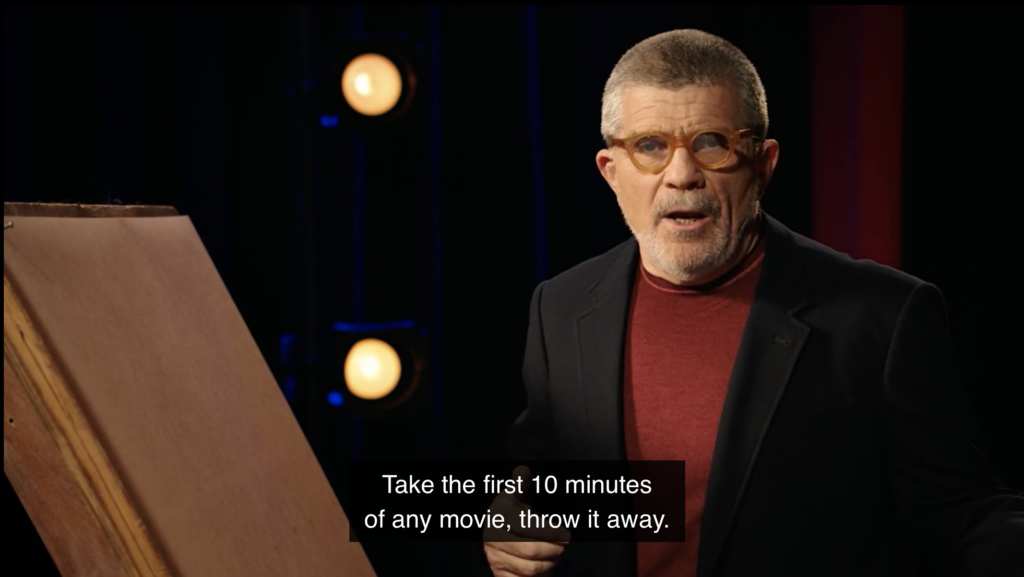 I have tried this exercise myself for countless movies.
It always works.
Think of some of the last movies you saw right now. Could you come into the movie after 10 minutes and still want to know what's going on? 
When Mamet wrote the first scene of Glengarry Glen Ross, he pretended he was in a bar overhearing another conversation. 
Go watch the beginning of Glengarry Glen Ross with the opening monologue.
Did you understand what was going on even coming in the middle of it?
Do you want to know what happens next?
I'll bet you 100% you'll keep watching.
After a detailed lesson in how to break into the story, Mamet goes on to teach a fascinating and practical way to structure tragedy – each scene being an incidental and integral step in the overarching goal of the characters in the narrative.
Mamet intertwines theory about drama with theory about a new 20th century form: the gang drama.
The segment about Glengarry Glen Ross (which is less about the movie and more about universal writing principles) is very long and dense with information.
It's one of my favourite segments. I particularly love Mamet's wisdom about narration here:
If you say I'm going to have one piece of narration in this movie, in this play, you can tax yourself to be sufficiently interesting that the audience will play along with you. But you also have to be sufficiently honourable that you're not going to disappoint them but leaving them saying, "What the hell's going on?"
Mamet also expands upon his philosophy of intriguing rather than informing the audience.
He does this with a number of examples, my favourite being this one perfectly acted by Al Pacino in Glengarry Glen Ross:
You've got this guy in a Chinese restaurant booth talking about sex and how train compartments smell of shit. You don't know what's going on because you're not informed. But we keep watching because we're intrigued.
The really special thing about this lesson in the David Mamet MasterClass was, by the end of it, I was hungering to watch Glengarry Glen Ross again. I'm now actively on the look out of theatre productions (and I'll be rewatching the movie tonight) so I can follow the story while keeping Mamet's analysis in mind.
Next lesson for this week was the much anticipated dialogue lesson in the David Mamet MasterClass.
 Dialogue – How To Learn Mamet Speak
The dialogue lesson kicks off, as you might imagine, with a discussion on rhythm in language.
If you want to write great dialogue, you must study rhythm. After all, as Mamet points out, English is the only language where our prime writer is a dramatist who wrote in poetry – Shakespeare.
If you're adverse to poetry, this section might not appeal to you. Mamet doesn't go too deep into the technical jargon but there is stuff here (like iambic pentameter) that will make you recall your high school English classes.
Personally, I love poetry. And I love that this lesson was kicked off with a discussion of poetry. 
After a discussion of rhythm, Mamet proceeds to talk about desire and intention.
Dialogue is born out what the character wants.
If you've been following along with my thoughts on writing and my reviews of other masterclasses, you might notice a pattern…
Everything is tied in to what the character wants.
Speaking in real life is not about expression. It's about getting something from someone else. This is the same on stage.
Mamet then talks about bad dialogue. And he even states that you don't need to be able to write a dialogue to write a play. This was a surprise to me, coming from David Mamet, but he makes a good point, citing the popularity of plays in translation like Chekhov's stuff and the countless movies and TV shows that rely on subtitles.
I was getting ready to feel disappointed in this section of the David Mamet MasterClass because the dialogue video was kind of short (under 10 minutes) and I really wanted him to give this subject the same attention and depth he gave the others…
And then, when the video finished, another dialogue lesson loaded, this one twice as long and loaded with the information I was craving.
Mamet teaches poetry-like dialogue with the examples of:
Churchill's "we'll fight them on the beaches"

King's "I have a dream"

Shakespeare

Kipling
Mamet also goes into the topic of drawing inspiration from different cultures.
His main examples come from how he grew up in a poor Jewish neighbourhood, where status was granted to people based on their ability to be funny. This is true in the Italian community and the law enforcement community too.
Mamet shows you how to draw inspiration from those who already have a naturally rhythmic dialogue.
He elaborates on communities like:
The African-American community

The Jewish community

The Italian community

The Irish community
You can learn rhythm and storytelling by observing and listening to these communities.
Mamet ends the dialogue section by talking about his love of reading and who and how to study dialogue through reading. This was a particularly interesting and motivating section for me.
David Mamet On Exposition
I normally try to pace myself with these MasterClasses.
They're very bingeable so it's always difficult but I manage to space my classes out.
However, after watching Mamet's dialogue lesson, I felt so charged, so fired up, I steamed ahead and gobbled up his exposition lessons too.
Like every other module in this MasterClass, Mamet goes into such depth that I cannot put all of it down here. I wouldn't be able to do him justice and I wouldn't want to give the whole thing away – if you're curious, enrol in the course and check it out today.
But I will say my particular favourite parts of this section were Mamet's meditations on Buster Keaton gags, his hilarious head-butting with TV executives over too much exposition, his advice about taking off the "excess flesh", what you can learn from Michael Moschen juggling one crystal ball, shooting for show and cutting for dough, and the magazine rewriting exercise Mamet does with his teenage son.
David Mamet MasterClass Homework
My one criticism of the David Mamet MasterClass is that the homework in weeks one and two seems a little lacking/too easy. It doesn't compare to the depth of the homework issued in Werner Herzog's MasterClass (which will keep you busy for weeks, even months).
However, the homework in week three of Mamet's MasterClass is way more robust.
We're implored to:
Investigate gang dramas other than Glengarry Glen Ross, like Elmer Rice's Street Scene.

Investigate 5 of Sidney Kingsley's plays and film adaptations.

Examine whether Glengarry would have been improved if the 2 additional scenes in the movie version were added to the stage version.

Study the life of a London dandy called Beau Brummell (this builds on the dialogue lesson).

Read poetry from Coleridge, Kipling, Keats, and Shelley.

Examine the writing of great dialogue writers like George V. Higgins, Patrick O'Brian, John le Carré, and Dawn Powell.

Analyse the writing in Hemingway's Islands in the Stream.

Learn about how Buster Keaton structured his jokes.

Watch Michael Moschen juggling.

Examine the lack of narration in Spartan.

A screenplay editing task.

Attempt to watch a film without sound in order to examine how it works.

A writing and rewriting exercise.
Now THAT'S a lot of work.
That's exactly the kind of thing I like to see in these courses. 
That's just the cliff notes. Mamet and the accompanying workbook obviously goes into more detail as to what you're supposed to do but you can tell just from my notes that there is quite a bit of homework.
Great! I LOVE homework. When I pay for a course that is as fantastically well put together as David Mamet's MasterClass, I want accompanying homework.
This isn't 12th grade Physics where I'd fob off my homework in order to play video games. I will do my homework because I've invested in the course.
Fingers crossed this depth of homework continues throughout the rest of the course!
If you haven't enrolled in the David Mamet Teaches Dramatic Writing MasterClass yet, you can get in here.
Let me know if you're loving the MasterClass as much as me!
I'll give you another update at the end of week 4.
P.S. You can check out my reviews for the first weeks of the David Mamet MasterClass here and here.