Following the Dr. Jane Goodall Teaches Conservation MasterClass was a thoroughly inspirational way to end this year and begin the new year. I took this masterclass as part of the All Access Pass, which lets you have access to every single one of MasterClass' illustrious instructors from Shonda Rhimes to Helen Mirren, but I would have easily paid for this course as a one-off and been extremely pleased with what I got.
In this review of the Dr. Jane Goodall Teaches Conservation MasterClass, I'll go through exactly what you get with the course, who the course is aimed at, and some of the things I took away from it. 
Disclosure: Please note that this review contains referral links. That basically means I'll earn a small commission if you decide to grab the course after clicking. I recommend this course because I personally benefitted from it first and my review would be exactly the same with or without referral links. Please only purchase this course if you personally decide it's right for you.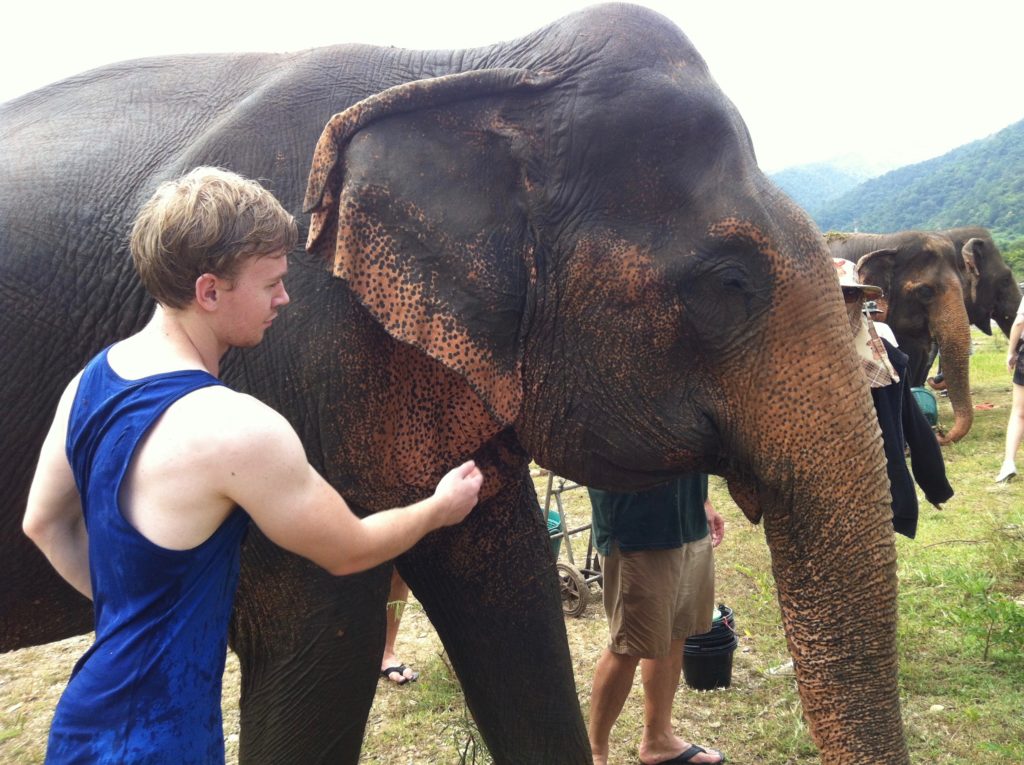 Before Dr. Jane Goodall's MasterClass, I had three big wake-up calls so far when it comes to Mother Nature.
One of my most recent was a couple of years ago when I was living in Thailand and my interaction with elephants in Lek Chailert's sanctuary and being educated on how elephants are treated in Asia (such as in this incredibly distressing video put out by PETA) resulted in me penning this post:
When friends and family found out I was living in Thailand, everyone asked the same thing:
"Did you ride the elephants?"
I almost did.
After all, I saw the vacation snaps from friends who had ridden elephants in different countries across South East Asia and it looked like they were having a great time.
But then I took a moment to educate myself. 
What I discovered made me sick to my stomach and endlessly depressed.
It turns out that riding elephants is an activity that promotes, endorses, and perpetuates a cruelty for these beautiful animals of a degree that no creature should ever have to endure.
So I decided to go to a conservation center instead. I still got to meet elephants up close and appreciate their beauty (both outer beauty and their kind personalities) but I did so in an environment that did them good.
This center was filled with rescued elephants. They were injured – psychologically and physically – but thanks to the support of the workers at the center and the patrons who fund it and volunteer there, these once traumatised creatures could now live in peace.
Perhaps my earliest wake up call was when I was ten years old.
I read a book about how different meats end up on our plates and the description of how many pigs are killed in order to make pork resulted in me immediately becoming a vegetarian.
My vegetarianism lasted three years. It was cut short by health complications and pretty serious anorexia. 
Although I'm no longer a vegetarian, the lessons I learned in those years, and the love for animals that led me to become one in the first place, led to a series of principles I still hold today.
I don't waste meat. Full or not, good taste or bad taste, meat never goes in the trash. I source all animal proteins intelligently, making sure I choose the most free range choice or nothing at all. I boost my veggies so that I naturally need less meat. And I've started to have meatless days (Meat Free Mondays).
My most recent wake up call came after eating shark fin in a Chinese restaurant.
I was given shark fin soup as part of a multi-course meal at a Chinese restaurant and knew nothing about the cruelty that surrounds the practice.
I actually got my phone out and tried to look up shark fin soup online before eating it just to make sure that it wasn't cruel.
But the internet wouldn't load. I waited and waited but by that point everyone else had finished the course and the next one was approaching.
So I ate it (it wasn't nice).
It was only after leaving the restaurant that I managed to get wi-fi and the search results had loaded.
What I saw made me sick to my stomach. And angry.
I was furious at the people who had served it. I was furious that I hadn't been warned just how ridiculously cruel the practice is (they cut off the fins and throw the still live shark back in the water to die). 
And, more than anything, I was furious at myself.
Never again would I blindly eat something new without checking whether what I was consuming was cruel or not.
I vowed right then to not be so ignorant again when it comes to food.
The same year that I vowed to be more thoughtful with my food was the same year I abandoned going to zoos and swapped them in favour of visiting and supporting conservation centres and sanctuaries.

The Dr. Jane Goodall MasterClass consists of 5+ hours of video lessons broken down into 29 thematic segments, 2 workbooks (one of which is aimed at families and has 164 pages), a community area, and a section where you can submit questions about conservation to be answered by Dr. Jane Goodall herself.
After an introduction and hearing about Jane's beginnings working in Africa, the course goes through her various breakthroughs working with chimpanzees (their behaviour, emotions, development, and learning capacity), then moves through discussions on various animal intelligences, correlations between chimps and humans, medical research and alternatives, science, activism, problems facing humanity, materialism, exploitation of natural resources, threats to animals and different farming industries, animal cruelty, climate change, the meat industry, water conservation, threats to forests, industrial agriculture, organic and urban farming, food as activism, advocacy strategies, telling stories to effect change, becoming a scientist or advocate, and so much more.
Without question, we are the most intellectual creature that's ever walked on planet earth. How is it possible that we're destroying our only home? – Dr. Jane Goodall
If I could sum up the Dr. Jane Goodall Teaches Conservation MasterClass in just a few words they would be:
eye-opening

rich in detail

inspirational
This course is absolutely overflowing with great information and will provide more than enough direction for anyone looking to get started or continue with conservation efforts.
There is so much information, in fact, that it could almost be overwhelming.
Where do you begin? Can we really go out, steam ahead, and change the world?
I think the best thing for most people is to pick ONE cause to start – just one – and concentrate on doing your best for that cause with little baby steps.
This is an approach that Jane herself advocates. 
Start making little decisions each day and think about the consequences of those decisions (e.g. turning the tap off more). Or just start asking more questions in order to become more thoughtful about what you're doing. 
Questions like:
What did we buy?

Where did it come from?

How was it made?

Did it come from very far away using a lot of fossil fuel?

Could we buy the same thing that's made locally?

Did it involve harm to animals?

Did the making of it involve child slave labor?

Is that why it's cheap?

Should I spend a little more and waste less? 
The one thing I will be focusing on first will be eliminating products that contain palm oil from my cabinets. 
There were a lot of eye-opening things in Dr. Goodall's MasterClass that I never knew but the one that stuck out the most was learning about the devastation being wreaked across the rainforests and pushing the orangutang to the point of extinction all for palm oil.
Another part of the MasterClass that stood out to me was in the 21st and 22nd videos, entitled 'Communication'.
This part was Dr. Goodall teaching how to actually create change without alienating the people you want to influence.
I loved hearing how Dr. Goodall scorns people being too militant in their advocacy. She says that obviously, in animal rights, some militancy is necessary to wake people up but once they are woken up, a different, less adversarial approach is better.
Dr. Goodall's approach is to try to reach into peoples' hearts by telling stories.
She aims to form a relationship with the people she's talking to. It's all about relaxing people and listening to what THEY have to say so you know how to get in and reach their heart.
It's all about having sympathy and telling the right story at the right time.
One shouldn't argue to get one's point across. Don't say 'you're wrong' but relate things to their own lives, families, and the future of their children. 
If you can make people laugh at something, they are much more likely to listen to you. – Dr. Jane Goodall
There are a lot of great thoughtful lessons to be learned from listening to Dr. Jane Goodall's wisdom about nature, conservation, and activism – but who is this MasterClass for exactly?
First and foremost, I think the Dr. Jane Goodall Teaches Conservation MasterClass is perfect for families and schools.
This masterclass is perfect for teaching your kids about the world and instilling curiosity and empathy in them. 
The masterclass comes with a family workbook, which is bursting with activities and assignments and further things to watch and read that will really develop one's intellect on this matter. 
I also thought it was a really nice touch that the family workbook teaches vocabulary along the way. At the end of the chimpanzee behaviour chapter, for example, there is a big list of vocabulary like 'offspring', 'victor', and 'reconciliation' and you're asked to define the new words and use them in your own examples.
Whether you're homeschooling your children or you simply want a good intellectual supplement to their studies, I think this masterclass is perfect.
I also think Dr. Jane is particularly inspirational as a woman's figure. So if you want to give your little girl the message that she can do anything, this would be a fantastic course to watch and learn from together.
If you're a parent or a teacher, this masterclass is a winner.
I also think that anyone who is already a fan of Dr. Jane Goodall or anyone who is looking to have a career in conservation or science and is thinking about issues of ethics will get a lot out of this masterclass.