Remember that childhood game where you spun a globe and wherever your finger landed was your future home?
I love that game.
I was obsessed with the idea of world travel ever since I was a little kid. My dad used to go on business trips to exotic lands like China and Mexico and Vietnam and come back with stories of crazy foods (monkey brains? snakes? insects?), wildly different customs, exciting locations, and fascinating people.
It's no wonder that I've spent the last few years travelling the world. But now I'm settling down. I'm putting a stop to the travelling for a while.
But I still need my fix. I still need to learn about different cultures, see the world from other points of view, and try to sate my unquenchable thirst for being a citizen of the world.
So I devised a new book reading challenge:
The Globe Spinning Book Reading Challenge
If you're looking for new ways to expand your reading horizons, are keen to learn more about the world beyond your own country, or are just tired of the same old books popping up on book recommendation and bestseller lists….
The Globe Spinning Book Reading Challenge is for you. Won't you join me?
Here's what you do:
STEP ONE 
Go to random.country.
This website is the digital equivalent of spinning a globe. Except it's better because you're going to land on a random country each time instead of landing in the ocean 70% of the time.
When you visit that website, you'll be given a random country.
I've just visited the site and this is the country that has popped up: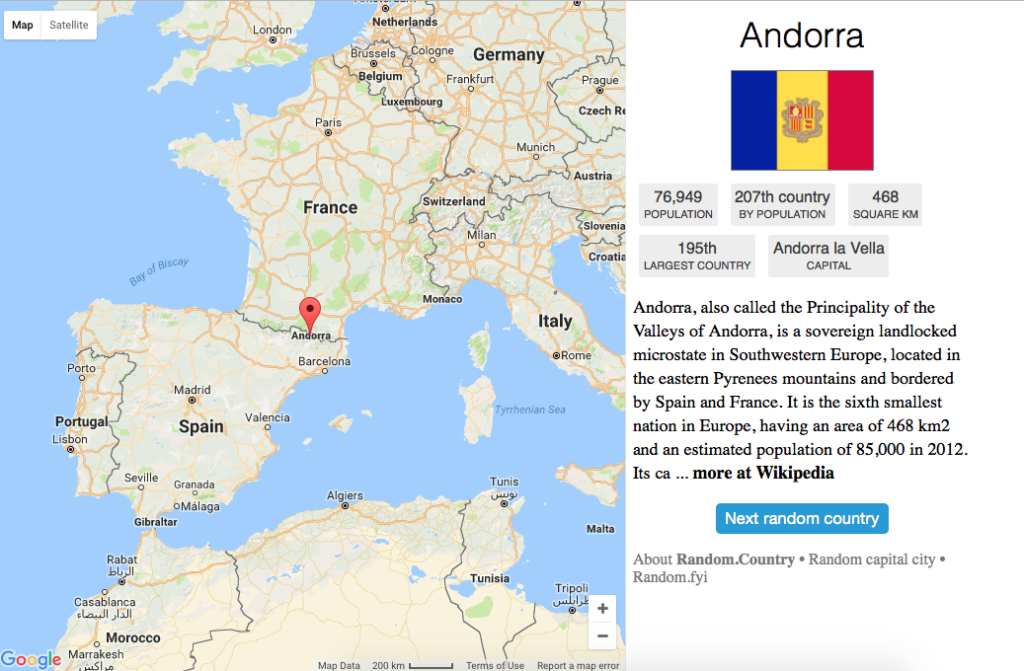 That is my next reading assignment. Yours will be different.
I have to read something from that country. 
But what do I read? 
STEP TWO
Now you're going to discover what you're going to read exactly the same way that you discovered the country: by a random spin of the wheel.
We're going to leave this up to Fate.
Spin the wheel below to find out which of the following you will read from your assigned country:
Poem

Article

Short story

Fiction book

Non-fiction book
I've just spun the wheel and it landed on 'Poem'. So my assignment is to read a poem written by someone from Andorra. 
But how do we find the poem/short story/article/fiction book/non-fiction book?
STEP THREE
Now you're going to find exactly what you're going to read.
There are many ways to do this. Here are three of my favourites:
Wikipedia: Follow the link from random.country over to the country's Wikipedia page and you should be able to find a section on that country's famous writers. You can also learn a little bit about the country, which is super interesting, especially if you haven't even heard of the country before. 
Google: Can't find anything on Wikipedia? Just type it into Google, the fountain of all knowledge. Type in your assigned country + "poets" or "famous writers" or "books" and so on and travel down the rabbit hole until you get something.
Quora: 

Still can't find anything? Do a search on Quora. There are tons of questions and answers on there and someone has probably already asked about the literature of your assigned country. If they haven't, you could post a question and see what gets thrown back.
You're either going to find a suggestion that looks good pretty quickly or you're going to run into some difficulty.
If you've got a small country (like Andorra), finding literature will be tricky. Sometimes even impossible. In this case, just try to find something or spin again. 
STEP FOUR
Read your assignment, pay attention to the cultural and stylistic differences, learn something new, then spin again when you're finished.
STEP FIVE
Next time someone needs a book recommendation, you can show off what a well-read geek you are and recommend something totally insane from a country they've never even heard about!
Happy travels! Be right back… Can't find anything for Andorra…