Do you know how good it feels to have a normal stomach? To not have crippling abdomen pain every damn day? I didn't. I had been suffering with IBS for so long (3 years) that I had forgotten what it felt like to be normal.
My IBS kicked off after a visit to Thailand (never again) and never let up. Every day I had to brace myself for afternoon cramps that became worse as the evening progressed. I had to take buscopan every day. I lost sleep because of my IBS. I was irritable because of my IBS.
When you have IBS, you become a master of your own body. Most people aren't in tune with their body but after years of daily abdomen pain you know exactly what effect different amounts of sleep, different kids of food, and even lifestyle changes will have on your physical wellbeing. 
Because I'm so in tune with my body, I noticed something funny. Whenever I went to one of those fancy-smancy hippy smoothie shops and ordered the healthiest juice on the menu, my IBS lessened. Sometimes it would disappear completely. 
I had read about the wonders of juicing for a while. But it wasn't until I experienced it for myself that I realised it was the real deal. 
I wanted to juice more. I wanted to get my life back. But I couldn't keep buying those juices and smoothies from the hippy health shops. There were two problems:
They're too expensive. They only put a few veggies in and mark up the price to 300-500% or more.

Not enough juice! I wanted more veggies in my juices and it's hard to get that with store-bought stuff.
So, after a ton of research, I invested in a juicer that seemed to give the most bang for my buck. It was pricy but not the priciest on the market. It wasn't so cheap that it would break after a couple of uses. And it had tons of rave reviews. 
I opted for the Omega J8004 Juicer.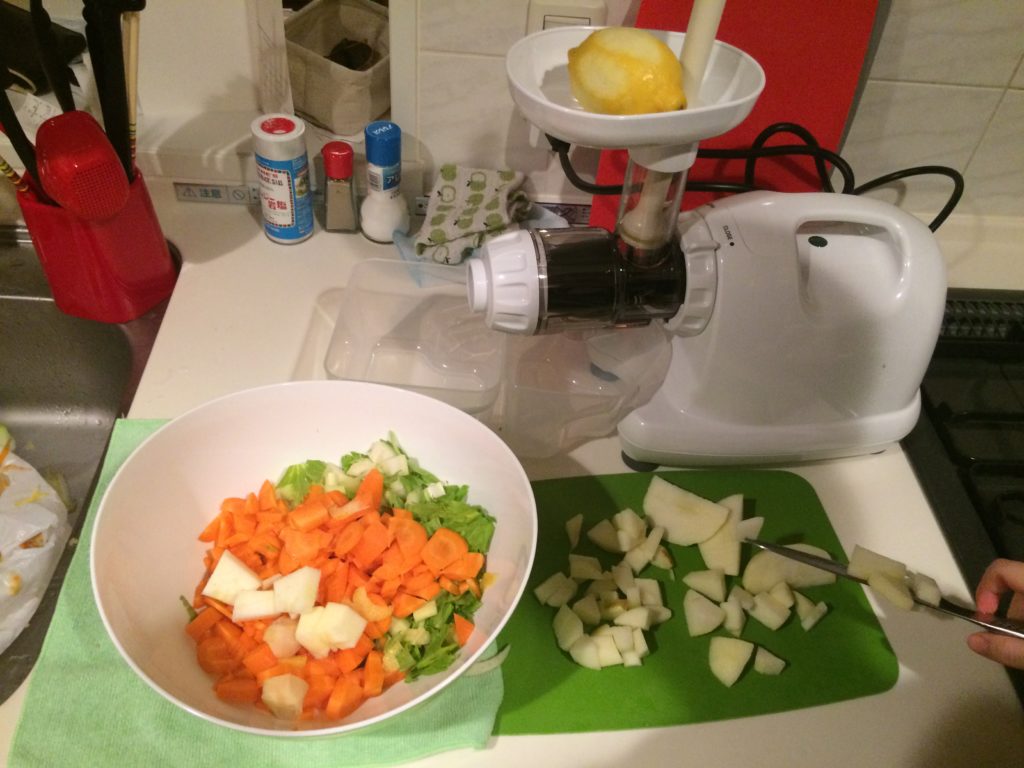 For this Omega J8004 Juicer review, I'm going to keep it brief and to the point. I'll give you a quick rundown of the following:
Ease of use

Ease of set-up

Ease of cleaning
Then we'll get into my three favourite juice recipes for curing IBS (and helping with other stuff).
I've had juicers in the past.
Back in my student days, I went through a few cheap $50-$75 blenders and juicers.
They either broke completely after only a few juices or I gave up using them because they were so damn hard to set up, clean, and use.
But when you're an adult and actually invest a proper minimum price on a juicer (e.g. $200-$400), you don't have these problems. The Omega J8004 is one of the cheapest in the Omega Juicer family and yet it's still built to last.
When I unboxed the Omega J8004 Juicer, I anticipated a steep learning curve and a hefty time commitment for setting it up.
I was wrong.
Less than 5 minutes out of the box, it was set up.
There aren't that many parts and the ones there are (filter, masticator, etc) are designed to slot into place easily and intuitively.
When you've set it up once, you know how to do it every single time you want to juice. It only takes a few seconds. 
So setting up the Omega J8004 Juicer gets 5 stars from me because it is so smooth, simple, and quick.
As you can imagine from a juicer that is easy to set up, the Omega J8004 Juicer is also easy to use.
Actually, scratch that.
It's not just easy to use. It's a joy to use.
My wife does all our cooking but I'm in charge of the juicing (because I've made myself a mini expert). I was anticipating a daily upheaval that would add resistance to my desire to cure my IBS with juicing.
But it's actually fun to juice!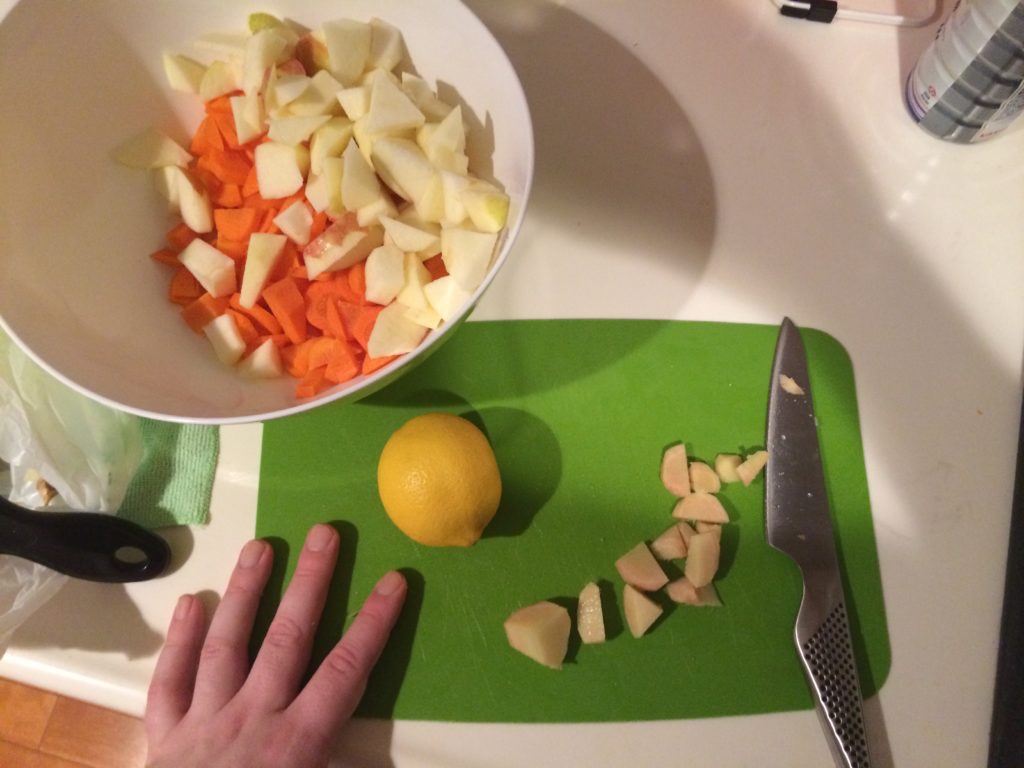 I love everything about it and have actually made juicing prep and clean-up part of my morning routine.
I pop a podcast or audiobook on and then I spend:
3-7 minutes washing, peeling, and cutting veggies and fruits

2-3 minutes actually juicing

2-3 minutes cleaning up
And I spend the whole morning enjoying the fruits (sorry) of my effort.
I enjoy it because the process is therapeutic and acts as a trigger for having a healthy day. 
There aren't that many parts and the actual juicing process basically requires you to drop your chopped up goodies down a little tube and into the masticator (the thing that chews it and spits out the good stuff). My favourite part is using the little plunger and watching all of the goodness squeeze out into the container below.
As for noise, I was shocked by how quiet it is.
The juicer arrived late at night and I wanted to juice right away but I was worried the neighbours would hear and be annoyed. That would never happen though because the Omega J8004 Juicer is too damn smooth. It's a very considerate neighbour!
So for ease of use, the Omega J8004 Juicer gets another 5 out of 5.
As you can see from the time-stamps above, it takes me less time to clean than it does to actually cut and juice the vegetables with the Omega J8004 Juicer.
When I first started, those times were easily double what I wrote above. 
That's because I wasn't used to this whole meal preparation thing. 
But after a few attempts, you get faster and you develop an effective process.
I do actually like slowing down and taking my time with juicing if I'm listening to an engaging lecture or podcast. But you can do it quickly if you're in a rush.
As for the actual clean-up, firstly there aren't that many parts that require cleaning. The parts you do need to clean are small and easy to clean. Nothing fiddly or dangerous.
What I like to do to make cleaning easier is to have a plastic bag next to the Omega J8004 Juicer. 
I put my vegetable peels in that bag. I also put the non-nutritious stuff the Omega J8004 Juicer gets rid of into that bag.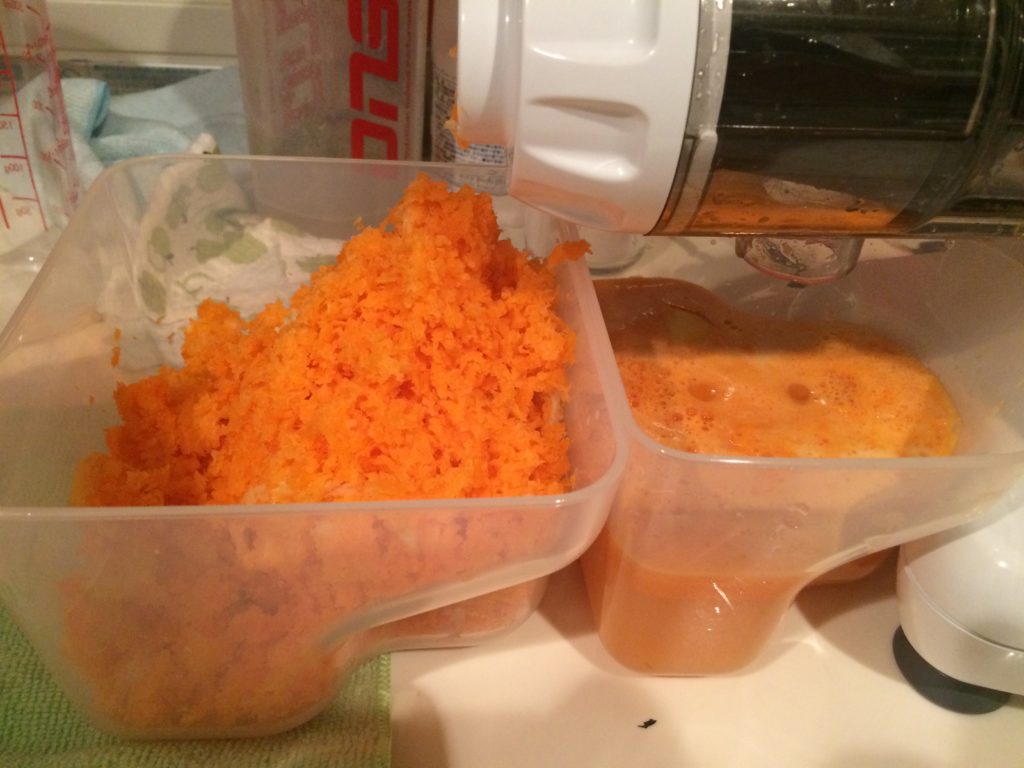 You can see in the photo that there are two containers under the Omega J8004 Juicer (it comes with them).
The one on the left is for the rejected stuff. The one on the right is the juice. 
I felt a bit wasteful seeing all the crap on the left and kinda wished I had a rabbit or something to feed it to. But, after some research, I found that stuff really doesn't have anything in it. There's not much point eating it and the Omega does a great job separating it and making sure you get all the good stuff.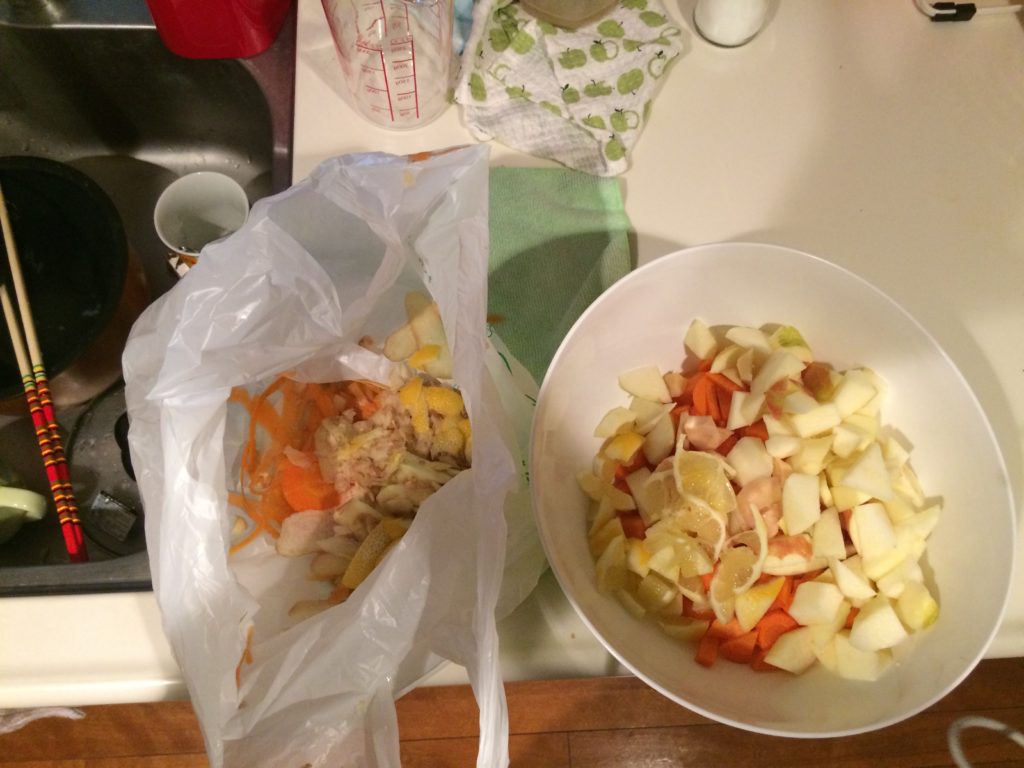 You can see my cleaning set-up for juicing in the photo above.
On the left, you've got all the peels and rinds and crap you don't need.
On the right, you've got a bowl full of the cut up veggies and fruits that are ready to go into the Omega J8004 Juicer.
This bag set up makes the cleaning process very quick and smooth.
You just dump that stuff in the trash and give a few of the small parts of the juicer a rinse with soap and hot water in the sink.
So cleanup for the Omega J8004 Juicer also gets a 5/5 from me.
My three favourite juice recipes for curing IBS
The Omega J8004 Juicer is the perfect juicer. By being easy to set up, easy to use, and easy to clean, it has made it so much easier to adhere to a daily juicing regime and, thus, cure my IBS. 
After a week of daily juicing, I realised a few things:
My mood was lifted

My inflammation went down

I had Superman levels of energy

I had no cravings for sugary or fatty foods

Andddddd……. My stomach stopped grumbling and hurting!!
So a big thank you to the people who made the Omega J8004 Juicer!
Now let's get into a few of my favourite juice recipes for curing IBS.
I've given these juices different names based on the other positive things they do for you but they do primarily lessen your IBS by a complete or significant amount. 
Remember, I'm not a doctor. Just some dude who was sick of having the daily squirts. Always run this stuff by your healthcare professional first (or just use your common sense).
Creativity Booster
This juice was the most effective at curing my IBS.
It also had the double benefit of making me feel super energetic, super creative, and really cut down my cravings for high-calorie food.
Creativity Booster Recipe:
1 apple

1 lemon

2-3 carrots

1/2 a pineapple

2-3 sticks of celery
You can adjust the amounts of each ingredient as you get more experienced with juicing. But for a beginner, this is a good starting point.
This is a very tasty recipe and makes for a real nice treat.
The carrots are great because their enzymes help digestion and are filled with Vitamin A, B, C, D, E, and K, along with lots of other great minerals like potassium and calcium. Carrots also have tons of antioxidants and carotenoids that strengthen your immune system. The combination of vitamins in carrots also reduces cortisol, meaning you will feel less stressed after consuming them in high quantities (such as in a juice).
The apple adds flavour and is also packed with vitamins A, B1, B2, B6, C, and many minerals that strengthen immunity and brainpower. The nutrients in apples also lower your blood pressure and reduce your risk of Alzheimer's. Apples also contain a specific type of fibre that aids digestion.
Lemon is good for flavour and a high blast of Vitamin C. They contain a host of great minerals too. 
Pineapples are good for the liver and improve your libido (also makes the juice yummy).
Celery is also full of antioxidants and good stuff like zinc that will make you feel healthy and energetic.
Red Circulation
This juice is great for a pre/post-gym shake and also helps IBS. But be careful with this one! This contains beetroots and, if you're not used to eating these, you should limit how much you put in because too much could actually give you diarrhoea.
Red Circulation Recipe:
1 beet

1 apple

1 lemon

2-3 carrots

1/2 a nub of ginger
We call this one Red Circulation because the beetroot helps improve your oxygen uptake and will help you breathe better. You're likely to see veins beneath your skin appear (if you're lean enough) and your cardiovascular ability will improve.
The ginger will make you wake up as good as an espresso (quite spicy) and is great for strengthening your immune system.
Green Detoxer
You can throw almost any green food in a juicer and be assured you'll get something that will help you detox. But I've found I get the biggest boost to my immune system and wellbeing, and the greatest help in reducing my IBS, when I use the following green goodies.
Green Detoxer Recipe:
1 apple

1 lemon

2 cucumbers

2 sticks of celery

2 green peppers
The cucumber is really good at eliminating toxins from your body and improving digestion. Like celery, however, it's hard to eat enough of it with our meals for it to really be effective. Who has the time or willpower to chomp through two whole cucumbers? But juicing means you can get all the nutrients really quickly and easily.
That's how I cured my IBS
The Omega J8004 Juicer and daily vegetable juices are the way to go.
If you're suffering from the frustration and pain of IBS, give this stuff a try. You've got nothing to lose and a whole new life to gain.
Let me know how you get on. I would love to hear that juicing helped to cure your IBS too!
Cheers!