I always thought I was destined to stay around 170 lbs. Sure, I had a six-pack but my ribs poked out of my sides and I looked skinny and weak in clothes. It looked like a small wind would lift me up into the stratosphere at any moment. I felt hungry and irritable most of the time. Hitting 220 lbs felt like a stupid dream to have. 
But in March of 2016 things started to click into place… Fast. 
I started to pile on the weight and drastically change my appearance, gaining around 10 pounds a month for 5 months in a row. By July, my weight had transformed from 170 lbs at over 6'1″ to a much more respectable 210 lbs. By Christmas, I was sitting at a comfortable 220 lbs.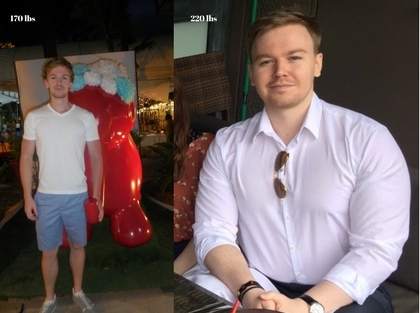 That's a 40 lb. gain in 5 months. And a 50 lb. gain in 10 months.
You can't make a clickbait title out of that. Maybe if I had gained 40 lbs in ONE month, I'd have a bunch of skinny teenage boys pouring through this blog's door. Then I could sell them unhealthy weight gainers and test boosters.
But this gain was meaningful to me for a number of reasons:
Gaining 50 lbs in a year (and not looking like a complete fat slob) after a decade of training is a miracle.

I had always thought hitting the big 220 would require steroid assistance.

People started treating me A LOT better after the weight gain.

I started to feel A LOT better after the weight gain.
I will tell you what I did to hit this weight but first a few caveats that I need to get out of the way:
I do not have a six-pack. I also don't want one. Staying at 8-10% body fat made me feel like my testosterone was bottoming out. Also – people can't tell you work out when you're wearing clothes. Being sub-10% bf will make your face more chiselled but, again, I've noticed way more positive attention with a bit of chub round my jowls than when my cheeks were hollowed out. For one, my wife

loves grabbing my jaw

now whereas before she thought I looked ill.

I ain't gonna win any fitness model competitions. 

I don't weigh my food, track my calories, or have a set-in-stone workout program. I also will not impress any bodybuilders or fitness models with my current look. But I do stand out from most people on the street. In person, people notice my size. I get compliments on how I look. Guys ask me how much I can bench-press (answer: I dunno). People call me 'sir'. I get great service pretty much everywhere. If you want to look like a bodybuilder, go take advice from a bodybuilder and be prepared to dedicate your heart and soul to achieving an extremely difficult and impressive physique. But if you want to keep a normal life, still get a bunch of compliments, feel great, and look like a normal 'big' dude, you can listen to what I advise. 

You might not think this is impressive. 

We're so used to photoshopped pictures from dedicated (miserable) bodybuilders on steroids who are pushing diet pills and protein powders. Next to them, my physique is nothing to rave about. But I'm not one of them. I'm a writer. I write Young Adult fantasy books aimed at teenage girls. I occasionally do some computer programming (apps, websites, etc). I sit at a desk most of the day. How I look is one of the smallest aspects of my life. But stick me in a room with a bunch of fellow writers and I'll be in the best shape 99% of the time. In person, the physique is impressive. And it's so low-maintenance that I don't feel pissed off if people don't notice. Back when I had a six-pack, I would get depressed if no one commented on my abs at pool parties. After all, it took way more dedication and PAIN to achieve that than to achieve this current physique.
That aside, don't take this as gospel advice. I'm not a doctor, nutrition expert, or even that smart generally. I'm just gonna write down how I made the jump from 170 to 220 and gained 50 lbs in under a year – 40 of those lbs in just 5 months.
1 – I was painfully thin (underweight) at the beginning
I spent a year of my life starving myself and purposefully losing hard-earned muscle in order to obtain six-pack abs.
Here's what a typical day's diet looked like when I was trying to get below 8% body fat:
Fast for 16 hours (or more).

First meal at 4pm = protein shake.

Second meal at 6pm = chicken salad.

Final meal at 9pm = protein shake with an apple.
On top of that, I was doing steady-state cardio first thing in the morning on an empty stomach (40 mins) and then lifting weight in the evening for strength (2-5 reps per set) after my first "meal" and then doing high intensity interval training (HIIT).
Once a week, I'd have a 24 hour "re-feed" where I would gorge on unhealthy carbs and junk food.
I got my stupid six-pack but I felt ill and irritable basically all the time and people kept telling me I looked anorexic in clothes.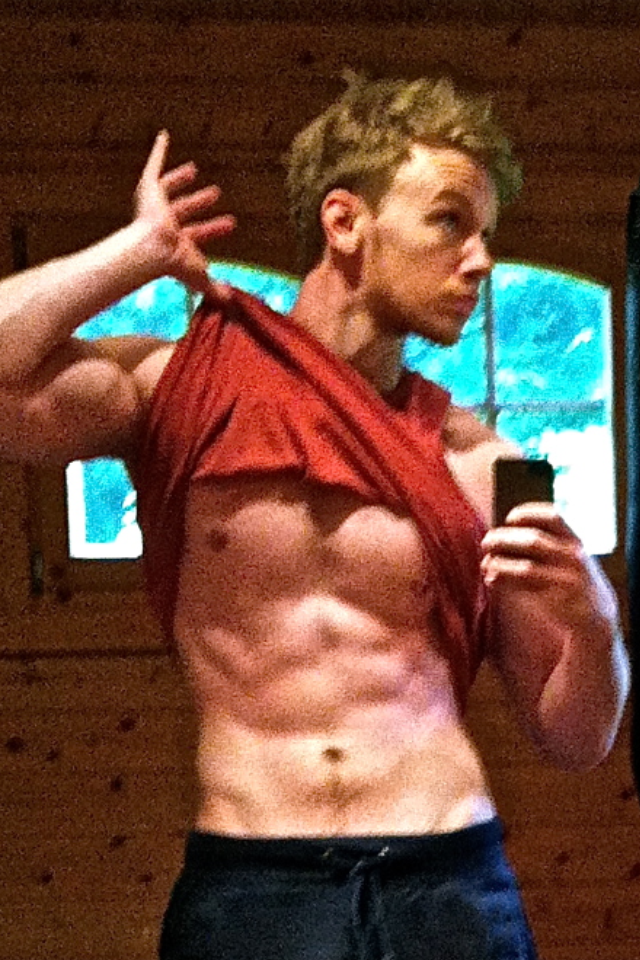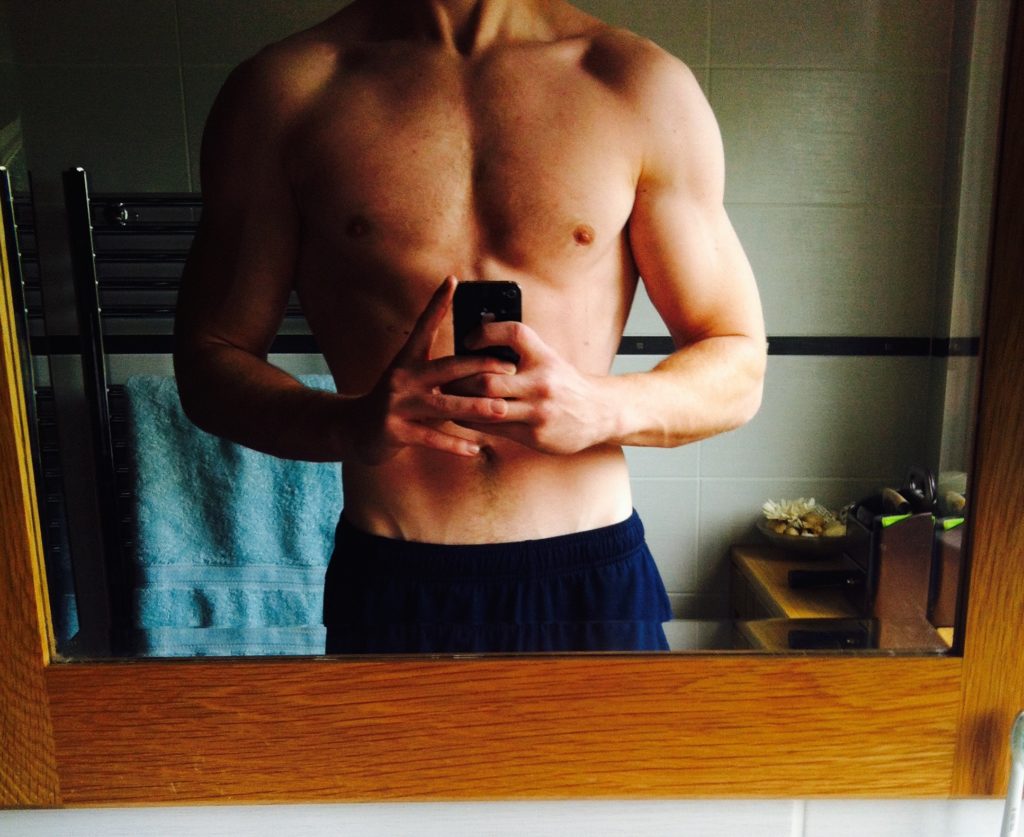 That's how I looked shirt-off. Looks okay in my opinion but hardly worth the effort or misery I put myself through. Especially considering the fact that in clothes I looked like this: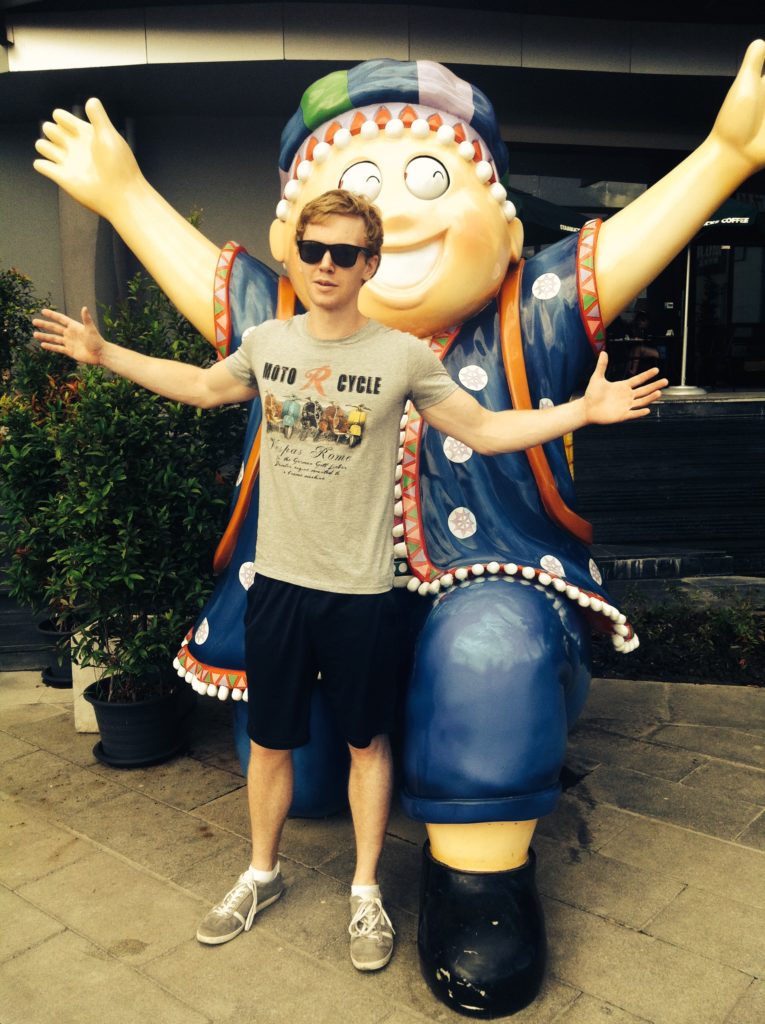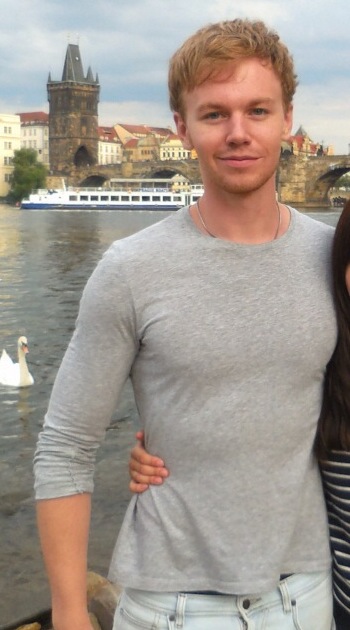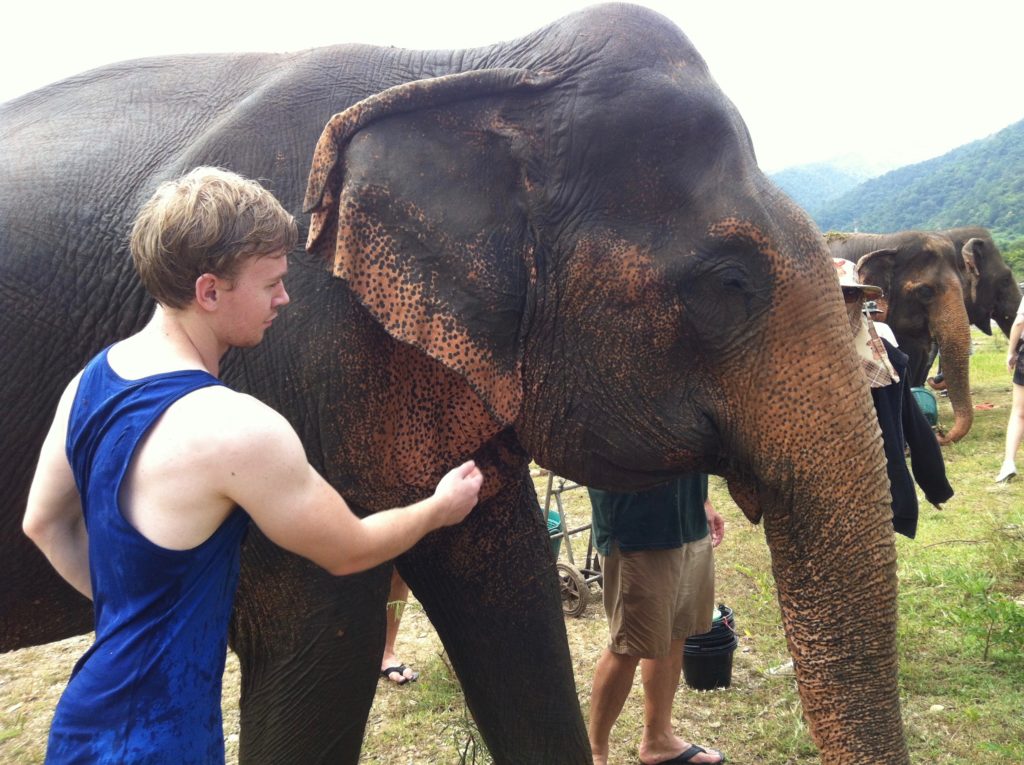 So when I came to rapidly put on weight, I was coming from a position of being pretty underfed. I'm not gonna say I was in starvation mode because that would be offensive to people who are truly starving in the world. But my stomach was pretty much always rumbling and hurting from hunger.
When I started eating like a beast in March 2016, my body was primed to use the extra calories and nutrients in the best way possible. 
If you're currently underweight or skinny and you want to gain a lot of weight fast, you're actually at more of an advantage than someone who is chubby/overweight. Your body is going to make much better use of what you give it. I haven't got any scientific studies at hand but you can go research this yourself. There are physiological reasons for this.
2 – I ate like a starved gorilla
I never planned on gaining this weight. It happened organically at the beginning when I suddenly became ravenous with hunger in March 2016. 
I was always hungry when I was skinny but this hunger was on a whole new level. It was like my body was saying, "ENOUGH IS ENOUGH! EAT, DAMN YOU!"
I have a few theories on why this happened but my main belief is that it was due to two things:
The Wim Hof Method is a course of cold water therapy, stretching, and breathing meditation. A lot of magical things happened when I began the Wim Hof Method. You can read about my thoughts on that in detail here and here. 
The reason I think the Wim Hof Method helped me gain the weight is because it started to repair my body. It got my body and mind to a healthy point of equilibrium, one in which my body was driven to look after itself and heal. Suddenly, eating a lot of healthy food (and some junk) felt like the best thing in the world for my mind and body.
The adaptogens also helped to get my body to a point of stability. Specifically, I was taking:
Bacopa

Rhodiola 

Ashwagandha 
You can read more about my thoughts on those great supplements here.
Essentially, adaptogens, cold showers, stretching, and breathing correctly probably worked to lower my cortisol and raise my testosterone by making me considerably less stressed. 
Also, when I started eating and gaining visible size, another factor made me want to continue putting on more and more weight.
I was living in Vienna at the time. I was in a kinda dodgy area and people would mean-mug me when I walked through certain streets. I wanted to feel safer. I wanted people to stop considering me as a worthy target for jumping or mugging. So I told myself I'm gonna put on as much size as possible. Forget keeping the abs. Gaining a bit of fat is fine. I told myself I wanted to be big – size and muscle.
It worked. By the end of the year, I was living in Toronto, again in a bit of a shitty, run-down area and my wife commented that I looked like a gorilla walking through the streets and people just got the fuck out of my way. People stopped sizing me up and staring me down.
Anyways – here's the "diet" I followed in the first few months to gain that initial size:
I ate everything in sight.
You can print that diet plan out for free and stick it on your wall if you like.
Being more specific:
I ate 4 cans of tuna a day. I'd have a breakfast of 2 cans mixed with a ton of mayonnaise, bread, rice. I'd also have 2 cans post-workout along with a vegan protein shake (whey hurts my stomach) or chocolate milkshake or green smoothie. The tuna – and the healthy fats it contains – helped lubricate my joints and I felt mentally sharper.

I usually had 4 fried eggs with rice and veggies for lunch.

I ate a humongous dinner piled with meat. I don't know the calories. I just know it was huge. My wife would make something that was piled high with either pork, beef, or chicken along with a ton of rice and vegetables each night. My plate was huge and there were always second and third helpings leftover which I would gobble up.

I ate a ton of chocolate. I know – unhealthy, right? I ate two fucking huge slabs of Milka chocolate before bed. I did that for about a month when I gained my first 10 lbs, then I ditched the chocolate in order to contain fat overspill.

I also drank a couple of cups of black coffee and green tea each day and a ton of water.
I gorged on food but I also had periods of moderation. I still did intermittent fasting maybe once a week, skipping breakfast and lunch. But basically I tried to make myself as hungry as possible and then I indulged that hunger, eating until full.
I made myself hungrier by following a brutal weightlifting workout three times a week in the first month. More on that in the next section but first a few of my favourite meals for packing on size:
Pepper Burger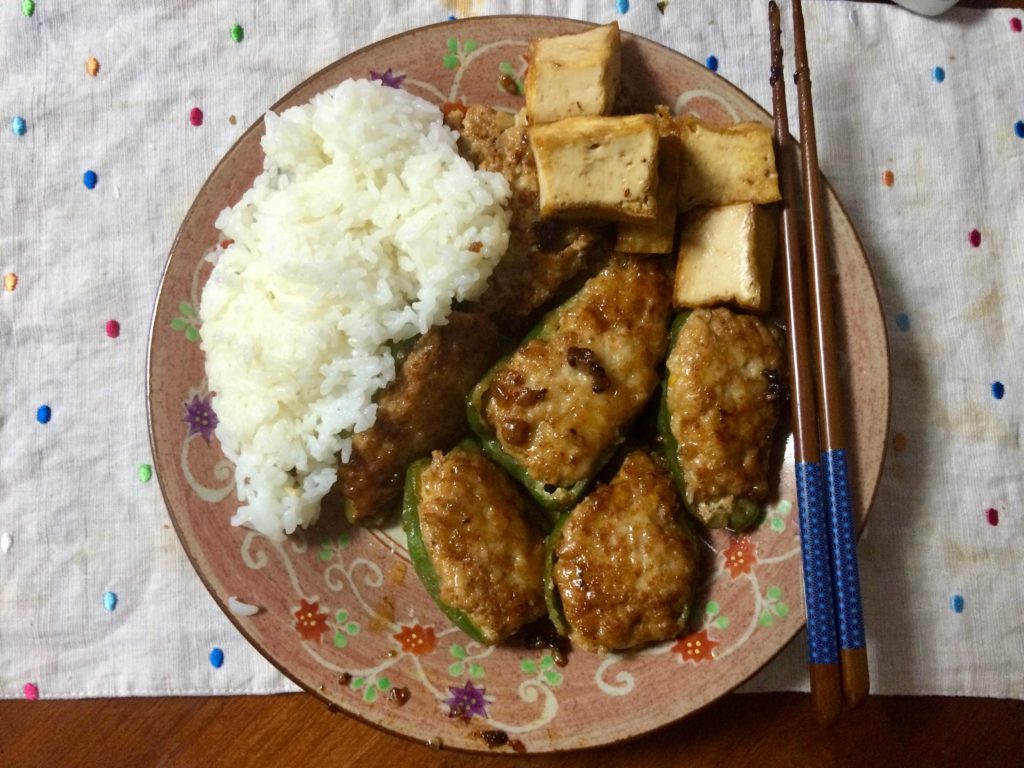 This is mince meat packed into a patty and then ensconced in hollowed out pepper and seasoned with mirin, sake, and Worcester sauce. Served alongside tofu and sticky white rice = a divine post-workout meal.
Breaded Chicken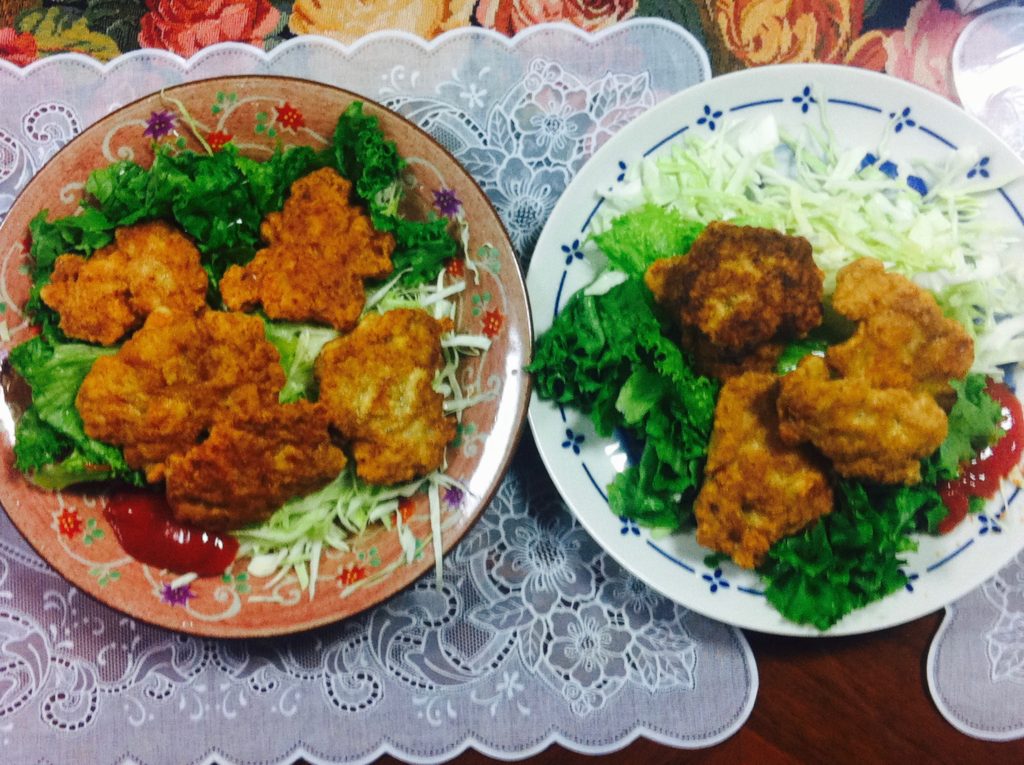 Homemade breaded chicken is best. Served on a bed of lettuce and other veggies along with a bowl of sticky white rice. Yum. If you don't have the time to do homemade, KFC works equally well and I often got a bargain bucket for my post-workout meal.
Unagi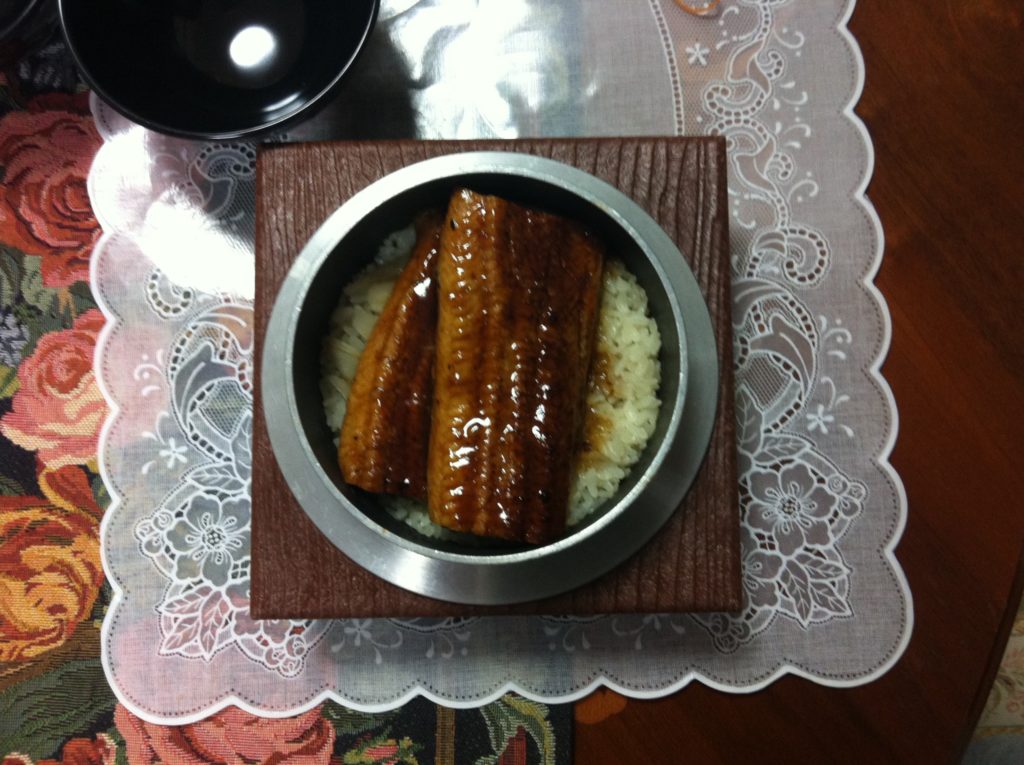 Try to get adventurous with your food sources. I love fish (particularly tuna) but sticking to the same old food sources time and again is a recipe for boredom and maybe even a food allergy. Unagi (or eel) is a great source of healthy fats and is super tasty. When gaining weight, I also often ate octopus, cod, and mackerel. 
Steak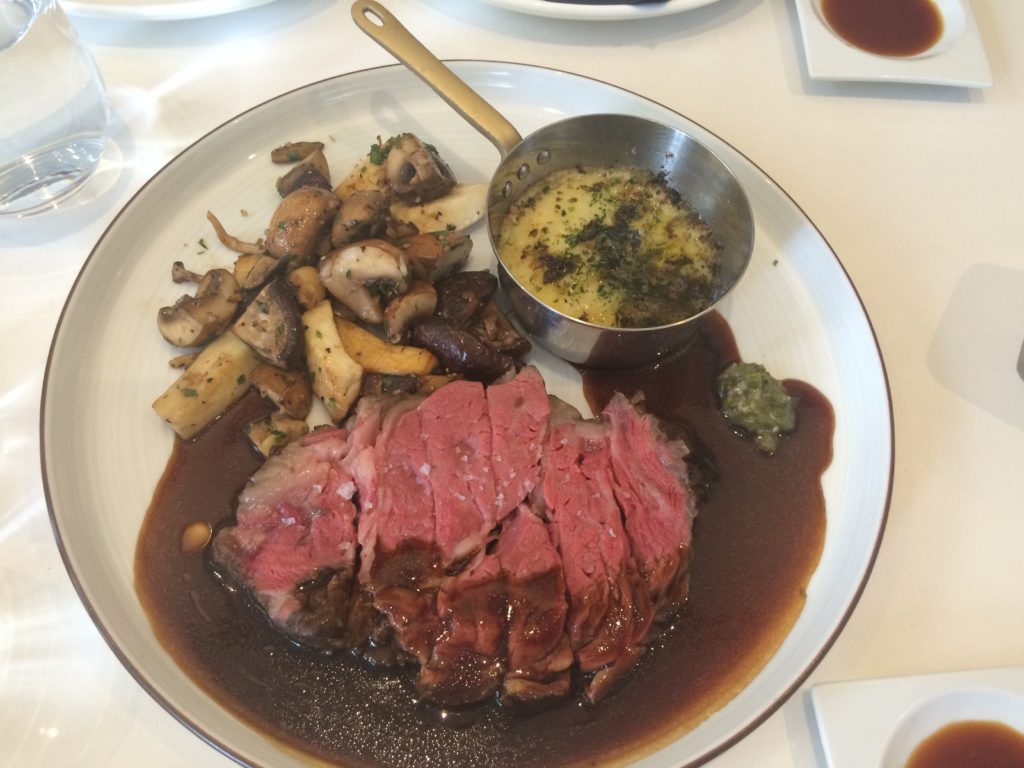 Of course I've got to mention steak. Eat steak as often as you can afford. It's great for raising testosterone and it's packed with zinc. Furnish your steak with mushrooms, green veggies, rice, and all that good stuff. There is something magical about steak. After eating a steak, I feel energetic, strong, and happy. I feel dopamine and serotonin bursting through my brain (if that's possible).
3 – I worked out like a madman (but not too often) 
I can't thank John Doe Bodybuilding enough. 
I used his training philosophies to guide my first month of training.
Here are a couple of things I did not do for my training:
I did not lift for strength.

I did not deadlift or squat regularly.

I did not workout 7 times a week focusing on one body part each time.
Here are things I did do:
I did use light weight in a very controlled manner for pump.

I did make use of machines 

and

 free weights.

I did work my whole body 3 times a week.
I don't think the actual workout is important but if you follow those principles, you should be able to gain some size. Lifting like that will make you super hungry.
Here's the program I followed for the first month (taken from John Doe):
Incline chest press machine: warm up with 12 reps, then 8 reps, then do a heavier warm-up. Then you do your work-set. The work-set might be 10-15 reps but you're gonna go SLOW and controlled. Like 8 seconds up, 8 seconds down. Finish with a static hold for 30-60 seconds.
Lat pull down wide parallel grip: Do a warm-up in the same manner as above, then do a work set, nice and controlled and slow, and do as many reps as possible. Do rest-pause training. When you can't bang out any more reps, rest 10-20 seconds, then try and do some more. Do this a couple more times.
Seated cable rows: Go to failure.
Lat raises: Light warm up followed by moderate and then heavier weight. Then do a work-set (heavy-ish and slow and controlled).
Leg extension: Work set of 12 reps and use rest pause training. 10 seconds up, 10 seconds down on each rep. When you fail, wait 20 seconds and try to bang out a few more reps.
Lying leg curls: Same as above.
Barbell squats: Just go light and get the blood flowing some more. You won't be able to lift heavy by this point.
DB curl: In the same manner as the lat raises.
Tricep pushdown: Same as above except try to aim for 20 reps on your work set and squeeze your triceps for 2 seconds at the bottom.
Calf press: Same as above.
Does that look brutal?
You don't even know the half of it until you've tried it.
You'll be shaking and sweating and feeling sick by the end of it. You'll also be ravenous with hunger for the rest of the day. And, trust me, your muscles will be sore as hell.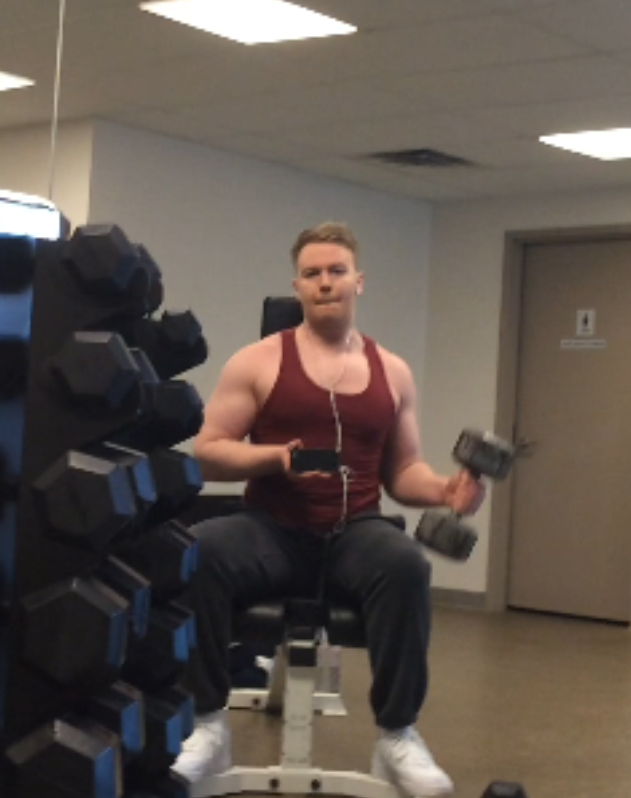 Do that maybe 3 times a week or 3 times every 10 days. You can vary the exercises up. They're not special. It's all about going controlled, feeling the muscle contract, and getting the blood flow in there until your muscles fail. You're going for hypertrophy here.
After the first month, I ditched the specific workout but kept the guiding principles the same:
Slow and controlled.

Feel the muscle contracting.

Full-body workouts instead of isolation workouts.
When I was super skinny, I was always focused on gaining strength in the big 3 core lifts (bench, squat, deadlift). This made things extremely difficult when travelling because most gyms I encountered didn't have enough weight (especially in places like Thailand and Vietnam). It also meant that my joints hurt all the time and the strength didn't result in size.
It was like a revelation when I discovered I could use baby-weight and still grow big.
People would stare in gyms when I pinked up the pink dumbbells for curls and start sweating as I slowly lifted them. I know what they were thinking, "Why is that big dude struggling with such baby weight?"
I can lift the big weights but trust me, pick up some tiny weight and REALLY feel your muscle contracting for several sets and you will see that tiny weights can be difficult to lift.
On top of the weight lifting, I did regular steady-state cardio:
1-hour walks every other day.

20-minute yoga sessions a couple times a week.

Cycling on the stationary bike for 20-30 minutes 3 times a week (either on a dedicated cardio day or after weights).
I did the cardio for regular heart health, keeping fat in check, and reducing inflammation. It also made me feel good and helped clear my head.
That's how I gained 40 lbs in 5 months
So there you have it. That's what went into my "transformation" from being painfully skinny to comfortably big.
From being a 170 lb. skeleton: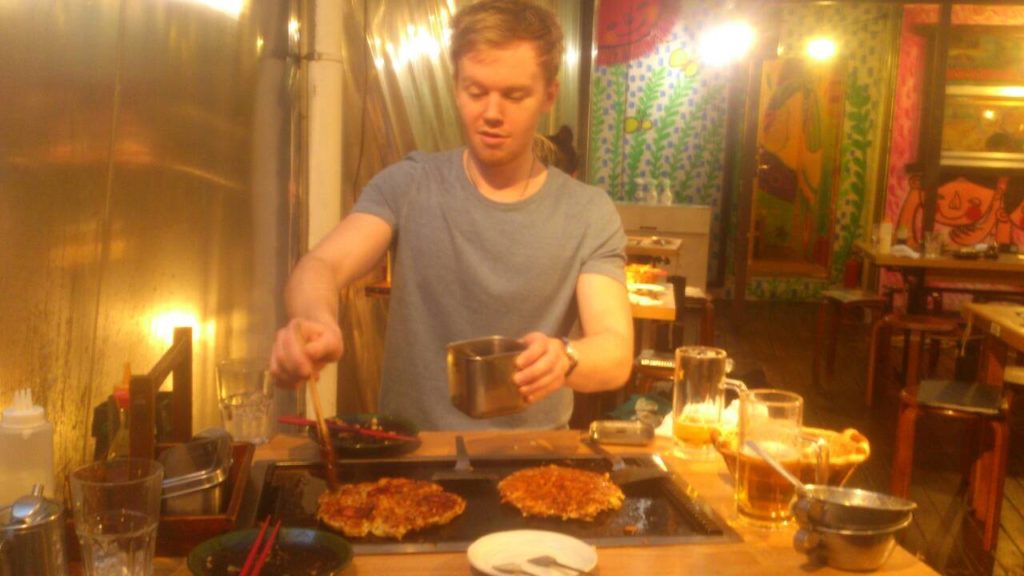 To being a happy 200 lbs: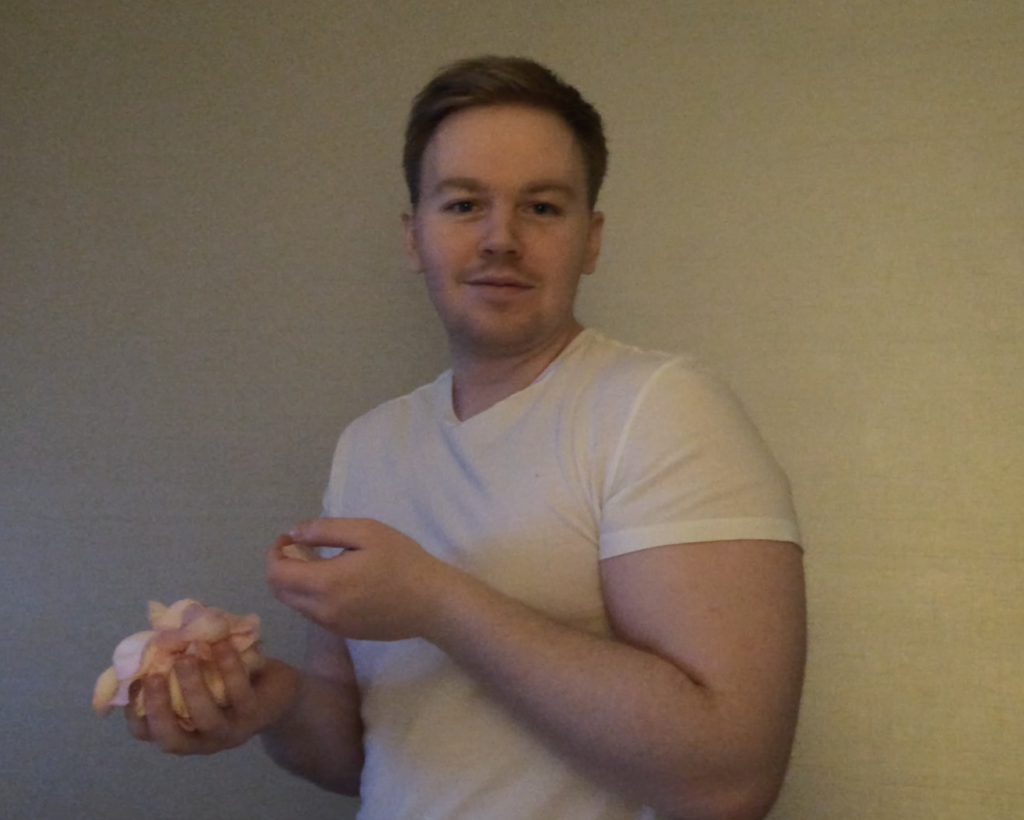 And then hitting 220 lbs as the icing on the cake: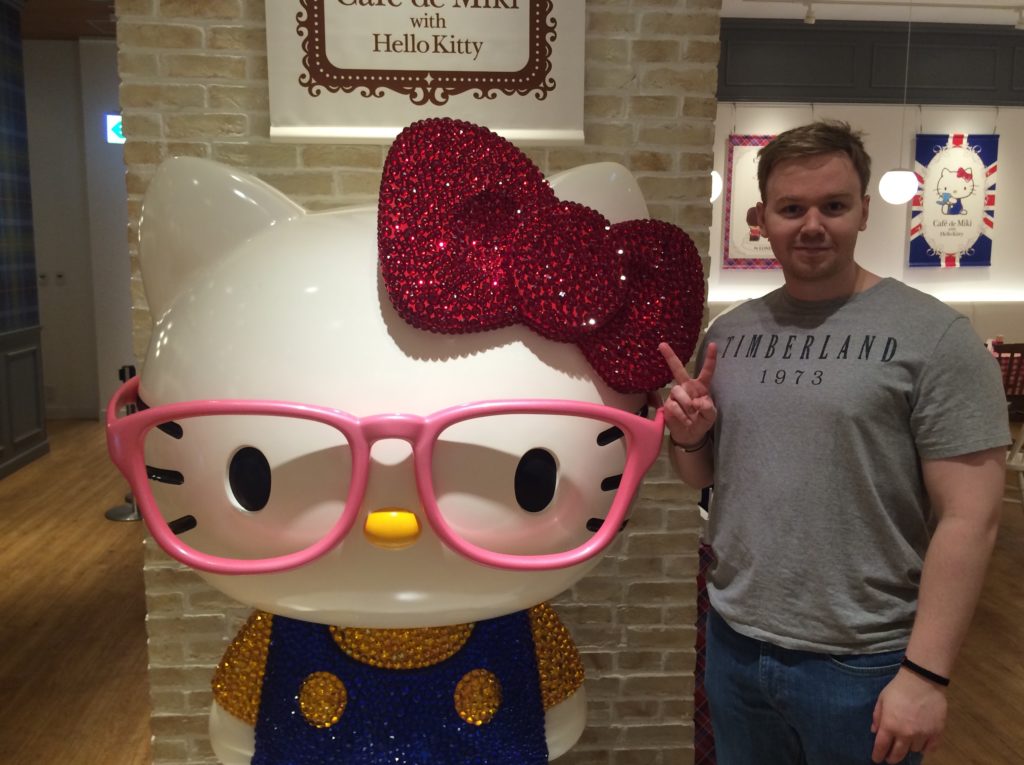 Afterthoughts: What it's like going from skinny to big
Here are a few of my thoughts on what life is like at 220 lbs as opposed to 170 lbs:
You get more positive attention. People just generally treat you better. Like you're important. When I was skinny, people treated me like a kid. Now that I'm big, people treat me like a man. I prefer the latter. 
You get less negative attention. I can't remember the last time groups of men eyeballed me looking for a fight. And I still walk through dodgy areas like before, except now I know my size is a deterrent.
You feel strong. Remember I said I didn't lift for strength? Doesn't matter. Being this size naturally makes you strong. I put on the weight quickly so it took me a while to adjust to my own strength. Pushing someone "gently" might just knock them straight on their ass.
You feel healthy. As long as you keep your cardio up and eat your veggies, you'll probably feel healthier at a bigger weight than a smaller one (like me). 
You feel capable. It's a wonderfully empowering feeling to know that if shit goes down, you can be there to help people rather than just saving yourself. I'm big enough to fireman lift most people. I have enough upper body strength to pull myself up or bust through a door. If a disaster happens, people will be glad I'm around. And if a fight kicks off, people are probably going to look to me for help.
So life's pretty good being a big man. It's not all rainbows though. Here are some negatives: 
I find it almost impossible to find trousers/jeans that actually fit (small waist, big thighs).

I have stretch marks. Red, horrible marks around my biceps, back, and ass. This is from rapid weight gain.

Public transport is crazily uncomfortable. I just travelled economy class from Montreal to Tokyo and it took weeks before my back stopped hurting.
But for the most part, the positives far outweigh the negatives.
Any questions?
Let me know and I'd be happy to answer them.