In September of last year, I spent hours searching for how to cure an ingrown toenail without surgery. Trust me, this isn't a perversion of mine. Searching through tons of crappy conflicting advice peppered with disgusting photos of toes that look like they've kissed a landmine…. Yuck. Not my idea of fun. But I had to find a solution.
My Ingrown Toenail Story
I could no longer walk. My left big toe had swollen to the size of the Hindenburg and it felt like it would soon meet the same fate.
My toe was so painful and swollen with blood and pus that I couldn't even put a sock on. I was living in Japan at the time and as if being a tall, clumsy white dude didn't get enough attention, I was now hopping to the general store with one sandal on and a hastily wrapped bandage around my big toe.
Eventually I went to the doctor. 
I was terrified. I'm a wuss with doctors at the best of times but ESPECIALLY when it comes to anything relating to nails. And, after reading tons of extremely unhelpful forum posts from people assuring other equally terrified people suffering from ingrown toenails, I was worried that the doctor was going to cut out my nail and then it would just be pot-luck if it ever grew back correctly.
I didn't even know if it was an ingrown nail or not but the doctor assured me it was. She prodded it and tons of blood and pus oozed out. It hurt like hell and I moaned like a complete bitch. 
Then, without warning, the doctor just grabbed these huge surgical scissors – they looked like freaking garden shears – and lunged at my toe.
No explanation. No anaesthetic. She was just diving right in… Apparently Japan still has a pretty medieval approach to medicine and you're not supposed to question the doctor.
I yanked my foot away and said I absolutely do not want my toenail removed.
"Isn't there some other way?!"
The doctor told me, "There's no other way. It's much too infected and the toenail is now growing deep into the side of your toe. The whole thing needs to be cut out now."
I still didn't want the decision to completely remove my toenail to be made so hastily so I said, "Give me three days. I'll try my best to take the infection down myself and, if it doesn't work, we'll remove it."
The doctor wasn't happy about that. She said it was pointless and I would just be prolonging the pain but I decided to give it a shot.
And I'm glad I did because in just a few days of treatment with my simple methods, I managed to significantly bring down the swelling, remove the infection, and eventually cure my ingrown toenail without surgery.
Actually, it's kinda fucked up because just a couple of months later, I got another ingrown toenail on my right foot. This one was even more painful. But I managed to cure that one as well. 
So, if you're suffering from an ingrowing toenail right now and you're scared stiff about having surgery (like me), give my solutions a try. I'm not a doctor but this routine worked for me and now my toes are completely cured.
Be warned though that this routine might sound simple but really it's a lot of work and it takes a lot of time. 
You're toe will probably feel much better within a few days of doing this. It will feel almost completely better within a month. But it will still look fucked up for a few months and you'll have to keep a constant eye on things. But, hey, that's better than getting the whole toenail yanked out for good, right?
Here we go….
How To Cure An Ingrown Toenail Without Surgery
This method is two-fold. First we're going to look at a cure so you can get your already-messed-up-toe back in good health. Then, secondly, we're going to look at preventative measures for the future so this crap doesn't happen again.
You'll need:
A bowl big enough for your foot

Gauze bandages and tape

Antibiotic cream

Cotton swabs

Mini scissors

Patience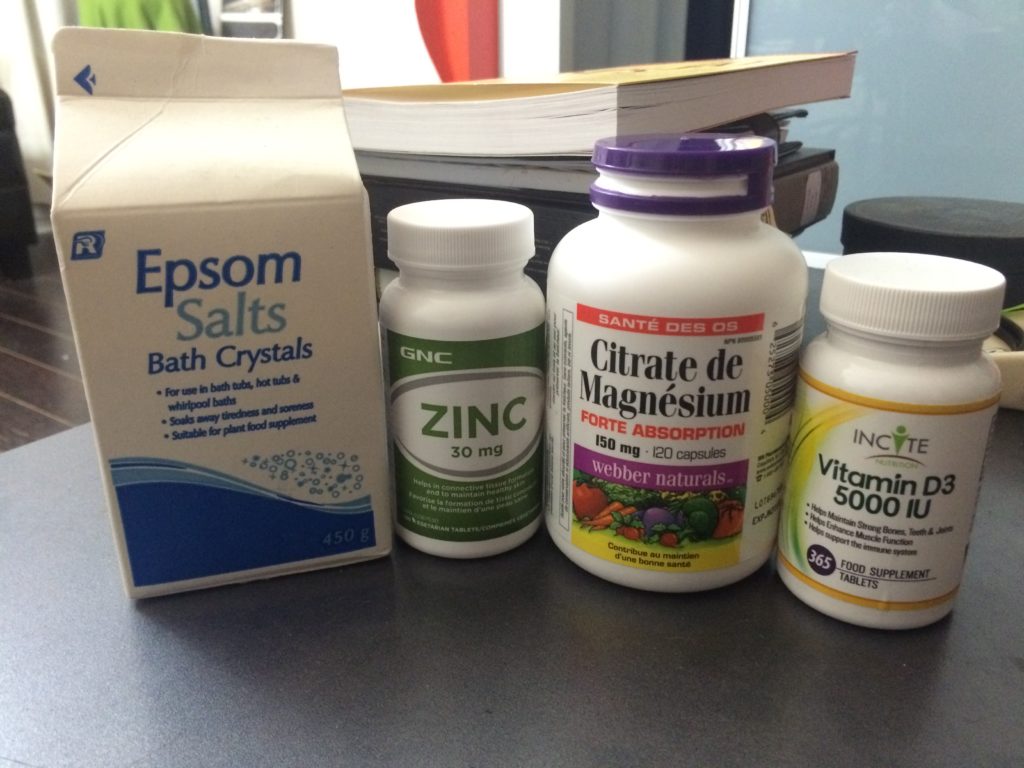 Optional stuff:
You don't need this stuff but if your toe is super infected, you probably feel pretty ill/rundown. These supplements will help you fight the infection better. 
You can get the antibiotic cream from your doctor. If you can't get hold of any, don't worry because I did this routine without the cream for the first 4 days and I managed to significantly reduce swelling, pain, and infection. 
This is what you're gonna do:
You're going to soak your foot in warm/hot water filled with epsom salt 2-3 times a day for 15-20 minutes a time.
Yes, this requires some time. But it's what you need to do. A morning soak, an evening soak, and (if you can manage it) a soak in the middle of the day.
You're going to put a cup of epsom salt into the water. This salt is magnesium. This is a miraculous, very restorative mineral that has terrific healing powers.
The magnesium is going to help your foot recover, soothe it, and also draw out the pus/infection.
The water – which should be as hot as you can stand (not scorching but quite hot) will also help to open up the wound.
After soaking, squeeze that disgusting pus out of there.
I know. It's gross. I didn't want to do it. But when the pain gets so much that you feel like throwing up and you're terrified of having your whole nail cut out, this really is the best option.
You're going to tease the wound open very gently. Gently pull the skin on the side of the toe away from the nail. It shouldn't take much pulling before the pus and blood oozes out like a dirty river. 
This is good. You're gonna feel a lot of pressure disappear from the area and this will reduce the pain and swelling. It will also reduce the infection.
Then clean it all up and prop up your toenail.
You're gonna want to keep this area crazily clean so you don't make things worse. Ask your doctor about a cleaning agent you can apply or if you have the antiseptic cream apply that with cotton buds (Q tips for you yanks). Pad the area dry with a clean towel and tissues.
Once it's clean and dry, take a new clean cotton bud and gently try to get it under the nail that is ingrown. Once it's under the nail, you're going to carefully lift it up and away from the skin. This takes some effort and you'll probably have to hold it in place but try and do this for 10 minutes after every soak. You're basically trying to correct the growth path of the nail so you can cut it away at a later date.
If it's too painful to get a cotton bud under there, you could try a thin piece of card or plastic (make sure it's clean). Or just do a couple more soaks until the swelling has reduced.
After a couple of soaks, you are going to feel AMAZING.
You will feel super relieved and your toe will look much better.
After the soak, cleaning, and pulling the nail away, gently wrap a big old gauze bandage around your toe. This bandage should be nice and soft and you should tape it around your toe so no more bacteria gets in. If you have antibiotic cream, apply it to the ingrown area and wherever is filled with pus before putting the bandage on. The antibiotic cream I used was called mupirocin 20mg/g.
I don't have any pictures of my toe when it was at it's worst (I was too grossed out) but just imagine a stump of bloody, puss-filled pulp and you get the image.
After my first soak, my toe looked like this….
Warning: Gross picture coming up.
Ready?
Here ya go: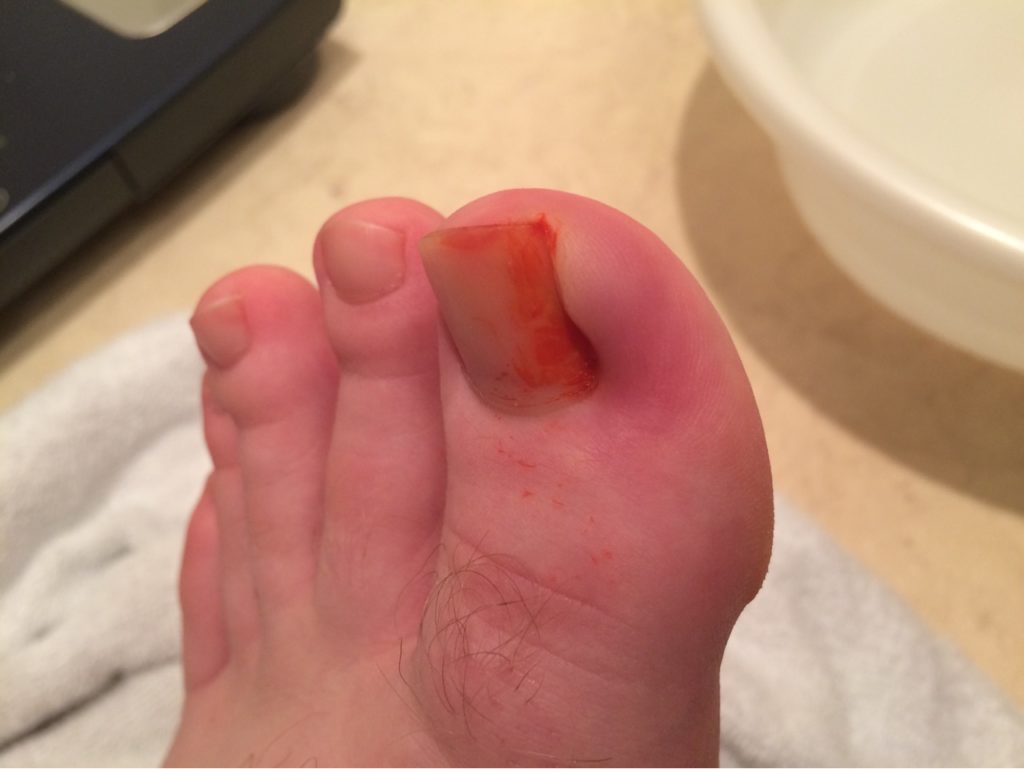 You can see there is still a lot of pus and blood trapped under there but I felt super relieved and this looks a lot better than it did before the soak.
Wanna see some pus?
Here ya go: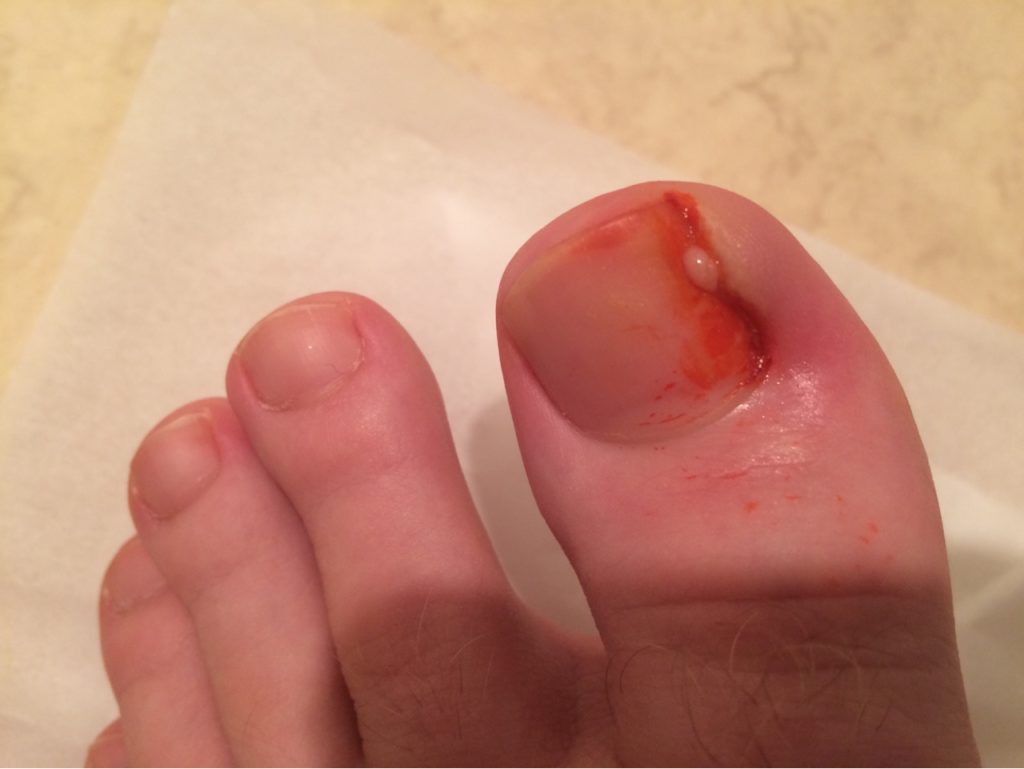 In addition to this routine, you also want to make sure you don't wear any shoe or sock on the affected foot. Keep it bare. It's also good to keep the foot elevated. If you have a stool or a chair that you can prop your foot up on so it's elevated above your heart-level, that's gonna help the swelling. Also try not to walk much. 
Anyways, after soaking my foot just a few times a day for a few days, I went back to the doctor and she was amazed.
She said, "I don't know how you did it, but you don't need surgery any more. Just keep doing what you're doing."
That was the biggest relief. I asked the doctor for some oral antibiotics along with topical cream. She said I didn't need it but I wanted to cover all bases so she gave me a course of antibiotics…. Which completely wiped me out for like 2 weeks but I'm sure they helped kill the infection.
After just a few days of magnesium soaks, my toe looked like this: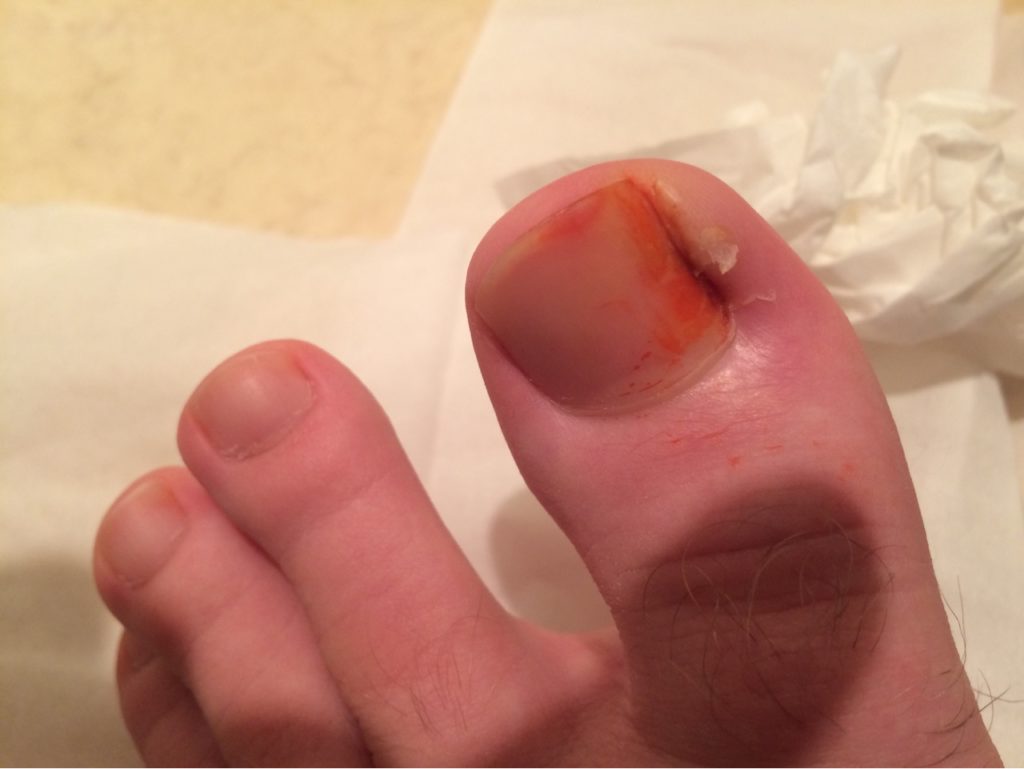 I know. Still not a pretty sight. But the pain was almost completely gone. The swelling was gone. And the pus was gone.
You can see it does look better. You can see the swelling has gone down. The skin is a little frayed and coming off. That's from the hot salt soaks. The nail also got softer, which made it easier to pull away from digging into the side.
I continued to follow this routine for the next couple of months. After a couple of weeks, I reduced the foot soaks to just once a day, then to every other day, and the same for pulling the nail away. 
By Christmas time, my toe was completely better.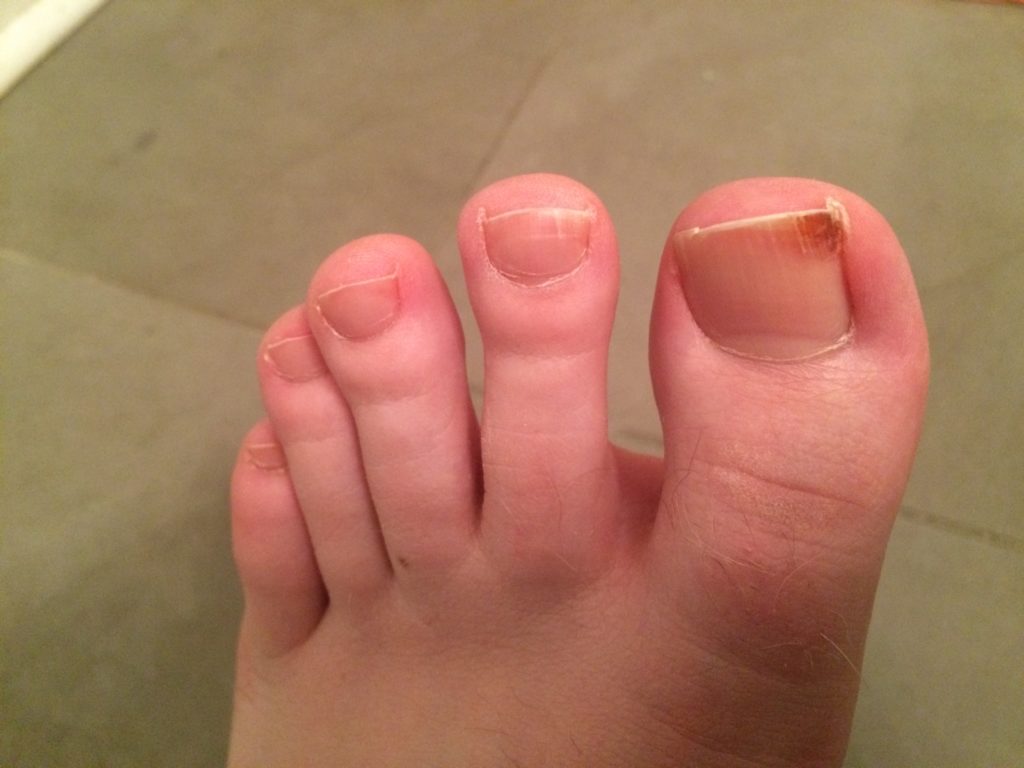 It still looks a bit bruised and the nail is still stained from the antibiotic cream but aside from that, it's all good. The nail is no longer ingrown.
Preventative Measures For Ingrown Toenails
Like I said, my other toenail became ingrown soon after. This made me do some thinking and I discovered a few things that were causing the problem.
Get proper shoes.
I was wearing trainers that were a couple of years old and my toenails were constantly banging against the end of them. I should have realised this sooner but as soon as I went out and bought new, better-fitting shoes, my toes immediately stopped having problems.
Cut your nails properly.
There's an old piece of advice that says you should cut your nails into a triangle shape. Ignore this advice. It's wrong and it leads to ingrown toenails. Cut your nails in a straight line and do not dig into the corners. It will just mess up the direction in which your nails grow and you'll increase your chance of getting an ingrown toenail.
Stop banging your toes against stuff.
I had this habit where I would lightly bang my toes against a hard surface in order to click them (like cracking knuckles). I had to stop this as I'm fairly sure repeated banging + bad clipping + poor-fitting shoes = ingrown toenails.
That's how you cure an ingrown toenail without surgery.
I hope this advice works for you as well as it worked for me. It might not work because your ingrown toenail might be at a more advanced stage than mine and will require surgery. However, my doctor was convinced my entire toenail needed to be yanked out and I proved her wrong so give this a try. I can almost guarantee it will reduce your swelling, pain, and infection and you'll stand a good chance of sorting your ingrown toenail issue out.
P.S. Yes, I know this is a weird subject to be writing about as I usually write about books and writing and marketing… But I was in so much pain last year that I vowed if I could find a way to cure my ingrown toenail, I would share it with the world. It's simple but effective. So give it a try or pass this article onto a friend who needs it.