It took me a long time to sign up to the James Patterson Teaches Writing MasterClass. I signed up to the Aaron Sorkin MasterClass (loved it) and then the Werner Herzog MasterClass (loved it), and then recently the Shonda Rhimes Masterclass (loving it)… But I'm primarily a novelist. So why did I take two screenwriters' and a film director's MasterClass but not one from the bestselling novelists of all time?
I guess I was scared.
I was scared that I've already invested so much into my craft and I was worried that I would just hear what I've already heard except for a higher price tag. But a few things changed my mind.
The first thing is that I've had so many beginning writers ask me what's the best course to get started writing. These are people who have just recently fallen in love with thrillers and mysteries and still have that joy of first dabbling with their own stories. But what can you tell these people when that was me over a decade ago? So I decided to see if the James Patterson MasterClass would be great for them (spoiler: it's perfect).
Also, I figured, hey, if I learn just one thing from this class that helps me to becoming a better writer myself, that's money well spent. And why wouldn't I learn something? It's James Freaking Patterson.
This is a guy who…
Is currently the bestselling author in the world.

Has more #1 children's books than any other writer.

Has had 19 consecutive New York Times #1 bestsellers.

Has sold over 300 million copies of his books across the world.

Holds the Guinness World Record for the first person to sell over 1 million ebooks.
So I plunged right in. And I'm glad I did. 
To be upfront, this review contains affiliate links. I loved this masterclass so much that I wanted to make it one of the few products I officially recommend. I wrote this review before promoting it and this review certainly is not paid for but I'll get a commission if you buy based on my recommendation, which I then use to keep this site up and running.
You know it's going to be a good class when James Patterson's opening lines are:
"Hi, I'm Stephen King."
After that, James dives into a discussion on the importance of first lines. We know from his own opening line – just 4 words – that this course is going to be irreverent and fun and a little jokey at times — all these things are super important for the beginning writer.
James begins by saying that the course works on several levels:
It's for people who want to write books or think they want to write books

It will teach you how to be more efficient and take a lot of the time-wasting things out of the process.

It's for people who like to read books. For people who love to read mystery, suspense, even kids books. You won't read books the same way again after taking the course.
Having made my way through the entirety of James Patterson's MasterClass, I wholly agree with those points. Particularly the second point. This course is THE writing efficiency course. One of the biggest values of this MasterClass is the famous James Patterson outline, which I have already implemented and benefitted from in my own work.
I didn't take 6 weeks to finish the course.
If you're a complete beginner writer, I definitely recommend you take the full 6 weeks to finish the course. That will mean stopping the videos right even if you want to go on. That's difficult because this is a very bingeable course.
If you've already devoured tons of books on the subject of writing and you've been writing for several years, you probably will zoom through this course.
Personally I finished it in less than a week. 
I found that the first half of the MasterClass didn't tell me anything I didn't already know. But it did provide me a big kick up the ass. James Patterson, as well as being a super nice, friendly, and surprisingly hilarious guy, is incredibly motivating.
Don't underestimate the value of a good shot of motivation. It can become disheartening as a writer. In fact, "disheartening" is kind of the default mode of being for any writer who hasn't broken out yet. 
Even James himself wrote in obscurity for many years. 
Every short story he wrote was rejected by publishers.
His first novel was turned down by 31 publishers. Seeing as it won best first novel in America, they were all wrong. 
He also probably wrote at least a million words – yes, a million – before writing the Thomas Berryman Number.
So the first half of the course is extremely motivating from a man who has been there, done that. The second half is where I learned more practical advice (like the outline) that made the course even more worth it.
Week 1: passion and habit, enduring rejection, believing in yourself, raw ideas, where great ideas come from, different approaches to ideas, plot, condensing your plot, raising the stakes, creating conflict, creating worthy opponents, building in surprises, less is more.
Week 2: research, finding inspiration, building credibility, writing locations, conducting interviews, what your outline needs, how to write your outline, how to add more suspense, how to edit, writing with a chapter-focused approach, how to troubleshoot your outline, analysis of the Honeymoon outline.
Week 3: how to get over writer's block, how to focus, how to create characters, making a complex hero, making a complex villain, making important secondary characters, creating reader intimacy, favourite first lines, how to keep pulling the reader in, how to get the reader invested, how to involve the reader quickly, rewriting.
Week 4: example of great dialogue, how to heighten reality in your dialogue, how to reveal your characters through dialogue, how to do exposition the correct way, compressing time, moving the story forward, building a chapter, character viewpoints, writing scenes, finding a voice, giving the reader questions, writing suspense, knowing your genre, intriguing your reader, keeping the stakes raised, keeping the reader guessing, revealing information at a good pace, how to end the book, what the ending needs, how to plant seeds along the way, favourite book endings, the secret for great endings. 
Week 5: editing, moving the story forward, removing distractions, editing dialogue, keeping the pages turning, how to stay positive while editing, working with co-authors, how to find a great co-author, when to begin collaboration, getting published, finding the right agent, sending query letters, book titles, book covers.
Week 6: marketing the Patterson way, how to brand yourself, creating a tagline, advertising, using social media, pushing your publisher, Hollywood, James' personal story.
If you think that looks like A LOT, you'd be right.
But the James Patterson MasterClass goes into great breadth but does not go deep on most topics. That's why I feel this course is best for beginners.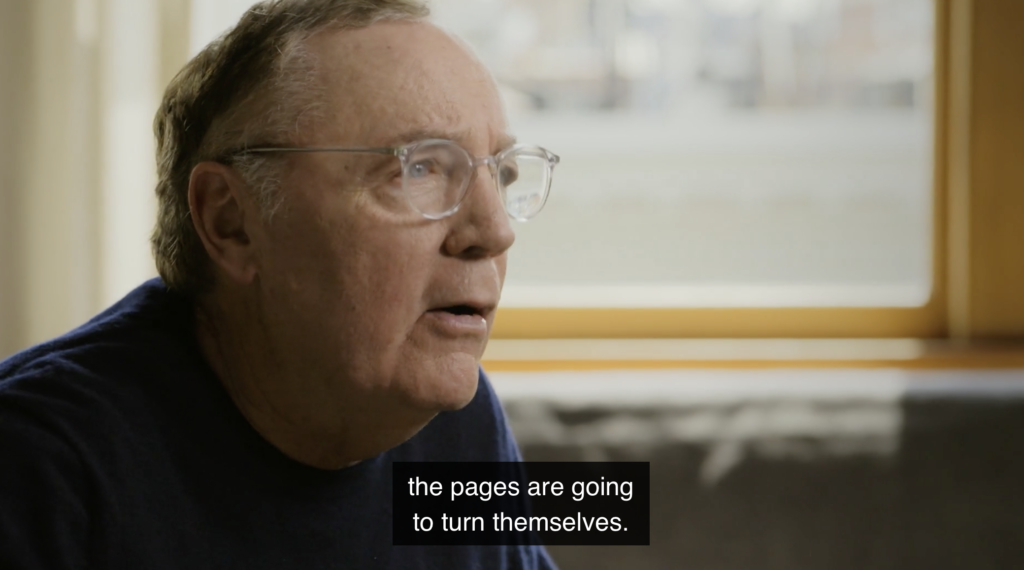 Breadth will give the beginner a good overview of everything they need to get writing. Depth will come with time and practice. 
Personally, I would have loved to hear more details about Patterson's marketing and his approach to business. There was quite a bit of marketing info but, it being James Patterson, I obviously would have wanted more. There wasn't much on the business side of things but that's fair enough because this is a writing class not a business class.
I got a ton of value from the MasterClass – particularly having access to James' original outline for Honeymoon. But my favourite part of the whole course was the office hours where James answers tons of student questions (this is still ongoing so sign up and ask your questions too – who knows? You might get an answer).
We get to see loads of different ideas – for first lines, chapters, story blurbs, and more – submitted by fellow students and watch Patterson critique them himself.
In one of these 'office hours' videos he offers the advice that editors and agents are going to be a little bit cynical because they feel like they've seen everything before already. So you really need to show them that working many hours with you is going to be worth their time (remember: they're investing in you).
This is also great advice for self-publishers to remember when crafting those blurbs for Amazon. The reader is going to be investing their time (typically more valuable than money for most avid readers) in you so show them why they should invest in you.
Patterson's feedback is probably the most useful part of the course. Reminds me of university tutorials where we actually enjoyed and learned way more from the thirty minutes of personalised feedback rather than the hour of lecturing beforehand. 
Outline, Outline, Outline
I always seem to sign up to these MasterClasses right when I'm struggling with my own writing the most.
And, without fail, the instructors always seem to give me some great advice that helps me finish my manuscript.
Aaron Sorkin helped me finish a book when he told me to ditch everything I know about characterisation.
Werner Herzog helped me finish a book when he taught me how to whip myself up into a fury.
And now James Patterson has helped me finish a book with his insanely detailed, insanely helpful outline guide. 
James says that he knows many writers – himself included- that can finish a draft in a month. Well, with James' outline guide, I finished my draft in a month and a half. Pretty good, right?
You can tell why James is so popular. You can also tell he worked in advertising. He is full of pithy quotes about writing. He sprinkles these constantly throughout the course. Here are a few that spoke to me:
"When you're writing a story, don't think about the sentences."

"Try to write every chapter as if it was the first chapter in the book."

"Don't set out to write a good thriller. Set out to write a no. 1 thriller with a no. 1 story idea."

"Try to write for a single reader who's sitting across the desk from you and you don't want them to get up until you're finished. And if you're smart, make that reader a woman. Why? Women buy 70% of the books."

"Hit the consumer in the face with a cream pie. While you have their attention, say something really smart. There's nothing else. That's the whole business."
The James Patterson MasterClass is a great course for beginners/people who haven't written before or only written a little.
Certain parts are well worth their weight in gold for intermediates (like myself).
Stuff to do with getting a publisher and designer and cover is very valuable. I might have already clocked my million words but I have spent nowhere near the amount of time needed in the end-process of design and marketing to really have hit my stride yet. So this was immensely valuable for me. Beginners won't need this just yet but, because the course is accessible for life, they can come back when they do need that particular advice.
In short, the James Patterson MasterClass provided a ton of value and I definitely recommend you check it out.
November 2017 Update: Now, for $180, you can get access to the entire MasterClass course library with the All Access Pass. This is a total non-brainer and incredible value for money. Just check out their line-up.