I took the Judy Blume Teaches Writing MasterClass as part of the new MasterClass All Access Pass.
You used to have to pay $90 for each individual MasterClass. Want to learn writing from James Patterson? Ninety bucks. Want to learn screenwriting from Aaron Sorkin? That's another ninety. With so many great courses and world class instructors releasing content on the MasterClass platform, you can see how that's going to get real pricey real quickly.
But now you can pay $180 and get access to all the content MasterClass has to offer. If there are 2+ courses you're interested in, the All Access Pass is a no-brainer.
I took the Judy Blume MasterClass as part of this All Access Pass but, now that I've made my way through the MasterClass (still with many assignments remaining), I can gladly say I would have paid $90 for Judy's class alone.
So, without further ado, let's get into this Judy Blume Teaches Writing MasterClass review.
I also just wanted to say that this review contains referral links, which basically means if you found this review helpful and decide to buy it because of my recommendation, I may get a small commission (which I put back into the site hosting fees and other products to review). I don't recommend much stuff – only the best. And this is one of the best.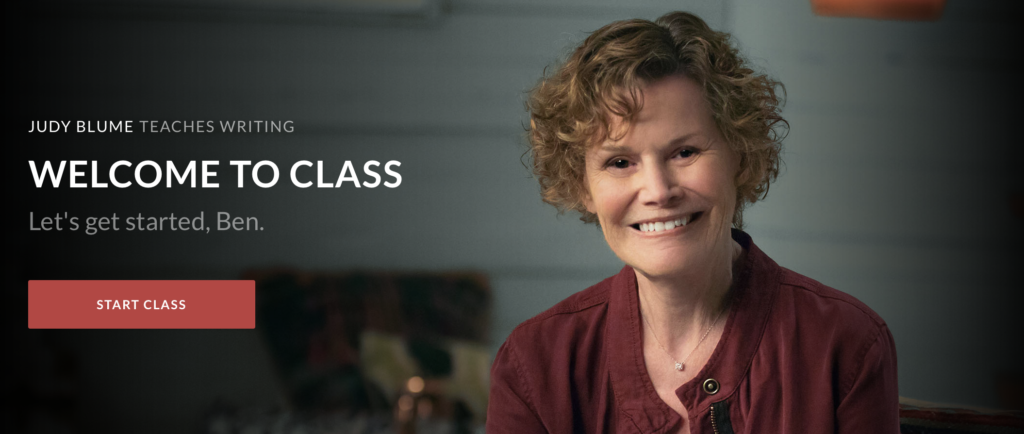 Let's begin with a shameful admission…
I didn't really know who Judy Blume was before I took this MasterClass. 
Of course, I'd heard her name and I think I must have seen her books around but she is a bit before my time (I read Goosebumps instead of Fudge) and her books usually addressed topics girls are concerned with (e.g. getting your first period) instead of boys.
But by the time I got to part 6 of the MasterClass (there are 24 parts in total), entitled 'Writing For Younger Readers', I wanted to know all about Judy Blume and immediately ordered and devoured these wonderful books:
Are You There, God? It's Me, Margaret

Tales of a Fourth Grade Nothing

Tiger Eyes

Blubber
And now I can say if you are interested in learning how to write for children, Judy Blume is most certainly a writer you should learn from.
I didn't know fully who she was but I got great value from Judy Blume's course. 
If you are already a fan of her work, grew up reading her books, and are interested in being a writer for younger readers, you're going to love Judy Blume's MasterClass even more than I did.
The video lessons typically run to 10-20 minutes and the whole course is 5+ hours.
In addition to the video lessons, you get access to the student community where you can meet other students and there are different exercises and discussions ongoing all the time. You get access to office hours where Judy will answer your questions. And you get a PDF booklet with tons of homework.
The entire course is professional in every aspect, from how it is laid out to the content to how the videos are shot. 
These MasterClasses are incredibly bingeable so you have to fight to slow the pace down.
I think a slower pace over a longer time frame is more beneficial because it allows the advice to really sink in and let you think about everything more in-depth.
You don't want to binge it because, trust me, there's a lot here that needs time to ferment in your mind. You're listening to someone who is at the top of their craft, giving you wisdom accumulated over the course of a long and successful career. Take your time with it and appreciate it.
Take notes!
I think the course is structured in a logical progression for someone looking to write a book from scratch – even if you have no ideas.
The MasterClass begins with a fascinating introduction and history of Judy's childhood then dives into the rich topics of finding ideas and writing for younger readers.
There are writing case studies from Judy's books. 
Judy discusses how to craft memorable characters, how to write compelling and realistic dialogue, how to tackle the difficult issue of plot.
We get deep insight into Judy's own writing process and we even get tons of info on the topics of submitting, finding an editor, handling rejection, the marketplace (e.g. cover design), how to handle controversy and censorship, and so much more.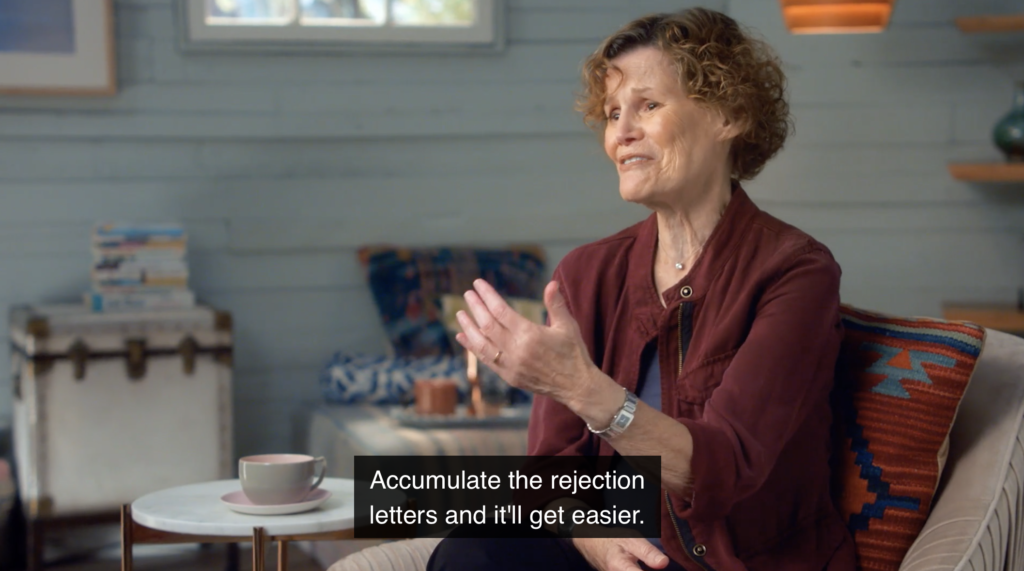 The Judy Blume MasterClass is perfect for the beginner writer because there is lots of handholding and it's well laid out. If you follow the assignments in the course workbook, you could have a nice little book by the end of it.
When I say the masterclass is perfect for the beginner writer, I don't necessarily mean the beginner who has never written anything.
I mean the beginner who is unpublished.
Maybe you have a folder full of ideas or journals full of story scraps – then this course is perfect for you.
Judy Blume's MasterClass is also perfect for those writing for children and early teenagers.
Judy's advice obviously applies to all genres because it's good writing advice. But Judy's speciality, as you know, is writing for younger audiences and her advice here is where you really get a ton of value.
Learning how to write for younger readers was an immensely valuable part of this course for me because my audience is a few years older than Judy's. It has also been my dream of the last few years to write for the 8-12 age bracket so this was a real treat to listen to.
I particularly enjoyed Judy's discussion on "how to get in touch with the little version of you". 
Judy went into how you can get yourself back into your childhood with a bunch of different questions and cues. And if you can't get there, she gave practical advice for how you can manufacture getting back in touch with younger people.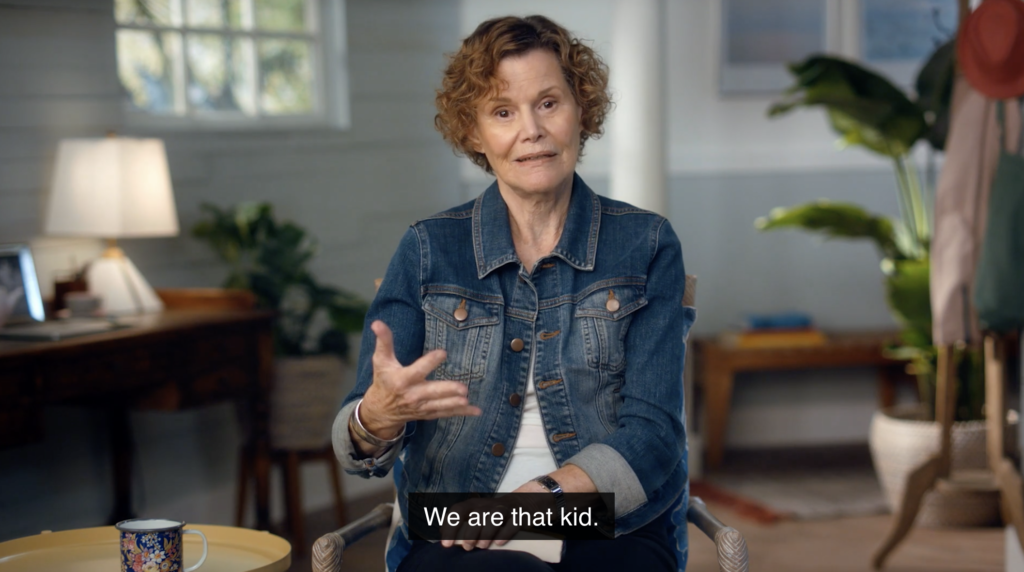 Judy often finds themes that recurred throughout her own childhood as a way to get into the right frame of mind to write fiction for younger readers. 
I also found it interesting to hear her thoughts on voice when it comes to writing for children. For example, we have to be the kid when we're writing. We're never talking down to them. We're never preaching. 
"We're not an adult telling children a story about being a kid. We are that kid."
Another section of the course that stood out to me were the dialogue sections.
Judy's advice about realism in dialogue and moving the story along were very helpful. In particular, I personally made a bunch of notes on the subject of interruptions in dialogue.
I've been writing long enough now that I feel like I'm just accumulating little gems when I learn. So at this stage, learning about interruptions in dialogue (though a small facet of overall writing) is a real prize for me.
Beginners will take big chunks away from this course but I'm just as happy with the little gems.
I rarely take these classes specifically to learn the nuts and bolts of craft.
MasterClass will help in that regard but the greatest value I always get is a feeling of invigoration. 
I feel like I've been shot out of a canon aimed directly at my keyboard.
Usually I take these classes when I'm struggling in my writing and I know they were worth the money because I got back to writing or had a breakthrough.
In this case, I have been writing fine so I can't test Judy's class by that measure. But she has certainly made me more thoughtful and experimental in my current work-in-progress. Things I had already been thinking of subconsciously have been brought to the forefront and helped me expand my skills.
Judy's style of teaching is one that moves you to write. She is vivacious, bursting with energy, great clarity, enthusiastic, motivating, interesting, emotionally raw, and a joy to listen to. She reminds me of my aunt in her approach and the wisdom with which she talks.
Whether you're a fan of Judy Blume already or you're a beginner writer looking for some great insight into writing for younger audiences from a proven authority, I fully recommend this MasterClass.
I particularly recommend you go for the All Access Pass so you can also learn from other great writers like Shonda Rhimes, James Patterson, David Mamet, and Aaron Sorkin. You can also check out the great filmmakers, actors, and other artists.