I've been like an impatient kid the last few months waiting for the Martin Scorsese Teaches Filmmaking MasterClass to go live. I told myself I would portion the class out slowly over a few weeks but, when the time came, I binged it in a day.
The genius thing about MasterClass is that their courses are extremely bingeable: compelling content, world class instructors, superb production value. But the courses are structured in such a way – with their accompanying workbook – that you can binge the whole thing once, then you can spend months going back over it and completing all of the tasks. The re-watch value is huge.
So even though I wolfed down Martin Scorsese's MasterClass in one bite (after all, Martin Scorsese is my filmmaking hero), I still have many more enjoyable months ahead of me to dig into the course.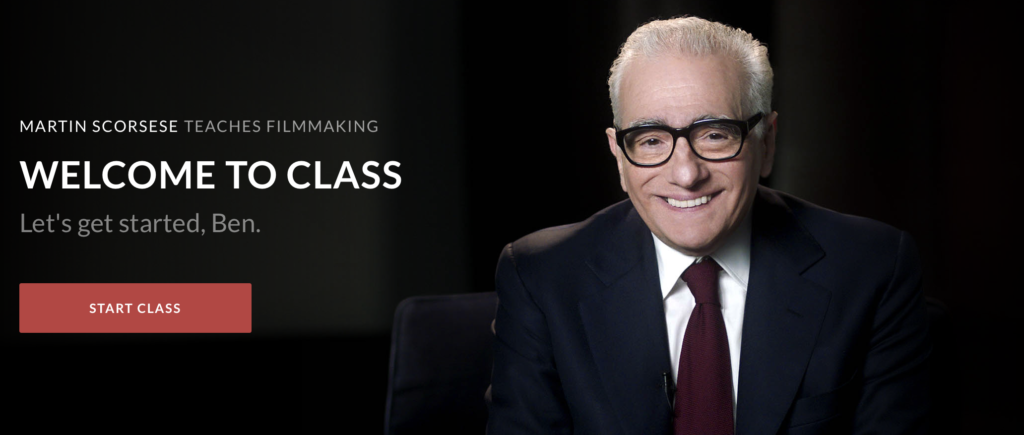 This Martin Scorsese Teaches Filmmaking MasterClass Review will give you my overall impression of the course but I will be providing more updates throughout the year as I go through the homework. And to be upfront, this review contains affiliate links. I love MasterClass so much that they are one of the few products I decided to officially recommend. All opinions are my own and any commissions I may receive from people buying based on my recommendation go back into keeping this website running.
If you're thinking about taking this MasterClass, or if you have even a passing interest in film, you already know who Martin Scorsese is. 
It feels ridiculous listing Scorsese's accomplishments but here we go.
This is the master filmmaker who brought us:
Casino

Silence

Cape Fear

Goodfellas

Taxi Driver

The Aviator

Raging Bull

Mean Streets

The Departed

Shutter Island

Gangs of New York

The King of Comedy

The Wolf of Wall Street

The Last Temptation of Christ

And much, much, much, much more
That's a list of some of my favourite films of all time.
One thing's for sure:
MasterClass are killing the game. They are bringing ringer after ringer from all fields and are a particularly phenomenal resource for anyone who is getting into the filmmaking business (check out their filmmaking lineup).
If you're going to get the Martin Scorsese MasterClass, I definitely recommend you get the All Access Pass. You'll get filmmaking advice from Scorsese, Howard, and Herzog. You'll get acting advice from Helen Mirren and Samuel L. Jackson. You'll get writing advice from Sorkin, Rhimes, and Mamet. And there are tons of other great courses on top of that.
Like I said, I binged pretty much the entire thing in a day. The video components are 4+ hours of Scorsese talking directly to us on a number of different themes. With note-taking thrown in, it took me about double the running time to get through almost all of it and left me with a strong desire and need to revisit the course in smaller chunks throughout the year.
There is huge value in the workbook you get. Obviously most people would be happy enough just watching and listening to Scorsese but the workbook really makes this more of a concrete course with definite direction.
I've got a lot of big goals this year (already hitting many of them and doing well). To add another one immediately is crazy but as I anticipate I will hit all before the year is out, my next goal later this year will be to start making my own films.
This workbook is going to be invaluable when I do that.
The aim of the workbook is basically to get you making your own short film by the end of it. 
So check back in with me later this year once I've put Scorsese's principles into practice 
Or, better yet, beat me to it, and start doing it yourself!
I won't list all 30 themes here but here are some of the big ones that were my personal favourites:
Editing

Costume Design

Scene Discussions

Discovering Your Process

Shooting Low-Budget Films

Channelling Your Influences

Understanding Cinematography 

The Importance of Sound Design
I loved Scorsese's discussion of the old masters, which was a constant running theme throughout the entire masterclass.
One of my favourite parts of the masterclass was where Scorsese was dissecting scenes from different influential movies. 
Scorsese analysed and broke down scenes from these movies:
Federico Fellini's 8 1/2
Alfred Hitchcock's Vertigo
François Truffaut's Jules et Jim
Stanley Kubrick's Barry Lyndon
Jacques Tourneur's Out of the Past
Scorsese walked us through these scenes and analysed everything: natural lighting, voice over, importance of imagery, use of light and shadow, camera angles, actor performance, music, frame composition, colour, background action, camera shots, emotional power, camera movements.
I really wish these segments had been longer. I would have loved a whole course just watching Scorsese analyse great films. But this masterclass is more than that – this is the filmmaking master letting you inside his head and giving you direction.
I loved Scorsese's advice on developing your style
The MasterClass starts off with Scorsese's education, which is fascinating, but I already knew a lot of his history. So the course really came alive when he began discussing how to discover your process.
As you can imagine, the issue of discovering a process is a thorny one.
One director's process will look completely different from another's. Outside of basic logistical stuff like camera set-up, process is unique.
Scorsese led us through different filmmakers' processes from Fellini and Rossellini to his own process.
Everything about editing, improvisation, serendipity, imagination, and synergy (working with everyone on the same page) was gold.
We get to see his thought processes behind tons of iconic scenes in films like Goodfellas, Casino, Gangs of New York, and more.
We also get to see how Scorsese would start with one preconceived idea but would allow it to change in its aspects as long as the philosophy of the idea is contained (seriously, this MasterClass gets pretty abstract at times).
We also get to see Scorsese's storyboards – both the ones from his childhood and the ones for big films like Raging Bull that contain all the cinematography elements already sketched out.
In addition to lots of technical and philosophical discussions, I really relished Scorsese revisiting all of his influences.
He analyses a film called The Small Back Room and shows how it influenced him and stayed in his memory after only seeing it once and how two key images later became key images in Taxi Driver.
He also analyses the use of a dolly to track a gun movement in Northwest Passage and how that influenced a similar scene in Taxi Driver.
It's interesting that so many aspiring filmmakers today are inspired almost exclusively by the films of the likes of Scorsese – but how many really truly dig into their influences?
When we are inspired by Scorsese, we're also inspired by Northwest Passage and The Small Back Room without evening knowing it!
Another one of my favourite lessons has to be 'Developing Your Style'.
This is where Scorsese teaches the principles of visual literacy and discusses his style's features, previsualisaiton with storyboards, voice overs, and the influence of documentaries.
Rigorous discussions about visual literacy, words, symbols, ironic humour, directing and technology, how to find the story, casting, costume design are all fantastic fun and highly illuminating.
Many of the individual video lessons were worth the price of entry alone.
There is also so much homework in this course – exactly what you want when you drop a weekend's worth of drinking cash on an online course!
You will be watching a lot of films and also doing a lot of different exercises for making your own short film.
The reading and viewing list at the back of the workbook is BEAUTIFUL.
I really feel like whoever put the workbook together at MasterClass (perhaps collaborating with Scorsese?) really put a lot of love and care into the product.
I also love the nice added touch of a month free trial to Film Struck so you can check out the Criterion films Scorsese recommends.
The value in Martin Scorsese's MasterClass isn't in little quotes. The value is in listening to the man analyse every facet of the filmmaking craft. But here are a few quotes from Scorsese to whet your appetite anyway:
'If you don't get physically ill seeing your first assembly or rough cut, something's wrong.'

'You take one image, and you put it together with another image, and there's a third phantom event that happens in the mind's eye.'

'Casting is 85-90% of the picture for me. Insist on what you want, and don't settle for close enough or second best.'

'I always found that going to see a film and studying it at the moment as you're watching it for the first time doesn't work. You have to let the film work on you or not.'

'You have to figure out how the limitations could become advantages.'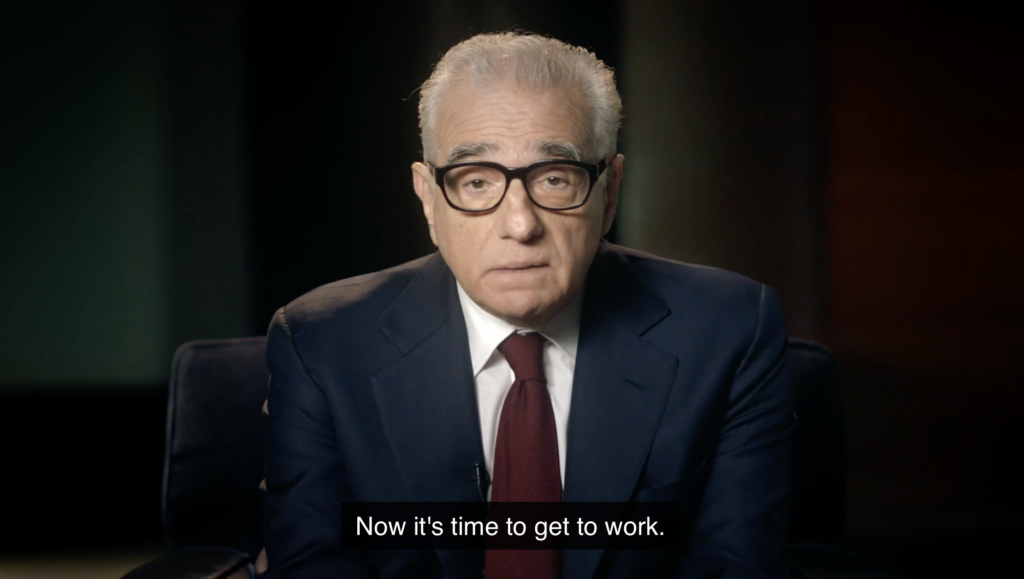 The Martin Scorsese MasterClass is a great course for anyone who wants to get into the film business.
Whether you're a beginner, intermediate, or advanced in your career, whether you're an actor, cinematographer, editor, screenwriter, or director, or even if you just really love films and love Scorsese and want to learn more about what goes into cinematic genius – this MasterClass is for you.
I can't recommend this MasterClass enough. As part of the All Access Pass, it's a no-brainer. But it's also still worth the money as a standalone course too.
If you can afford it and you want to go for it, I say absolutely go for it. And let me know what you think of it once you are enrolled!