The OwlCrate Book Subscription Box for February 2017 was AWESOME. This is the first time I've received any type of subscription box before so I didn't know what to expect. But I was very, very happy with this box and will totally order next month's (I feel a new addiction growing). 
The theme for OwlCrate's February 2017 box was "Run away with the Circus". But what exactly does that entail? Let's find out in this OwlCrate review and unboxing.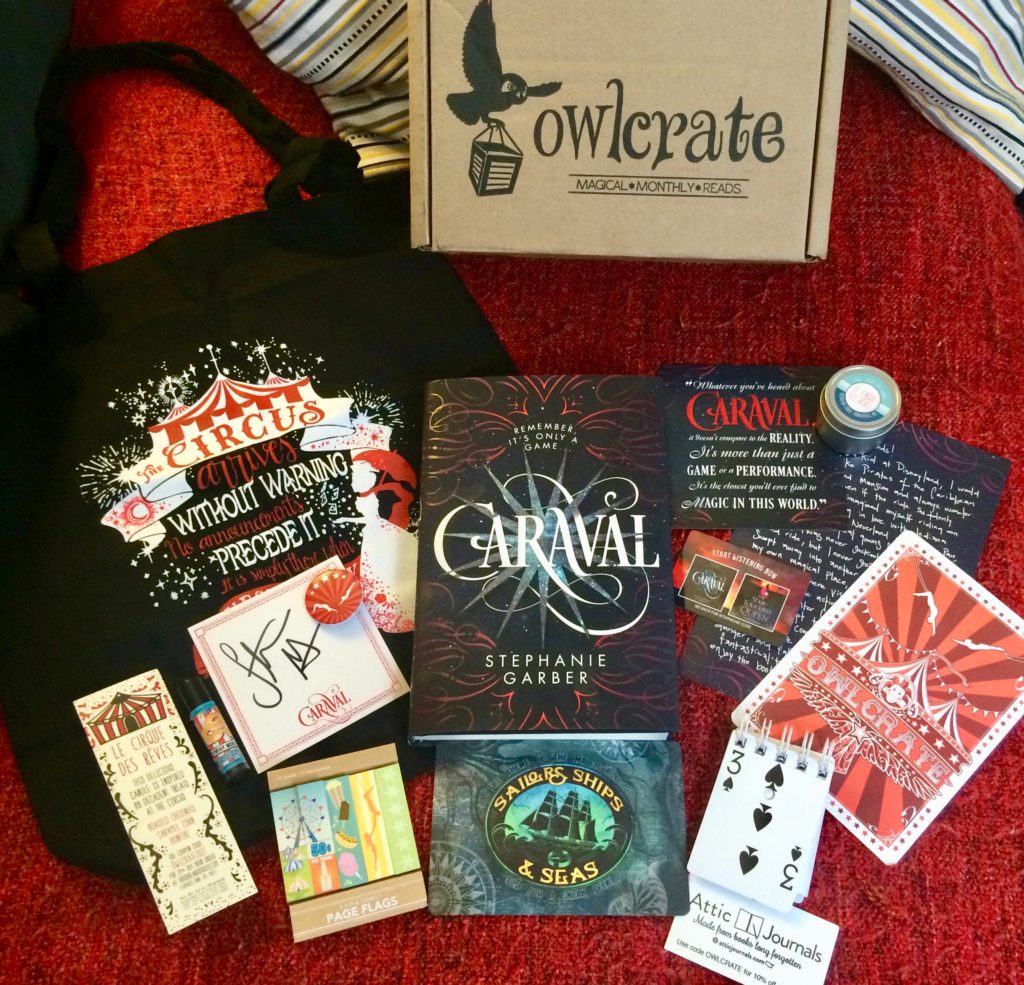 OwlCrate Review & Unboxing: February 2017
First things first…
Let's talk about the book in this month's OwlCrate box.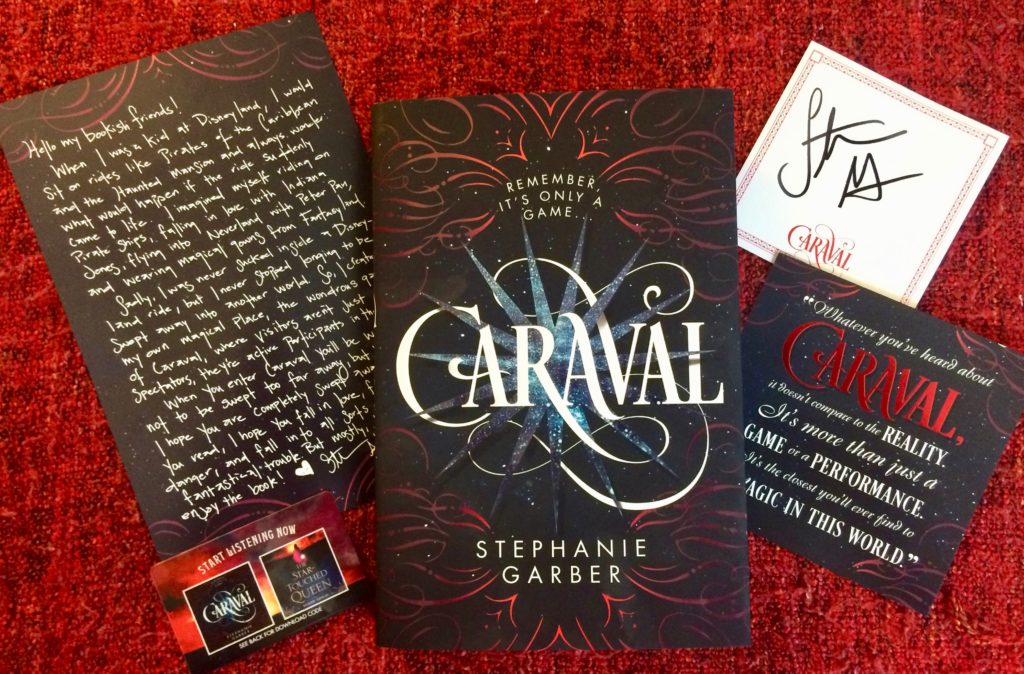 Notice how absolutely gorgeous the book is.
The book for this month is "Caraval" by Stephanie Garber. I've only read the first couple of chapters (so far so good) so I'll hold off on giving a book review for now. Suffice to say, it looks beautiful inside and out and the blurb thoroughly hooked me:
This is a story about two sisters, Scarlett and Tella, who run away from their controlling father, and join in the game of Caraval. Scarlett has dreamed of attending Caraval her entire life, but things go awry almost immediately, as Tella is kidnapped and becomes a part of the game itself. Now Scarlett is in a race against time to find the clues, navigate the game, and reduce her sister before it's too late. 
In addition to a book that is beautiful inside and out and has a compelling premise, OwlCrate also delivered a signed bookplate, exclusive quote card, sneak peek of the audiobook, and a letter from Stephanie.
Personally I would have been massively impressed with all that stuff alone. But OwlCrate had more goodies!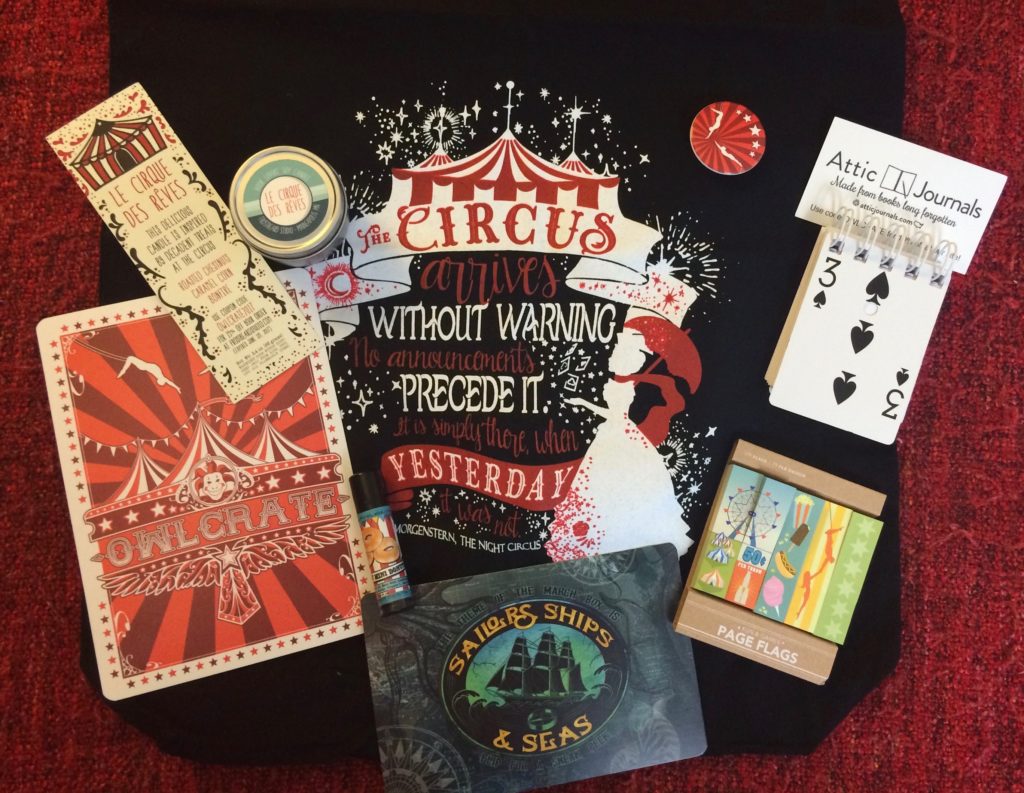 OwlCrate Goodies:
Evie Bookish tote bag: 

This tote bag is beautifully designed and inspired by Erin Morgenstern's The Night Circus. 
Frostbeard Studio's "Le Cirque des Rêves" candle: This candle is handmade specially for OwlCrate and smells like caramel popcorn, roasted chestnuts, and bonfire fragrances. It smelled amazing and I was super sad when it finally burned out. Totally going to order more.
Geek Fire Labs' mini doughnut lip balm: This lip balm really does taste like doughnuts. It's got Shea butter in it and will make you crave sugary fairground snacks.
Attic Journals' notepad: This notepad is handmade from recycled casino playing cards.
Girl Of All Works' page flags: Fun sticky notes for marking the pages in this month's book.
A neat badge/pin.
My Thoughts About OwlCrate
I love OwlCrate.
Unboxing the February OwlCrate was so much fun. 
I got such a kick out of the whole thing.
I loved thinking about the theme when OwlCrate announced it. "Run away with the Circus? What could that entail?"

I loved opening the box and rifling through and figuring out what all the goodies were.

I loved the book they picked. Stephanie Garber's a new author and "Caraval" is her debut so this is a FRESH pick. It's also not something I would have found on my own. 

I loved all the little bits inside. Stuff that makes the reading experience so much more fun. A lovely smelling candle, some sticky notes, a notepad, and a tote bag to throw it all in.

I loved the personal touch in the form of a signed author bookplate and a note from Stephanie herself.
In short, I freaking loved it. OwlCrate really brightened up my day. It was such a different/unique experience compared to simply browsing a bookstore.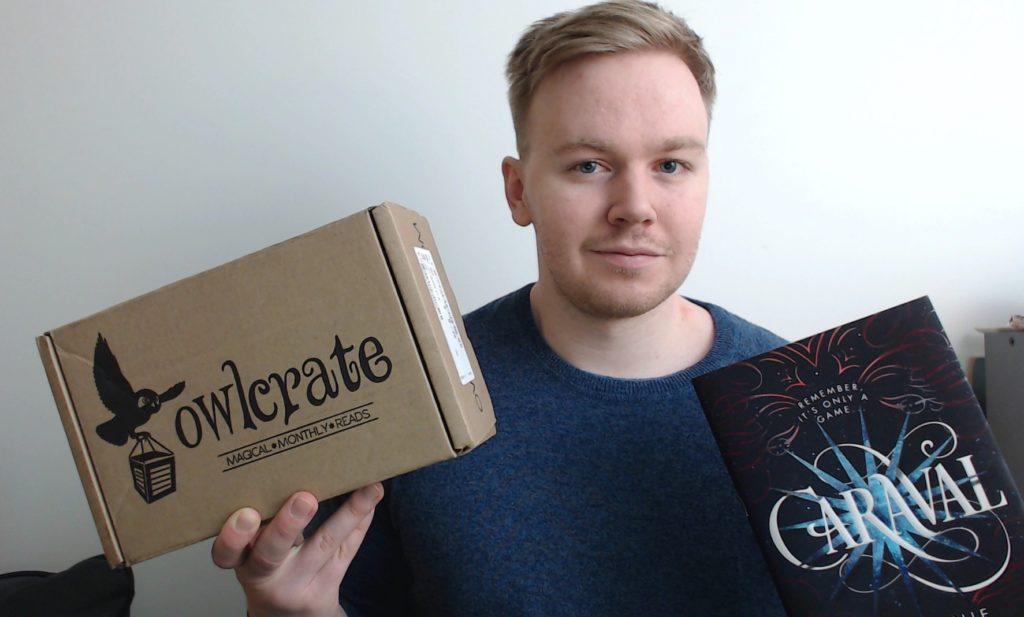 OwlCrate felt like a friend had shoved a care package into my hands with a book they knew I'd love and a bunch of little knick-knacks designed to make me feel like a kid again. 
Should YOU Subscribe To OwlCrate?
Yes. 
Yes, you definitely should. 
Do it. Do it. Do it right now.
Next month's box looks as awesome as this month's. The theme is "Sailors, Ships & Seas" and celebrates all things nautical. The March 2017 book pick is set to be a "swashbuckling adventure from start to finish" and "features a fierce and funny female lead, and a brooding love interest."
If you're hesitant about subscribing but still curious, you can always just get a one-off box and check out what you think.
Personally, I think you'll love OwlCrate as much or more than me.
I'm not the target audience for OwlCrate. The books are all Young Adult and most of the rave reviewers are female. And yet I LOVED it. So if you fit the "demographic", go for it. Even if you don't (like me), I still recommend you try it out. After all, we all love getting some bookish mail and goodies, right?
OwlCrate would also make a superb present for any book lovers close to your heart. Seriously – give the gift of letting your loved ones geek out like crazy. They'll love you forever.