And the award for the coolest MasterClass of all time goes to… Samuel L. Jackson. But was that really a surprise? Man, you know you're in for something good within the first 60 seconds of the Samuel L. Jackson Teaches Acting MasterClass when he stars dropping the M-F-bomb like the Jackson we all know and love. If I could have a tenth of the swag Jackson has at 68 right now I would be a happy man.
This isn't my first MasterClass but it is my first acting MasterClass. I've learned writing from James Patterson, David Mamet and Shonda Rhimes and directing from Werner Herzog. Those classes make sense for a writer. But why did I take the Samuel L. Jackson Teaches Acting MasterClass when I'm not an actor?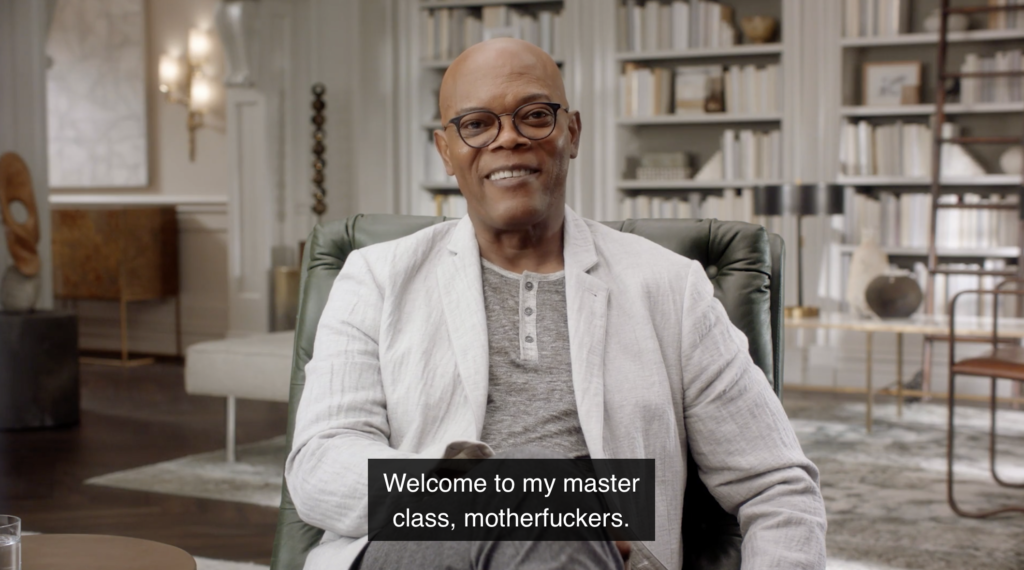 Three reasons:
I want to know how an actor gets into character because I write characters. I'm also interested in directing actors in the future and would like to hear about that dynamic from one of the best.

The price was right. The Samuel L. Jackson MasterClass is pricey at $90. But as part of the new MasterClass All Access Pass where you get EVERY SINGLE CLASS for just $180 – taking this class is a no-brainer.

It's Samuel L. Motherfuckin' Jackson.
I was going to take this class the moment I saw MasterClass release the trailer for it.
You obviously already know who Samuel L. Jackson is but let's have a quick refresher look at some of his great movies:
Shaft

Star Wars

Pulp Fiction

Coach Carter

Jackie Brown

Unbreakable

The Avengers

Jurassic Park

Django Unchained

Do The Right Thing

Die Hard with a Vengeance 

Kingsman: The Secret Service

And so so sooooooo much more
That's like a list of my favourite movies right there with some of cinema's most iconic characters. Why wouldn't you want to learn about character and performance from Samuel L. Jackson?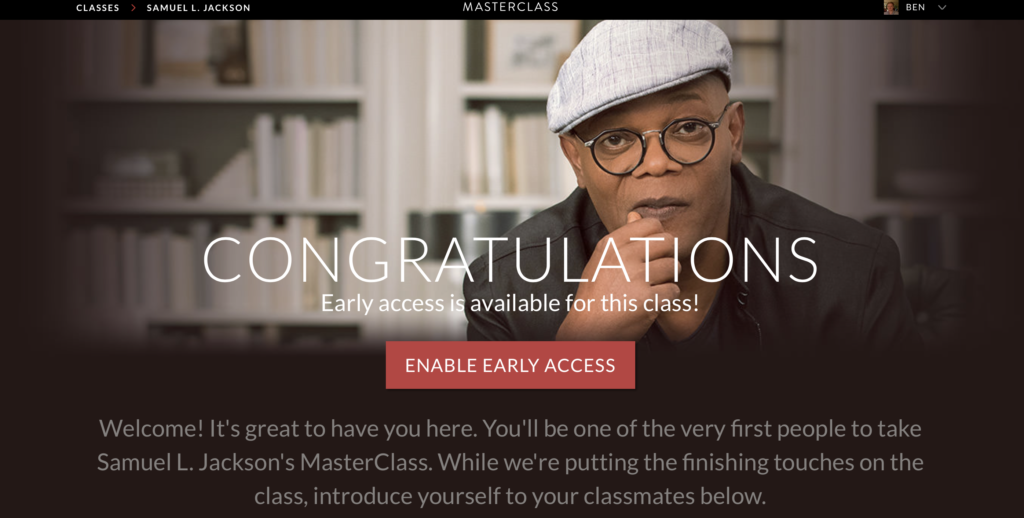 I eagerly signed up and was granted early access. The course officially releases in 2018 but if you pre-enrol now, I'm sure you can get early entry too.
So, without further ado, here is my Samuel L. Jackson Teaches Acting MasterClass review.
I also just wanted to say that this review contains referral links, which basically means if you found this review helpful and decide to buy it because of my recommendation, I may get a small commission (which I put back into the site hosting fees and other products to review). I don't recommend much stuff – only the best. And this is one of the best.
The first thing I really loved about this masterclass was how strong it starts.
I've always received tremendous value from the masterclasses. That's why I (and many others) keep returning for more. But a lot of classes take some time to get into. Not Samuel L. Jackson's MasterClass!
Jackson gets right into the deep stuff – no waffling, no shyness – and kicks things off, coming in full stride, with a couple of very interesting lessons about creating characters.
You've got to have something on your mind. You have to know where you are going, why you are going, and what's going to happen when you get there or what you anticipate is going to happen. – Samuel L. Jackson
Jackson begins with a strong emphasis on the importance of reading. Not just in your downtime (which is incredibly important) but when you're constructing a role. You need to read all the source material available when constructing characters – and more. If there is no source material, you make your own and you make it deep.
Jackson then goes into the kinds of questions he asks himself when constructing a character.
The amount of questions – nuanced questions – that Jackson asks when creating his character biographies is staggering.
He points out, after listing a ton of different questions, that the audience may never know this stuff, but what you know influences how you interpret the character. 
We see how Jackson breaks down his character into a series of goals. This is something that great writers like Aaron Sorkin and David Mamet also do when building characters. 
We then see how discovering how the character relates to other people and acts in relationships can inform your representation of the character.
When it's just Jackson and us, one-on-one, we are treated to a bunch of cool acting case studies.
He outlines a practice, approach, or principle and then he shows you exactly how it transferred to the end-result of a character.
He took his character from The Caveman's Valentine, a homeless guy, and deconstructed the shit out of it just to show you how many choices you have to make when creating your character.
There are so many paths you can take when making your character, different avenues that will create further paths and influence everything about what you do and how the other characters relate to you. 
We see how he composed Zeus in Die Hard (which includes a fascinating discussion on character as symbolic of the audience), why he is not judgemental using Stephen from Django Unchained as an example, Elijah Price from Unbreakable, and Jules from Pulp Fiction (Jules goes to church, he doesn't just sharpen his knife all day).
We learn about physical characterisation and Jackson shows us how he physically constructed his characters in One Eight Seven, A Time to Kill, Shaft, Unbreakable, Black Snake Moan, The Caveman's Valentine, The Red Violin, and S.W.A.T.
There are 21 video segments in total in the Samuel L. Jackson Acting Masterclass, with most running between 10-15 minutes for a total class video time of 5 hours, along with a 56-page PDF booklet bursting with acting exercises, and access to office hours where you can ask Jackson questions and a student community…. 
And within the first few segments alone, you already feel like you're getting your money's worth.
Obviously the best way to see acting principles in action is to actually see how actors put them into practice. So a big part of the Samuel L. Jackson MasterClass is watching Jackson take a principle and get the actors to put it into action with scenes from movies like Pulp Fiction, The Negotiator, and The Kingsman.
It's intriguing watching Samuel L. Jackson interact and help the actors as they deconstruct a scene. Jackson admits immediately that he's never done this before, never criticised actors in this way, and he does look a tad nervous but he just seems so down to earth and he has a natural teaching style that is very endearing and easy to follow. 
The reenactment of Pulp Fiction, I'm sorry to admit, was a bit difficult to watch at first. The actors must have been nervous performing in front Sam MotherFucking Jackson.
The main reason I initially found it hard to watch was because I've seen that scene about two dozen times and think it's a masterpiece. It's very difficult to watch these actors do what seems like a pale imitation of the scene.
But what WAS nice was seeing Jackson give honest, detailed, and immensely valuable feedback to the actors that salvaged this part. These sections run about 50/50 with half given to the performance and half given to Jackson's analysis and feedback. Jackson then gives his own impromptu performances (which are freaking awesome).
They play through each scene four times, each time stopping to get correctional feedback from Jackson.
By the final take, these performances stopped being difficult to watch because the actors were actually learning, adapting, and growing into their parts. 
When the actors started using what they were learning and making the parts their own, the performances started to get pretty good. There's one actress in particular who I can tell has the potential to do very well in acting.
So you watched it enough times to know you can make it your own? You cheated! – Sam MotherFuckin' Jackson
How Jackson acts and reacts and talks to the actors to build them up is fascinating to watch. He'll take a bland scene and add colour bit by bit and ask different questions, try different routes, to stretch them and hit the context of the movie. His approach is definitely something to keep in mind when doing your own acting work. 
Some scenes were cringey but it was valuable to see these actors get built up and go from lacklustre scenes to some pretty dazzling and believable performances.
This is a masterclass. Not a full-blown acting class
You learn so much from both Jackson's one-on-one advice and also from the way he interacts with the actors. 
You learn about voice and character, about rehearsal practices (Jackson's are fascinating), about finding a quirk to focus on, about working with directors, about professional responsibility, about auditioning (this part is golden), about growing your career, and much more.
I certainly got great value from the course and I'm not even an actor.
But keep this in mind:
This course is a masterclass. A lot of people are confused as to what a masterclass is exactly (even though it's the title of the company itself).
A masterclass is a unique insight into one particular world-class craftsman's process. 
You gain access to this master's insights that have built up over a long and successful career.
If you want a full-blown acting class, this isn't it. You wouldn't find one for just ninety bucks anyway.
But if you want Samuel L. Jackson's insight into the craft of acting, this course is phenomenal.
If you are an actor and you value Jackson's opinions on the craft, I'm sure you will love this masterclass.
And now you don't have to pay $90 for each class. 
MasterClass have introduced their All Access Pass for $180, which lets you get everything.
You can learn acting from Samuel L. Jackson and Dustin Hoffman.

You can learn directing from Martin Scorsese, Ron Howard, and Werner Herzog.

You can learn writing from Aaron Sorkin, David Mamet, Shonda Rhimes, Judy Blume, and James Patterson.
I'd take that deal any day of the week.
This MasterClass has a fantastic instructor (obviously), is laid out wonderfully and logically, and is a beautiful product from start to finish.
This course would be particularly valuable if you're actively working on something right now because it will spark thoughts that you can apply to your own act.
I can see this masterclass as being immensely rewarding in the sense that it's incredibly motivating.
I think it would be especially motivating to an actor who is sick of getting knock-backs from auditions, or an actor who is sick of getting pigeon-holed in bit parts.
This course would be the boot up the ass to keep going and to crank your game up a notch. This would be medicine for a budding acting career whenever you're at your lowest.
It might just remind you why you got into this in the first place.
Sometimes, as storytellers and craftsmen, that's what we need the most.
That's the value of courses like this.
Or check out the new MasterClass All Access Pass.