Want to learn more about the world but are short on time? Let's take a trip to foreign lands by appreciating the best short works of art from every country around the world.
We're going to pick a country and look at…
1 song

1 poem

1 short film

1 short story

1 essay/non-fiction piece

1 piece of art (painting/sketch/sculpture)
My name is Ben. I'm the curator of this museum. You may take notes and pictures of the exhibits but please refrain from outbreaks of flatulence until after the tour. Today's country is………..
CANADA

Ah, la belle Canada. My third home. The snowed-in land of poutine and politeness where I currently reside.
I first moved to Canada a few years back and fell in love with Montreal. I moved away but I couldn't resist the pull of this wonderful country so I lived in Quebec City and once again fell in love. Then I lived in Toronto and… um, meh. Toronto's okay. 
Over the years, I've read a bunch of stuff from Canadian writers, which made it pretty darned difficult to choose some favourites for this exhibition. With a country as culturally rich as Canada, you will never be able to give a comprehensive view of it in just a few exhibits. But we're gonna try, buddy.
I give you… The exhibits!
THE SHORT STORY
'Hateship, Friendship, Courtship, Loveship, Marriage' by Alice Munro
Ontario-born Alice Munro (1931 -) is one of the greatest short story writers of all time. If you're following along with the Bradbury Trio and you don't want to spend time wondering about what to read each day, you should definitely buy one (or all) of Munro's short story collections. Any of them will do. They are all stuffed with gems and feature the kind of prose, characterisation, and genius glimpses of life that makes writers swell with jealousy. 
'Hateship, Friendship, Courtship, Loveship, Marriage' is one of my personal favourite Munro short stories, though it is almost impossible to choose a favourite. This is the first story in the collection of the same name and it starts off exactly how you would expect a world class musician to begin a medley of her latest songs. It is a fucking feast. A journey. One of those pinwheels where you spin it and the pictures change. Then you spin it and the pictures change again.
The thing I love most about this story is how POV keeps switching to a different character each new page. Just when you thought you knew about the characters – and the story – through one POV, you're hit with another one, like a boxer ducking and coming up beside you, making your head spin. And with each smack, the story grows more and more tragic. Until your chest is heaving with pain and regret. You start off disliking the main character, Johanna, but then you come to understand her, to love her. When all is revealed bit by bit, you fear for what she's going to find. You know what's coming but she does not. And yet, it stays like that. Then the ending. The bitter, should-be-happy, twinge of sadness ending. BOOM. That is how you start a short story collection.
You can read 'Hateship, Friendship, Courtship, Loveship, Marriage' here.
Reading time: 20 minutes.
Tone: Serene melancholy.
Reminds me of: Munro is unlike anyone else I've read. But maybe Chekhov or Maupassant? Simply because of the masterful way her stories unfold. Perhaps a bit of Emily Brontë thrown in there.
Favourite line: "They set the mirror there so you could get a proper notion of your deficiencies, right away, and then – they hoped – you would jump to the conclusion that you had to buy something to alter the picture."
THE ESSAY
'It's Not Climate Change – It's Everything Change' by Margaret Atwood
Margaret Atwood (1939) is famous for many of her award-winning speculative fictions like The Handmaid's Tale but she also has a hefty body of literary critiques and essays. One of her most striking essays, which is actually an addendum to an earlier work, is freely available to read on Medium and provides strong food for thought on the climate change issue. It's worth reading whatever side of the fence you're on but particularly if (like me) you've swept the issue to the back of your mind in recent years. Check out the comments too if you fancy seeing a bunch of angry trolls.
You can read 'It's Not Climate Change – It's Everything Change' here.
Reading time: 27 minutes.
Favourite lines: "Unfortunately, like every other species on the planet, we're conservative: we don't change our ways unless necessity forces us. The early lungfish didn't develop lungs because it wanted to be a land animal, but because it wanted to remain a fish even as the dry season drew down the water around it. We're also self-interested: unless there are laws mandating conservation of energy, most won't do it, because why make sacrifices if others don't?"
"What are the implications for the way we view both ourselves and the way we live? In brief: in the coal energy culture — a culture of workers and production — you are your job. "I am what I make." In an oil and gas energy culture — a culture of consumption — you are your possessions. "I am what I buy." But in a renewable energy culture, you are what you conserve. "I am what I save and protect." We aren't used to thinking like this, because we can't see where the money will come from. But in a culture of renewables, money will not be the only measure of wealth. Well-being will factor as an economic positive, too."
THE SHORT FILM
'Camera' (2000) by David Cronenberg 
Camera by Toronto-born filmmaker David Cronenberg, of Crash and Videodrome fame, is one of the best short films I've ever seen. The monologue, the haunting theme, the acting, the way it builds right to that final, merciless last frame… Words escape me. You've got to see it.
Watching time: 6 minutes and 42 seconds.
What's so great about it? The fact that it manages to reach into your soul and mangle it into a pulp.
Favourite bit: All of it.
Warning: Don't watch it stoned or depressed.
THE POEM
'Marita, Please Find Me, I Am Almost 30' by Leonard Cohen
I could try to bungle through an amateur analysis of Leonard Cohen's (1934-2016) haunting poem and end up ruining the experience for you. Or I could just say you have to read this poem and make sure you listen to Cohen's recording simultaneously. It will take less than two minutes of your time but the poem will stay with you for years.
Marita
Please find me
I am almost 30
This is my voice
but I am only whispering
The amazing vulgarity
of your style
invites men to think
of torturing you to death
but I am only whispering
The ocean is whispering
The junk-yard is whispering
We no longer wish to learn
what you know how to do
There is no envy left
If you understood this
you would begin to shiver
but I am only whispering
to my tomahawk
so that the image itself
may reduce you to scorn
and weaken you further
This is the only poem
I can read
I am the only one
can write it
I didn't kill myself
when things went wrong
I didn't turn
to drugs or teaching
I tried to sleep
but when I couldn't sleep
I learned to write
I learned to write
what might be read
on nights like this
by one like me
THE SONG
'Tonight In Babylon' by LoverushUK and Bryan Adams
Listening time: 5 minutes and 15 seconds.
Why I chose this song: It reminds me of my amateur DJ days back in college. Also… ain't choosing Bieber or Drake, yo. 
When to listen to it: You've just broken up with your longterm partner and, as tears sting your eyes, you search through the late-night streets for your first orgy.
Favourite bit: The bit about everyone feeling alright. And the sense that it's a lie.
THE ART
'A Sudden Gust of Wind (after Hokusai)' by Jeff Wall (1993)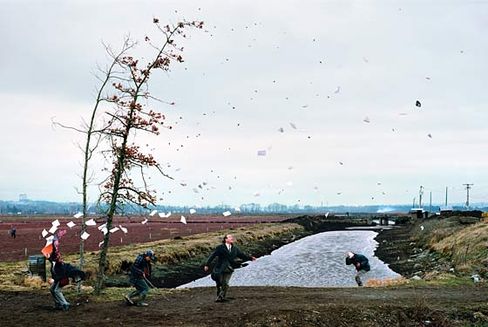 What is it? It's a massive photograph displayed in a light box. Wall was inspired by the Japanese woodcuttings of Hokusai (particularly this one) and so spent five months photographing actors outside his home in Vancouver during windy conditions to try and replicate the painting for real. Crazy, impressive shit, eh?
What strikes me the most about it: The fact that it looks like a freaking painting even though it's a photograph. It's well worth having a quick read about Jeff Wall here.
That's the end of our Canadian exhibition.
I hope you've enjoyed this selection of the art of Canada. Please feel free to replenish your energy in the cafe with some lovely poutine. Come back soon and visit our other exhibitions. I'll be waiting.