Want to learn more about the world but are short on time? Let's take a trip to foreign lands by appreciating the best short works of art from every country around the world.
We're going to pick a country and look at…
1 song

1 poem

1 short film

1 short story

1 essay/non-fiction piece

1 piece of art (painting/sketch/sculpture)
My name is Ben. I'm the curator of this museum. You may eat and drink while looking at the exhibits but please refrain from heavy petting until after the tour. Today's country is………..
JAPAN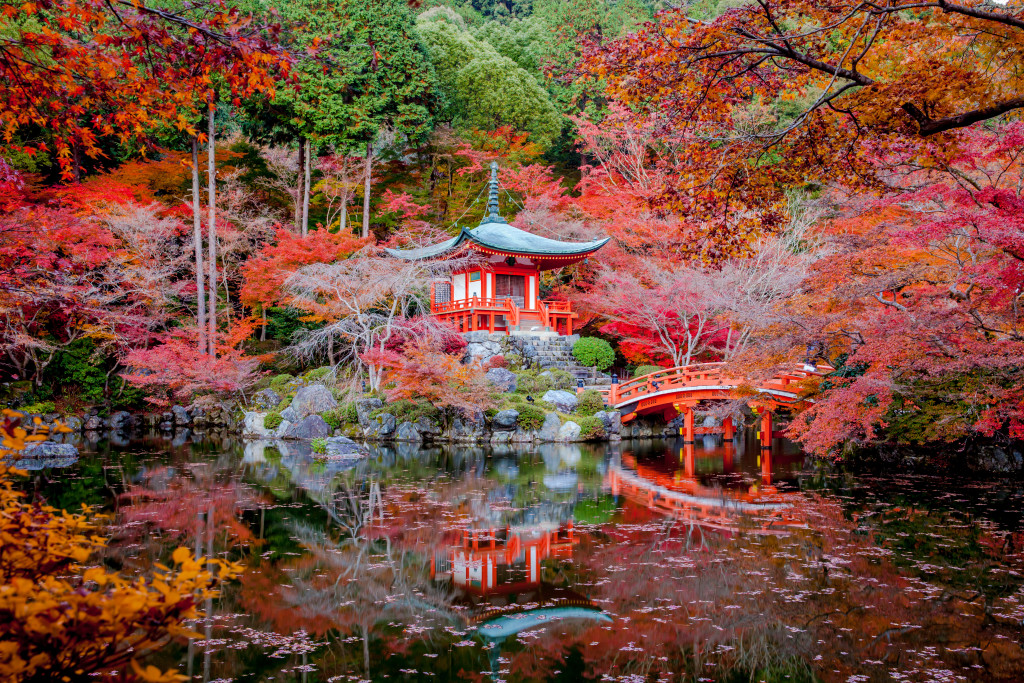 Ah, Japan. My true home. My love.
I first came to Japan over 3 years ago and it was love at first sight. The more time I spent here, the more my love deepened. 
I've been immersed in the culture for a while now. So much so that I have difficulty remembering English words sometimes. I have also lost a few of the cultural mannerisms of Britain and adopted a few Japanese ones. 
My girlfriend (also Japanese) says that I have a Japanese man buried inside me. Apparently I also have a vibrant homosexual and a sassy black woman inside me. But that's a story for another day.
I've learned a lot about Japan but I'm still no expert. And certainly you can't sum up this country in just one short story, one essay, one short film, one poem, one piece of art, and one song. You can't do that for any country! But I hope my selections (some obvious choices, some not) give you a flavour of this wonderful country and motivate you to learn more.
Now… The exhibits!
THE SHORT STORY
'The Grasshopper and the Bell Cricket' by Yasunari Kawabata
Osaka-born writer Yasunari Kawabata (1899-1972) was the first Japanese writer to win the Nobel Prize for Literature (1968). Kawabata wrote over 140 short stories, which he referred to as Palm-of-the-Hand Stories due to their delicate nature. Kawabata's stories read like haikus rendered in prose. He takes the essence of something beautiful and captures it in bite-sized pieces. He won the Nobel Prize "for his narrative mastery, which with great sensibility expresses the essence of the Japanese mind".
You can read 'The Grasshopper and the Bell Cricket' here.
Reading time: 3 minutes.
Tone: Nostalgic, melancholic, beautiful.
Reminds me of: The works of Oscar Wilde; the fact that life is fleeting; my childhood; Haruki Murakami.
Favourite line: "when it seems to you that the world is only full of grasshoppers, I will think it a pity that you have no way to remember tonight's play of light, when your name was written in green by your beautiful lantern on a girl's breast."
THE ESSAY
'In Praise of Shadows' by Junichiro Tanizaki
Junichiro Tanizaki (1886-1965) was one of Japan's most popular novelists. His works often explore notions of Japanese culture and traditions in contrast to Western culture and traditions. He lends his name to the Tanizaki Prize, one of Japan's greatest literary awards. 'In Praise of Shadows' is one of my personal favourite essays. I find Tanizaki's insights into the aesthetics of lighting and darkness and food to be fascinating.
You can read 'In Praise of Shadows' here.
Reading time: 15 minutes.
You'll learn about: Japanese aesthetics, Japanese architecture, Japanese toilet habits, Japan vs. The West.
Favourite line: "I wrote a magazine article recently comparing the writing brush with the fountain pen, and in the course of it I remarked that if the device had been invented by the ancient Chinese or Japanese it would surely have had a tufted end like our writing brush. The ink would not have been this bluish color but rather black, something like India ink, and it would have been made to seep down from the handle into the brush. And since we would have then found it inconvenient to write on Western paper, something near Japanese paper—even under mass production, if you will—would have been most in demand. Foreign ink and pen would not be as popular as they are; the talk of discarding our system of writing for Roman letters would be less noisy; people would still feel an affection for the old system. But more than that: our thought and our literature might not be imitating the West as they are, but might have pushed forward into new regions quite on their own. An insignificant little piece of writing equipment, when one thinks of it, has had a vast, almost boundless, influence on our culture."
THE SHORT FILM
'Shabu Shabu Spirit' by Yuki Saito (Director)
Watching time: 10 minutes and 31 seconds.
Tone: Freaking hilarious.
Touches upon: Japanese honor, etiquette, rituals around food and marriage, hiding one's true thoughts.
Favourite bit: All of it. This is satire that cuts right to the core of Japanese culture.
THE POEM
'The Cry of the Cicada' by Basho
Nothing intimates,
In the voice of the cicada,
How soon it will die.
The translation of that haiku is by R. H. Blyth.
Here's the original Japanese (for those who can read it):
やがて死ぬけしきは見えず蝉の声 
If you're not acquainted with one of the most beautiful noises in the world ("the voice of the cicada"), check out this video:
THE SONG
'Gimme Chocolate' by BABYMETAL
Listening time: 4 minutes and 4 seconds.
Why I chose this song: The fact that this sort of thing even exists at all is just one of the many reasons I love Japan. BABYMETAL is a heavy metal/teen pop hybrid group. The first time you listen (and watch), your reaction will be "WTF?!". But then you'll have to listen again. Then you'll love it. Embarrassing secret: I listen to this group while working out.
You'll love it if…. You've ever wanted to know what Metallica crossed with 3 young Japanese female pop-stars sounds like.
Favourite bit: All of it.
Feeling greedy? I also recommend 'Hit Parade' by BRADIO, 'Kaze wo atsumete' by Happy End, 'Hatsukoi' by Kojima Mayumi, and 'Shura no hana' by Meiko Kaji. 
THE ART
'Sudden Shower over Shin-Ohashi bridge and Atake' by Hiroshige (1857)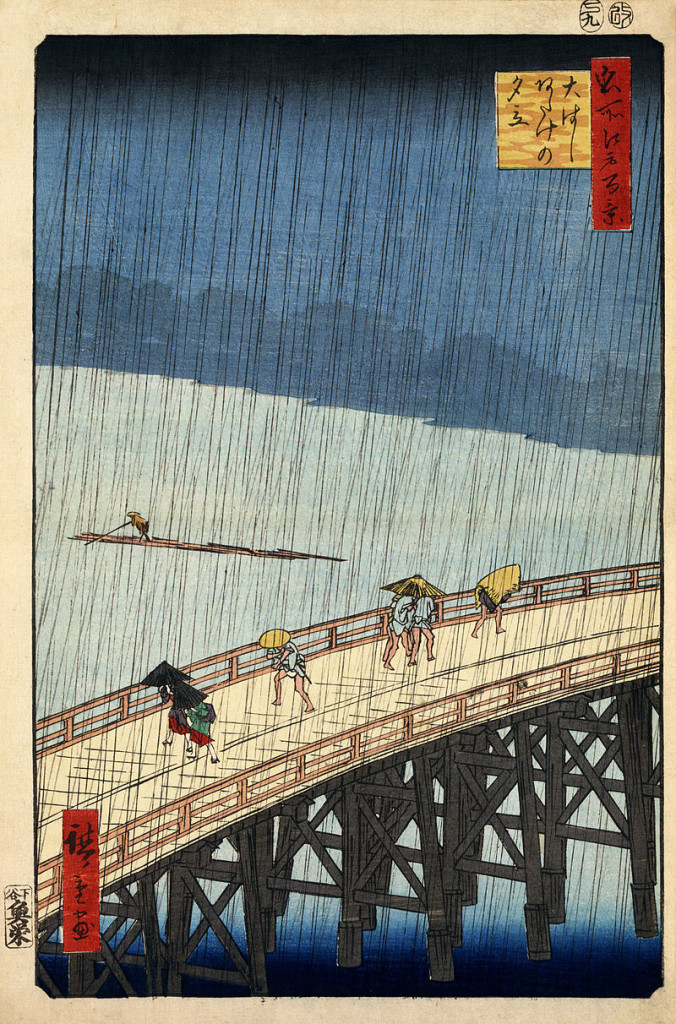 What is it? It's a very famous woodblock print in the ukiyo-e tradition that depicts a bridge in Tokyo. This print is number 58 in a series of prints known as 'One Hundred Famous Views of Edo' that shows tons of cool locations in Tokyo.
Influence: Vincent Van Gogh was a huge fan of Hiroshige's work and even made his own version of this print in oil.
What I like about it: How evocative it is of a sudden downpour; the colours; how the Japanese word for 'evening shower', 'yuudachi', reminds me that you can't say 'morning shower', 'asadachi'… because that means 'morning wood'. 
Wanna see something freaky/erotic? Check out 'The Fisherman's Dream'. I warn you though. Once you've seen it, you can't un-see it.
That's the end of our Japanese exhibition
I hope you've enjoyed this selection of the art of Japan. Please feel free to browse the gift shop and there's a tea shop by the exit. Come back soon and visit our other exhibitions. I'll be waiting.