Want to learn more about the world but are short on time? Let's take a trip to foreign lands by appreciating the best short works of art from every country around the world.
We're going to pick a country and look at…
1 song

1 poem

1 short film

1 short story

1 essay/non-fiction piece

1 piece of art (painting/sketch/sculpture)
My name is Ben. I'm the curator of this museum. You may eat and drink while looking at the exhibits but please keep your hands outside of your pants until after the tour. Today's country is………..
THE UNITED STATES OF AMERICA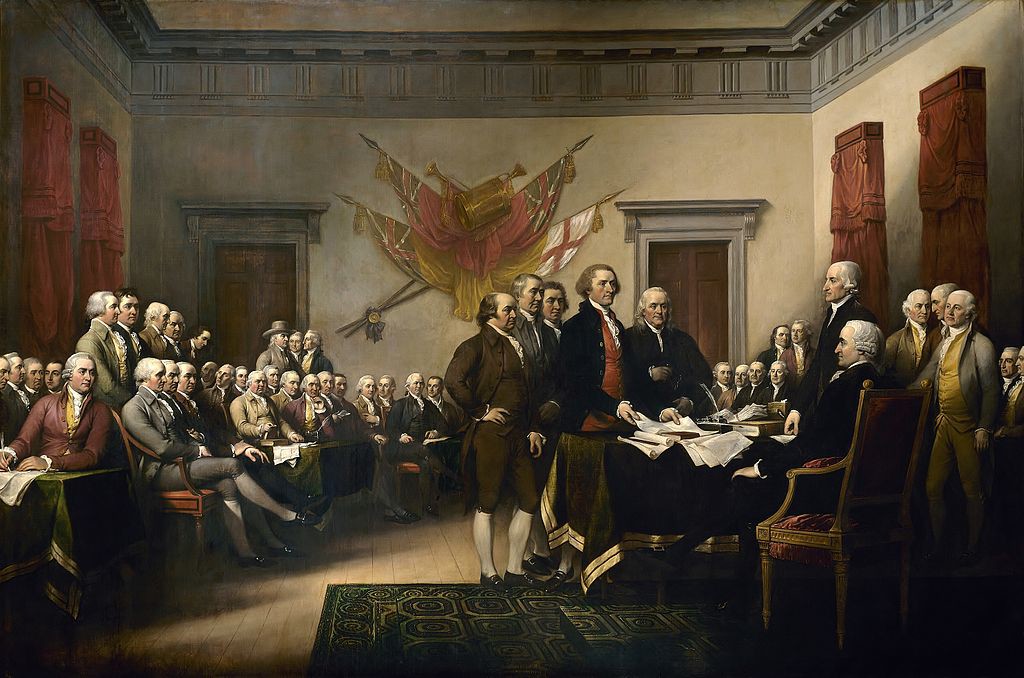 America. "I've given you all and now I'm nothing". 
I don't know how I managed to choose the displays for this exhibit. You cannot sum up this wonderful country in just one short story, one essay, one short film, one poem, one piece of art, and one song. In part, this is because America feels more like fifty different countries. Is there another country with such a diverse array of voices? I don't think so.
Although this exhibit certainly does not do justice at representing America, I hope my selections give you a flavour of this wonderful country and motivate you to learn more.
I am also currently in the process of curating items for a series of exhibits entitled, 'See The States During Your Commute', which should provide a more robust picture of the country. If you have any suggestions for your home state, please let me know. 
Now… The exhibits!
THE SHORT STORY
'A Good Man Is Hard To Find' by Flannery O'Connor
Flannery O'Conner (1925-1964) is one of the most important writers in American history and a pioneer of the Southern Gothic form. 'A Good Man Is Hard To Find' is one of the finest short stories I have ever read and a personal favourite of mine. Of the story, Georgia-born O'Conner said, "I am mighty tired of reading reviews that call A Good Man brutal and sarcastic. The stories are hard but they are hard because there is nothing harder or less sentimental than Christian realism."
You can read 'A Good Man Is Hard To Find' here.
Reading time: 15 minutes.
Tone: Southern gothic, haunting, cynical, grotesque, playful.
Reminds me of: William Faulkner, Sunday Mass, Carson McCullers, Shirley Jackson, Edgar Allen Poe.
Favourite line: "She would have been a good woman," The Misfit said, "if it had been somebody there to shoot her every minute of her life."
Feeling greedy? It's so damn hard to choose just one great American short story. I'm forced to offer you a few more, like a mother hastening their child to fatten up. Here are some more delicious American stories: 'The Lottery' by Shirley Jackson, 'The Cask of Amontillado' by Edgar Allen Poe, 'Hills Like White Elephants' by Ernest Hemingway, 'The Legend of Sleepy Hollow' by Washington Irving.
THE ESSAY
'This Is Water' by David Foster Wallace
In 2011, I was tasked with writing the introduction to a student newspaper tribute to David Foster Wallace (1962-2008). My sentiment towards Foster Wallace remains the same today as it was then so I'll quote myself. 
Foster Wallace was that rare breed of writer, indeed a rare kind of person, who strongly believed in the pleasures of hard work in reading and art. It feels like, in our television/internet/fast food culture, we have lost that. Wallace lamented the population's growing affliction of not bothering with something – be it a complicated piece of music, a painting that is difficult to interpret, or his own dense collection of work – if that something does not immediately give you its pleasures in a neat little package. Wallace understood that there was, however, a very small corner of society that derived great pleasure through work. This minority think for themselves and enjoy doing so. They are not content to be spoon-fed. It is for this small pocket that Wallace writes. His books are a challenge. They are beautifully constructed Fabergé eggs. They are tapestries with the imperative 'think' woven delicately into them.
You can read "This Is Water" here.
Reading time: 10 minutes.
Listening time: 22 minutes and 43 seconds.
Favourite lines: "In the day-to-day trenches of adult life, there is actually no such thing as atheism. There is no such thing as not worshipping. Everybody worships. The only choice we get is what to worship. And an outstanding reason for choosing some sort of God or spiritual-type thing to worship-be it J.C. or Allah, be it Yahweh or the Wiccan mother-goddess or the Four Noble Truths or some infrangible set of ethical principles-is that pretty much anything else you worship will eat you alive. If you worship money and things-if they are where you tap real meaning in life-then you will never have enough. Never feel you have enough. It's the truth. Worship your own body and beauty and sexual allure and you will always feel ugly, and when time and age start showing, you will die a million deaths before they finally plant you."
THE SHORT FILM
'The Meaning of Life' by Don Hertzfeldt (director)
Watching time: 12 minutes and 38 seconds.
Tone: Hilarious, depressing, thoughtful, true. 
Touches upon: You know… the meaning of life. I think it nails it personally.
Favourite bit: The first 5 minutes.
THE POEM
'The Raven' by Edgar Allen Poe
Edgar Allen Poe (1809-1849) was the master of the gothic form, the inventor of detective fiction, and one of the forefathers of science fiction. The Boston-born, cousin-marrying writer was one of my first literary loves. He kept me awake in secondary school and spurned me on to write reams of labyrinthine-structured poetry. One of my favourite poems of all time is "The Raven". 
You can read "The Raven" here.
Read it while listening to the wonderful Christopher Lee reading.
The Simpsons also did a fantastic adaptation of it.
THE SONG
'LA Woman' by The Doors
Listening time: 7 minutes and 51 seconds.
Why I chose this song: This is the sound of America. When you listen to The Doors, you hear a ton of different American cultural influences coming together. You hear the Beat Generation (Kerouac, Ginsberg, Burroughs, Ferlinghetti, Corso). You hear blues, jazz, and baritone crooning. You are bombarded with Native American symbolism. You hear the sound that would influence other pop culture icons like Iggy Pop, Pearl Jam, and Lana Del Rey. You hear America.
You'll love it if…. You're drinking beer and whiskey with friends and you wanna get everyone rocking out on the tables.
Favourite bit: All of it. Especially the Mr. Mojo Risin bit.
THE ART
'Whaam!' by Roy Lichtenstein (1963)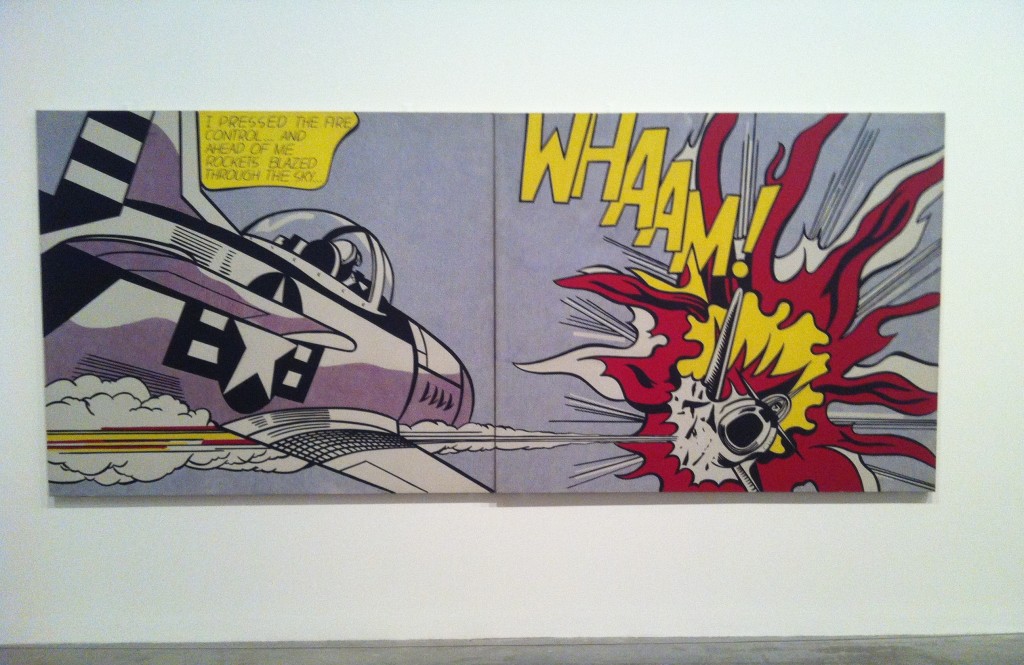 What is it? It's a diptych painting inspired by 60s DC war comic books
Influence: Damien Hirst (the shark guy) was a big fan of Lichtenstein and the whole pop art movement.
What I like about it: I'm not an artist. I'm not an art critic. I can't talk convincingly about art. And I think 99% of modern art sucks. But when I saw "Whaam!" in the Tate Modern, my feet became rooted to the spot. I couldn't look away. I love the explosion of energy and I love the nostalgic hark back to American Cold War comic books.
That's the end of our American exhibition
I hope you've enjoyed this selection of the art of the U.S.A. Please feel free to browse the gift shop and be sure to return for the grand opening of "See The States During Your Commute".