Kimi no na wa, or the English titled "Your Name", hit cinemas in the summer of 2016 and quickly became the 4th highest grossing film of all time in Japan – after Frozen, Titanic, and Spirited Away – and the highest grossing anime film worldwide, making a total gross of $353 million and drawing comparisons between Your Name's creator Makoto Shinkai and legend of Japanese animation Hayao Miyazaki. 
But what is it about this film and other films in Makoto Shinkai's oeuvre that resonates so strongly with people all over the world? 
Now we can point to Makoto's masterful illustration, the way he takes tried and tested narratives and spins them into new and exciting yarns, or the perfect symphony of popular music, original soundtrack, and flawless voice acting as explanation of the popularity.
However, after rewatching "Your Name" and two or Makoto's shorter earlier works, "5 Centimetres per Second" and "The Garden of Words", and fighting the tears back all the way through, I want to concentrate on just one aspect of Makoto's genius: his ability to convey a strong sense of love and loss.
Without a doubt, all of Makoto's works are bound together in their exploration of the themes of love, longing, and loss.
Whether it's the love, longing, and loss experienced by Mitsuha and Taki in "Your Name", the love, longing, and loss experienced by Akizuki and Yukino in "The Garden of Words", or the love, longing, and loss experienced by Akari and Takaki in "5 Centimetres per Second", Makoto's Muse is clear.
Makoto has gone on record in numerous interviews, confirming that his greatest interest is to explore the nature of relationships between individuals and the relationship of feeling. Why do we fall in love with someone? Why doesn't that person we love love us back?
Makoto has also stated that, in addition to exploring the mystery of love, which seems like the mystery of the very cosmos itself, he has also been interested in feeling that his life was connected to a greater destiny. He has stated that he has a desire to write stories that can bind together that tiny scale of one individual's feelings and the vast scale of the cosmos and the stars. 
A lofty ambition but one that Makoto deftly fulfils.
Here's the formula for a Makoto Shinkai tearfest:
1. Get two people.
2. Make them fall in love.
3. Tear them apart.
Presto. Instant box office hit and contender for Miyazaki's animator crown. 
But wait a minute? I hear you ask. Isn't that the formula for every love movie ever made? Boy meets girl. They fall in love. Obstacles get in their way. Maybe they overcome them, maybe they don't. Maybe they live happily ever after, maybe they don't. 
Well, it's a subtle difference but the overwhelming majority of love stories in the western tradition are grounded in a different kind of love from the kind explored in Makoto's films. You see, in Japanese culture, there are two senses of love.
There's ai, which is what we expect when we think of love in England, Canada, America, Australia and other parts of the western world. Ai is mutual feeling. We see it in marriage and happy families. 
But Japanese has a second concept of love: koi. Koi is often one-sided and more focused on an individual's feelings rather than the romantic bond itself. It's often characterised by an intense longing, yearning, and sense of emptiness. When we talk about unrequited love, that's koi. 
Now, sure, we do understand this feeling in the west but, unlike Japan, we don't have such a commonly used word for the concept. There are different kinds of love but in Japanese there's ai and there's koi. 
What Makoto does is focuses on koi, focuses on separation, and brings it to its breaking point in his films. 
Makoto takes intense feelings of loss that we can all identify with, grounds them in everyday situations and against ordinary backdrops that, again, we can all identify with, and then injects a cosmic sense of the fantastic, the mysterious, and the extraordinary.
And the first way he does this is with trains. 
When you first watch a Shinkai Makoto film, you might not realise just how much screen time is given to trains and train stations, both inside and out. But once you see it, you can't un-see it. Makoto uses trains a lot in his films and it's not because he's a densha otaku. It's because trains simultaneously symbolise separation and replicate a sense of the everyday that we are intimately familiar with.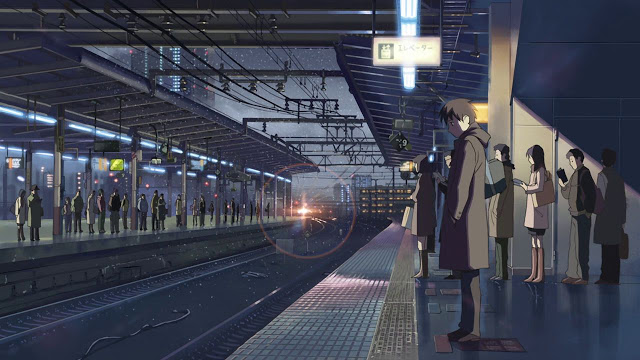 Trains allow filmmakers to show separation of both time and space. When your loved one is on the opposite side of the country, the time it takes to reach them become unbearable. They highlight a sense of longing, waiting, and yearning. Time almost stands still on a long train journey. Boredom leads to wondering and dissatisfaction. Images hypnotically whizz past the window and suddenly you're fantasising, fantasising about the object of your affection hopefully waiting at the end of your journey. 
We see how trains make time torturous in "5 Centimetres per Second". Young loves Akari and Takaki are separated by hundreds of miles. She's writing him love letters on the train. We see him asleep in his winter uniform, a reminder that they've been apart since their love blossomed in spring. Seasons change. The only constant is that the two young loves are still separated. 
Akari is telling Takaki that he wouldn't recognise her if he saw her. That strikes a deep note. The lover's anxiety that they will be forgotten. And, when you throw long distance at love, it's not such an irrational fear. Like the cherry blossom falling at 5 centimetres per second, their love, just like the characters who feel it, is drifting further away bit by bit. 
We already know it's going to be a long journey when we see Takaki lay out all of the connecting trains he must take on his journey to Akari. But we soon discover that an already long and much-anticipated journey is about to become so long that time stands still.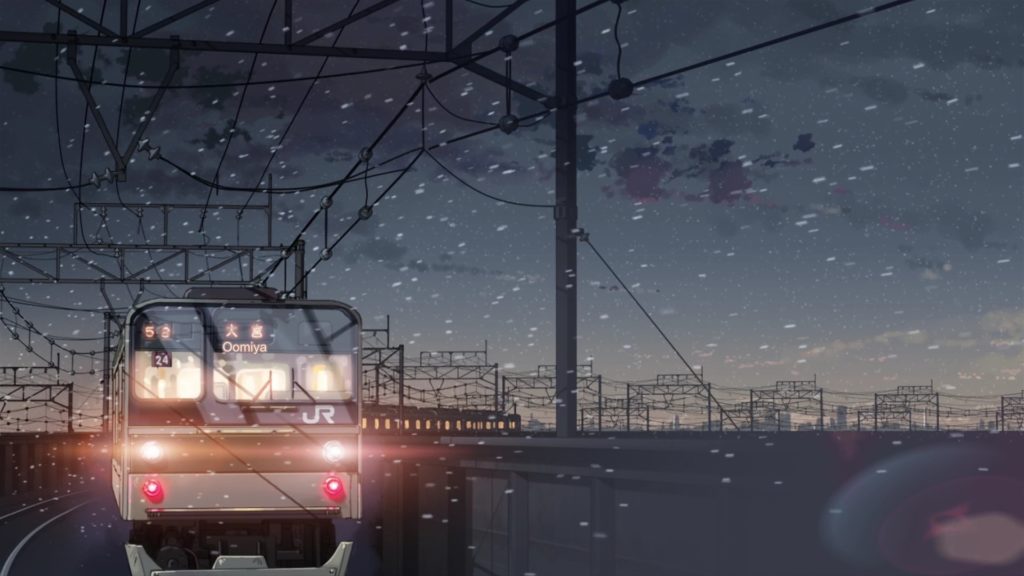 Due to adverse weather, the train halts over and over again. With every halt, more time slips away.  Each stop may only be 10 minutes in length but it increases and compounds the amount of time robbed from the two young loves. Like the falling snow, 5 centimetres per second may not seem like a lot when you're close to the ground but what if the distance it could travel was indefinite?
The train fills Takaki's whole world with light and noise and pain. It reminds us of the agonising sense of koi highlighted in Murakami's short story, Concerning the Sound of a Train Whistle in the Night: 'The pressure is so intense,' says the young lover in the story, using words that could equally come from Takaki. 'It makes my heart ache. I feel like I'm going to explode, to be torn in two – you know that feeling?' The answer is yes, we do. We know exactly what it's like when each minute feels like an eternity. 
Trains are used in an equally powerful and symbolic way in "The Garden of Words". Instead of symbolising time and distance, in this film, Makoto uses trains to evoke loneliness and contrast it with the love that blooms between Akizuki and Yukino. 
In Japan, where even in the middle of Friday evening rush hour trains are deadly silent, the train is the perfect environment to observe this one truism: a crowd is the loneliest place to be. 
You're surrounded by all of these people who won't meet your eyes and won't talk to you and you can't help but feel completely isolated, completely cut off from your fellow man. 
But in nature, there is the promise of release, of escape from isolation. Anyone who has lived in Tokyo knows the cloying claustrophobia, the feelings of isolation despite being surrounded by people. And anyone who has visited Shinjuku Gyoen, where Akizuki and Yukino meet, know that the public garden is a beautiful dot in the center of an ugly, bustling metropolis, a natural sanctuary in the middle of an unnatural city. The city still looms with skyscrapers overhead but you finally feel at peace in the city.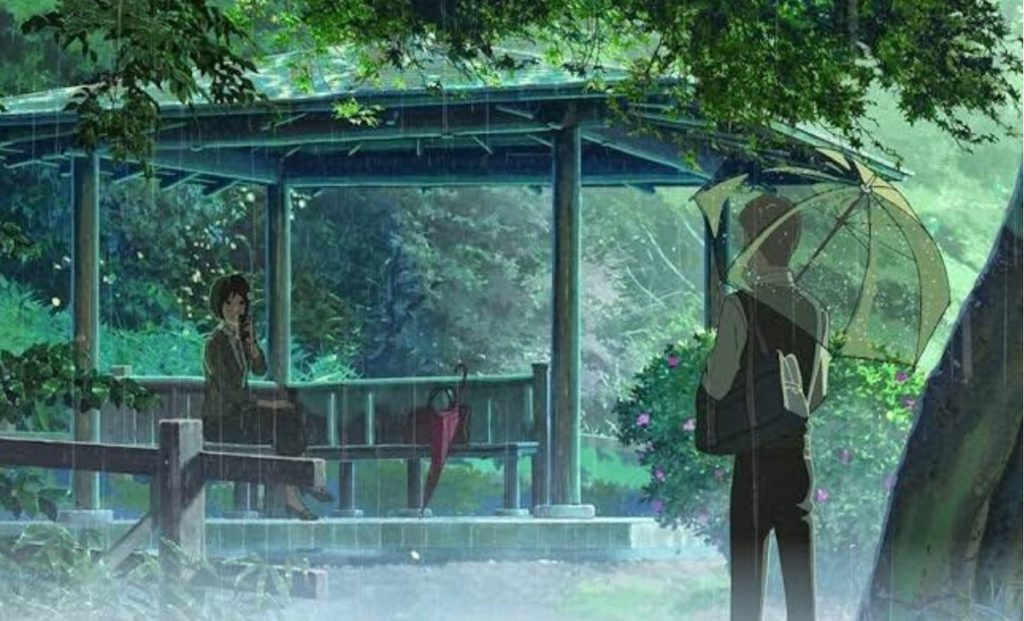 Tension between city life and nature – between innocent pure love and love that is banned and restricted by societal rules – is epitomised immediately in "The Garden of Words" with cutting shots between the garden, the rain, and the trains. 
Observe how Akizuki and Yukino make eye contact upon their first meeting in the garden. Some might say that's love – or koi – at first sight. Compare that to how no one makes eye contact on the trains and in the city. Then compare Akizuki and Yukino's eye contact again when Akizuki finally discovers that Yukino is a teacher at his school and the realisation of society's rules bears down upon him. Their love is forbidden. 
It's not just trains that are laden with meaning and allow Makoto to explore devastating themes of unrequited love. 
Makoto will often take one item – like a piece of clothing – and use it, infuse it with meaning and the meaning is often that of tying two characters together. In "Your Name" it is Mitsuha's ribbon that ties them together and in "The Garden of Words" it is Akizuki's passion for shoes. 
In "The Garden of Words", Makoto uses shoes as a gateway, a vehicle, to carry feelings on intimacy, to bring them to their heights, right before the are snatch away, like a rug being yanked out from under one's feet. 
For Akizuki, making shoes is the only thing that will lead him out of his current place. This is symbolically relevant because you use your shoes to walk and forge a path, a journey. This could be a journey towards another person or away from them. It can be a journey in time as well as space. It can be a journey away from the city and towards nature. Or, like in "The Garden of Words", it can be a journey away from childhood and towards adulthood. 
In "The Garden of Words", the love between the two characters is koi because it's never going to work out and it's also characterised more by each character's feelings for themselves rather than the other person.
Akizuki is trying to walk towards adulthood, symbolised in many instances such as him falling for the older lady or trying to jump social status in his assault on his senpai in school, but Yukino is trying to walk away from adulthood, signified by her mixing beer, an adult's drink, with chocolate, a kid's snack, her inability to cook eggs without leaving the shells inside, and, of course, the fact that she is drawn to a school kid. 
Their attractions express what they really want for themselves. There's the loss. There's the sense of unrequited love. The frustration at one's own life situation. So when they both finally erupt at each other at the end of the film, after rejecting each other's love advances, their outbursts seem more a cry of frustration about themselves – something we can all relate to.
But let's return to this idea of the shoes and how Makoto uses them to symbolise intimacy. 
When Yukino first peaks at his drawing, it shows her desire for intimacy. But he draws away, having never shown anyone his work before. The implication that he has also not known intimacy before. In another scene, we see Yukino caressing her feet, which reminds us of Akizuki and shows her as clamouring and yearning for intimacy. 
She buys him a book on the subject of shoe-making and the gift bridges the gap between them, bringing them closer. 
Akizuki takes the plunge and, when he brings up the fact that he's designing a new shoe, Yukino offers her bare foot, one of the most intimate parts of the body – baring the obvious erogenous zones – that which we hide from society and that which takes us to our desired destination.
Yukino is giving herself to Akizuki and creating a moment of intimacy that will only serve to enhance the sense of pain, sadness, and separation later when they realise they cannot be together. 
Shinkai Makoto takes a symbol and hangs so much meaning onto it that it feels as though it might collapse under the weight. And, we the viewers, don't even realise he is doing it. Symbols like shoes and trains get into our subconscious and, when straining under the burden of unrequited love, fill us with the same emotions that the images symbolise but in a subtle, more powerful way than is commonly found in cinema. 
We've taken a glimpse into how Makoto uses symbols to effectively evoke emotion in just two of his works but anyone who has seen his earlier works and then seen "Your Name" will likely agree that films like "5 Centimetres per Second" and "The Garden of Words", miniature masterpieces in their own rights, feel like artistic testing grounds for the techniques that Makoto would go on to deploy most effectively in his masterpiece "Your Name".
In "Your Name", the two central protagonists, Mitsuha and Taki, are connected yet separated right from the beginning. They wake up crying but unable to recall their dreams, with a strange sensation of deja vu and loss. 
We see them finishing each other's sentences from afar. Though we won't truly realise the scale of their separation until later in the film. At first, we just have this creeping sensation of losing something.
Makoto once again uses trains to hint at the magnitude of the characters' separation and also give them room to ruminate. 
But the sense of separation is far greater in "Your Name" than "The Garden of Words" or "5 Centimetres per Second". This separation is not due to an age gap or due to physical distance across land but a separation of spirit and soul across time.
"Your Name" shows how complicated feelings of koi are and how wrapped up they are in a sense of confusion over one's own true nature by placing the characters inside each other's bodies. The impossibility of their love dawns on them, and us, as the movie progresses and we realise that Mitsuha actually lived in another time and died three years prior to Taki's timeline.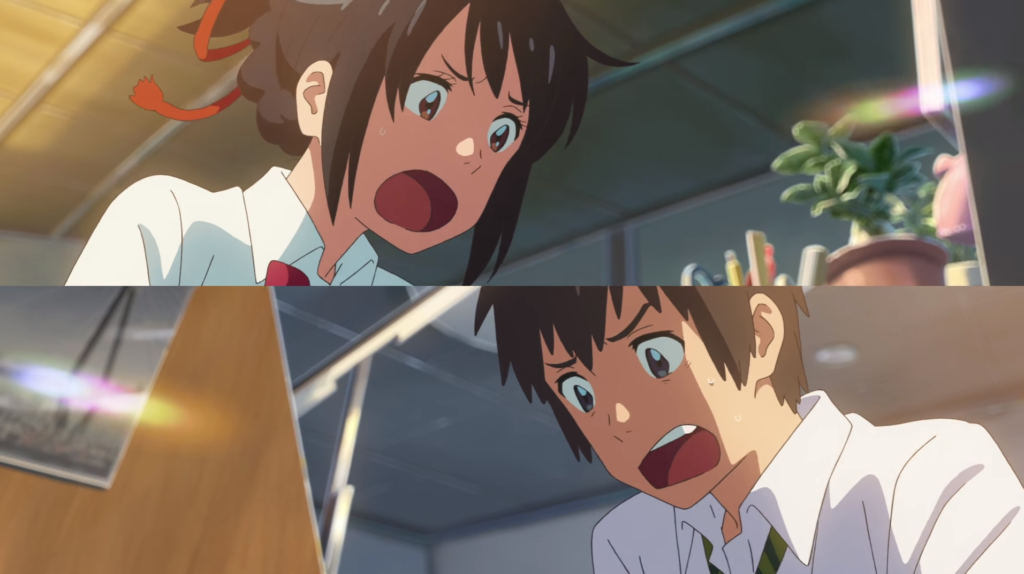 Makoto manages to make this film so devastating because he takes the idea of separation to it's absolute limit – after all, this is a body swap movie with the two characters separated by time – and creates a sense that we are infinitesimally small in a massive, unrelenting, all-controlling cosmos. 
Take the recurring technique of the camera following a bird from one end of the earth to the other. We see this in "5 Centimetres per Second" where the bird seemingly begins in one point and ends in another, simultaneously showing the expanse of land one would need to travel to reach their love and also connecting the two loves together. By virtue of seeing the same bird, they are connected in spirit. 
In "Your Name", instead of a bird connecting the two characters, we see the destruction of a comet in the night sky. The great canvas across which the lovers must travel to meet each other is not one of spatial distance but rather one of temporal. That which connects them is also that which, tragically, separates them, seeing as the comet, while witnessed by both Taki and Mitsuha, ultimately kills Mitsuha (or at least in one dimension).
In Makoto's films, the cosmos plays a vital role in enhancing the emotion because it feels like a character itself and reflects the feelings of the characters. 
You can plead with the cosmos, beg it like Mitsuha in "Your Name". Or you can see the cosmos as a divine seer who predicts the rise of a relationships, like in "The Garden of Words". Or you can see it as a mirror, reflecting the span of time passing since love first blossomed, like in "5 Centimetres per Second".
The cosmos, nature, the wider world, reminds us of how small, insignificant, and powerless we are. And the more supernatural the instance of nature, the more insignificant we are. 
This feeling of insignificance mingles with the feelings of koi and the feelings of not truly understanding oneself. 
We can see in "Your Name" that Taki's desperate attempts to connect with Mitsuha are really attempts to understand his own self. Surely, we can all identify with feeling like a stranger in our own bodies. Hugging oneself and wishing you were hugging another. Looking into a train reflection and not knowing who is peering back at us. The intense anxiety of forgetting our loves' name, maybe forgetting our own name one day, wondering what our name even means. Our memories can be wiped away so easily and that scares us.
Finally, I'd like to point out that one of the reasons that Makoto is so adept at making audiences weep is because, despite the supernatural and fantastical elements of his stories, his stories are grounded in truth.
The complete destruction of the town of Itomori in "Your Name" reminds us of the complete destruction after disasters such as the 2011 Tohoku earthquake, which resulted in the Fukushima Daichi disaster, the tsunami, and thousands of people killed and displaced from their homes.
Japan, and the world generally, is no stranger to loss of loved ones. 
Anxiety about losing, and even one day forgetting, your loved one is one which is common to us all. There is nothing unbelievable about a comet wiping out an entire town, especially when natural disasters have done that very thing, and will continue to do so.
Taki is essentially dreaming of Mitsuha. He dreams of her and tries to warn her to save herself. If only he could warn her in time. If only he could tell her to evacuate the town before the disaster hits. Anyone who has lost a loved one because of a disaster has had dreams like this. Dreams that feeling startlingly real. Dreams in which you are reunited with your lost love and communicate the need for them to save themselves. 
These are the worst kind of dreams. The dreams where you wake up and you realise your loved one is still gone.
Taki has this dream. Just as everything seems fine, he is yanked out of it and abruptly brought back to reality. Doesn't the loneliness and sadness seem all the more raw now that he's alone in the middle of nowhere right after that meeting with just the faint pen mark but no name on his hand?
One cannot deny Makoto Shinkai's incredible power to summon emotions in his audiences. He speaks to us in the language of love and loss, a language common to us all, a language that transcends borders, and touches us where we're most vulnerable. 
His films feel so true, they spring from such sincere emotion, that we cannot help leaving the cinema with a sense of lost love that lingers on long after the film has ended. 
That is the mark of a master filmmaker. Makoto Shinkai takes from real life, spins it into something fantastical, and leaves his mark on our souls.