Disclosure: Please note that this Shonda Rhimes Teaches Television Writing MasterClass review contains referral links. That basically means I'll earn a small commission if you decide to grab the course after clicking. I recommend this course because I personally bought it and benefitted from it first and my review would be exactly the same with or without referral links. Please only purchase this course if you personally decide it's right for you.
The third week of the Shonda Rhimes Writing For Television MasterClass was the best week so far. I'm less than half way through the entire course and yet I have already gained enough value to warrant the cost of investment. Week 3 of the Shonda Rhimes MasterClass was filled with the good stuff. Not only was the content and subject matter superb but there was A LOT of it.
Check out the syllabus for the third week alone:
PITCHING YOUR SHOW: How to structure a pitch, focusing on character, how to paint a picture, on mentioning specific actors and music, making your pitch market friendly, practicing your pitch at double-time speed, practicing your pitch in front of friends, preparing a mental script when meeting with executives, analysing Shonda's pitch for Grey's Anatomy.
WRITING A SCRIPT: STRUCTURE: The five acts of television, knowing how and when to end your acts, mapping out A, B, and C stories, knowing what the rules are before breaking them.
WRITING A SCRIPT: PROCESS: Incubation periods before writing, how to write a beat sheet, how to develop an outline, how to use themes to shape your episodes.
Going into week three, I was massively looking forward to learning all about structuring a script. I LOVE those kinds of details. But I was prepared to skip over anything to do with pitching a show. After all, I don't have a show yet… I don't need to know how to pitch, right? 
Wrong.
The module on pitching a show was perhaps the most useful part of the Shonda Rhimes MasterClass so far.
As Shonda says: "Pitching is probably the single most important thing that you can do once you've gotten in the door."
Shonda's advice on pitching is exceptional. It's also especially important to anyone who naturally overlooks the value of pitching. Burn Shonda's advice into your brain because it applies to everything. You're always going to be pitching something. And what's the use of having a fantastic story if you can't sell it?
Shonda really holds our hands and tells us exactly how to structure the perfect pitch. 
This part of the course really gets you excited because suddenly the magical world of Hollywood and big money film studio executives seems extremely attainable. 
Armed with Shonda's insider tips and tricks on how to pitch your show, along with armfuls of how to actually structure a wonderful and compelling story, you suddenly feel as though this whole writing thing is really for you.
THAT'S the sign of a great teacher.
Week 3 of Shonda Rhimes' MasterClass is worth the cost of the course alone.
Once we've learned how to pitch, we get more hand holding (along with lots of charming anecdotes) from Shonda as she shows us how to structure our story.
She actually takes us page-by-page in the script and says "this is where X should happen because that leads into Y".
I've already devoured tons of writing manuals so I feel like I know most of the story structure techniques out there. But something that I haven't read a lot about are techniques for weaving multiple storylines together. Shonda addresses this beautifully, clearly, and in a way that makes sense and motivates. 
After learning about structure, I personally got the most value from learning how to outline and write a beat sheet.
Granted, I'm not currently writing a television pilot but I am writing a novel. Recently I plateaued in my novel writing and had stretches of what most people would call "writer's block" (though I don't, like Shonda, really believe in it anymore). 
Despite feeling unable to write, Shonda's advice on beat sheets – in all its technical glory – was exactly what I needed to bust through my mental restraints. I finished my novel with a nice helping hand from Shonda Rhimes.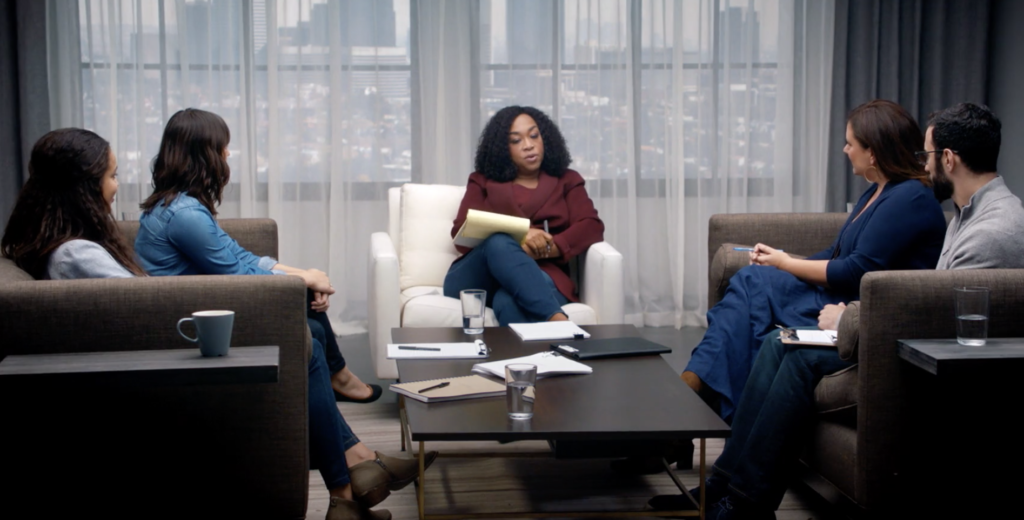 I'm now eagerly blasting through the fourth week of the MasterClass so I'll update you when I'm done with that.
The great thing about MasterClass is you can take the course at your own pace. I really love being able to slip into a lesson when I have a free moment. I also love knowing that the course is there waiting for me whenever life gets in the way.
The Shonda Rhimes MasterClass, in addition to being thoroughly motivating, entertaining, and educational in the current moment, is a course that I will return to again and again. It's clearly not meant to be watched once. It's meant to be worked through and used whenever you need it.
Be sure to say "hi' to me in the MasterClass Hub when you get inside!
P.S. Check out my reviews for the first two weeks of the Shonda Rhimes MasterClass here and here.