Having trouble getting freelance work? Frustrated that your target clients are rejecting or not even reading your freelance proposals? You send out proposal after proposal and you are constantly getting knocked back. What gives? It's just not fair! Why are clients so rude? 
Well maybe it's not the clients' fault. If your freelance proposals look anything like the deluge of crap I've sifted through, it's YOUR fault. 
I used to be on the freelancer side of things. I used send lots of proposals to clients and get frustrated that I wasn't hearing anything back. After A LOT of frustration, I figured out where I was going wrong. But if I had just spent a few hours in the clients' shoes, I would have figured it out a lot quicker.
I recently became someone who hires freelancers rather than a freelancer looking to be hired. I posted a job on a freelance website and I immediately saw the quality of freelance proposals that clients have to deal with. Spoiler: 99% of freelance proposals SUCK.
Check out some of the shitty freelance proposals I received
I posted a simple job. In fact, it was actually addressed to one specific freelancer who I was interested in working with. But I accidentally shared it in the public marketplace and, within an hour, my inbox was flooded with freelance proposals. I couldn't believe the poor quality of the proposals. I also couldn't believe that I suddenly realised the mistakes I had been making over and over again in my own freelance career.
The job was basically updating a really old version of WordPress and deleting a faulty plugin. Nothing major. But I was looking for a web technician that I could give repeat business too and wanted to start off with something simple. This was the job description I posted. Notice it's clear, concise, and opening up a dialogue in easy-to-understand language: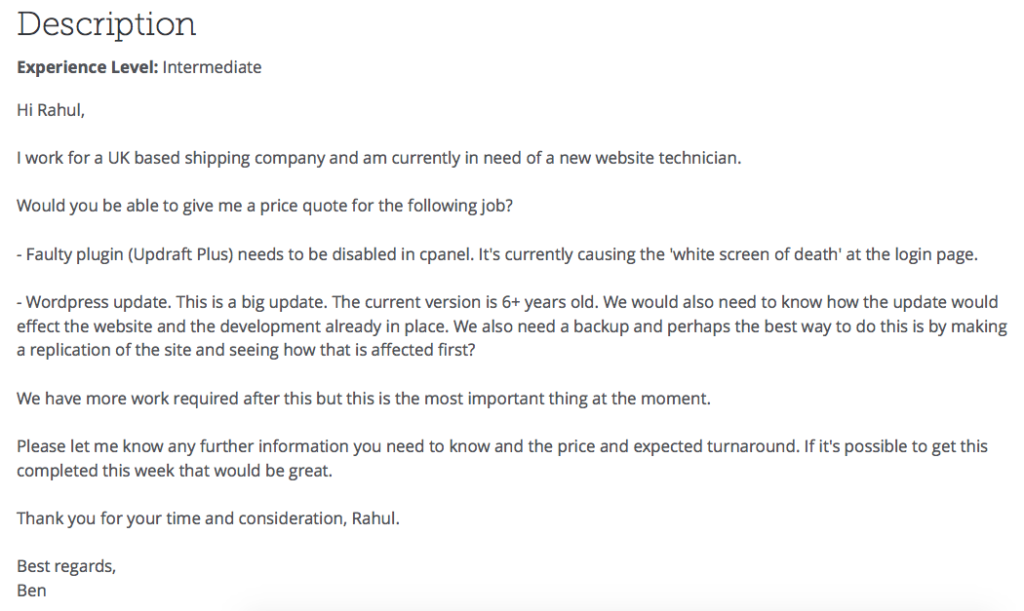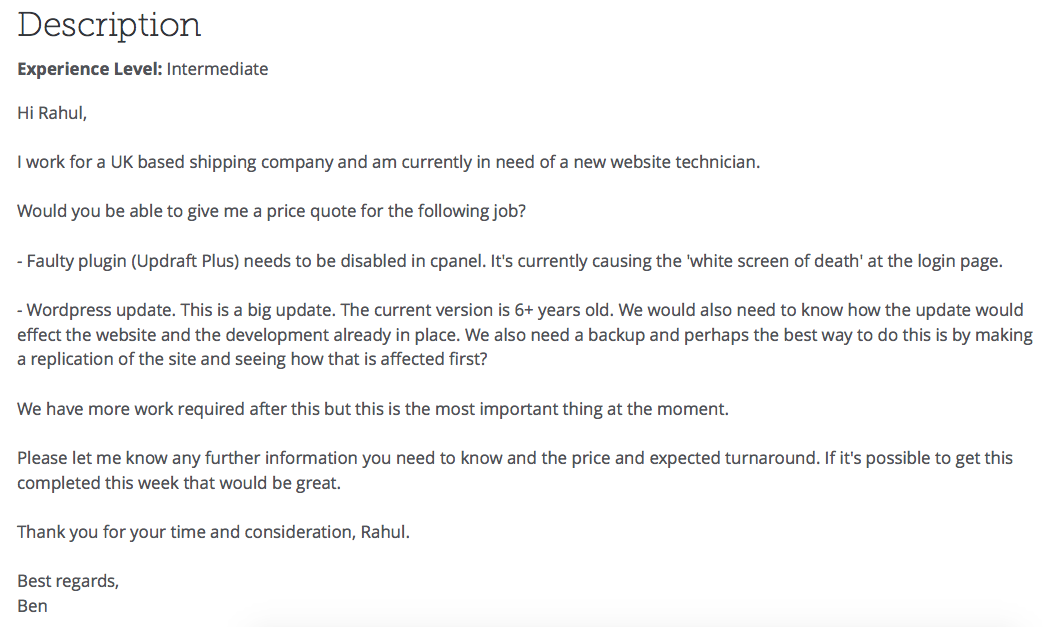 As you can see, it's a simple job. I know it's a simple job. How do I know? Because out of all the proposals I received, not a single one inspired me with confidence or even sounded like the person had properly read the job description. So I did the job myself. 
Pretend for a moment that you are a web technician….
How would you answer this job post?
How would you get the job?
Would you tell me how much you love the sound of the job? Write out your entire CV with all the programming languages you know? Tell me a price up front and then begin telling me exactly why it's that price without any other information?
Let's see how other freelancers decided to respond to this post….
Names and pictures have been scribbled out to protect the clueless.
There was this guy… who clearly didn't read the job posting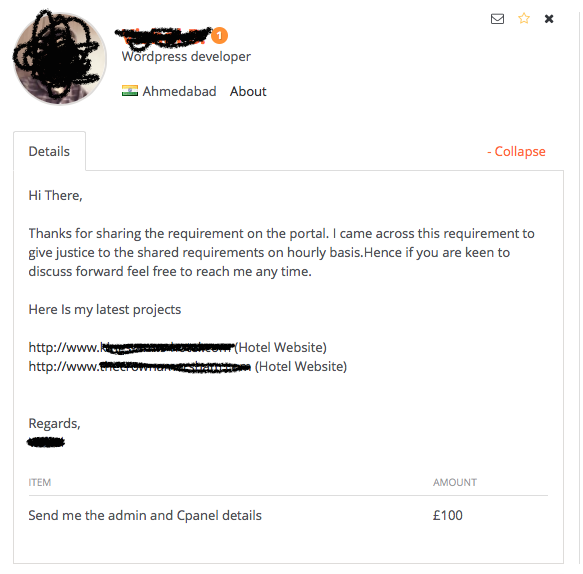 He begins by saying 'Hi There'…
Um… My name is on my profile. You couldn't even be bothered to address me by my name? That's an instant pass. But let's keep looking at this guy's proposal sins anyway…
The major problem with this proposal is that it makes fuck all sense. "I came across this requirement to give justice to the shared requirements on hourly basis". What does that even mean?
Then he says 'Hence', and leaves the next stage of the discussion with me. Seriously, man? I ain't contacting you after that pitch.
Bad grammar aside, he also shares two websites that are recent projects. But so what? That doesn't help me. I want to know if you can update my WordPress site. Not look at some random hotel and restaurant websites. 
Then there's this lazy guy who gives me zero incentive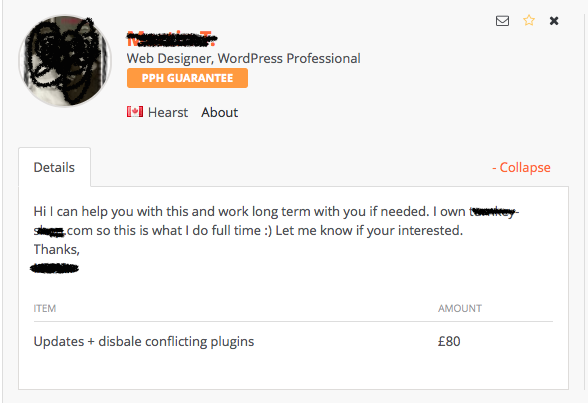 He doesn't use my name. 
He doesn't make any reference to WHAT I ACTUALLY WANT in his proposal. He just says "I can help you with this and work long term with you".
Oh, you can work long term? Good for you. So what? Why should I work long term with YOU? I don't care whether you can or not. I care whether I want you to.
He then tells me he can do it because it's what he does "full time". 
Then there's the smiley. Sounds like he's taking the piss out of me.
Then the dude spams me with his website (which looks terrible).
How long do you think it took this guy to do this proposal?
I'm guessing 20 seconds. Tops. It's a cut-and-paste job and he has spammed tons of other people with this same unhelpful crap.
Pass.
Then there's this guy who has only been in business 10 minutes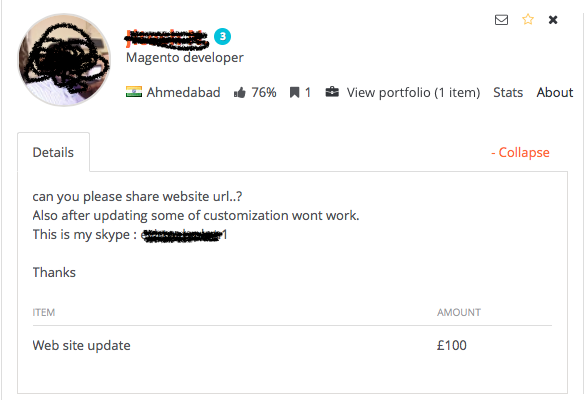 Bad grammar. 
Asking me to give a URL to my website. Why does he need it? It's like he's stalling for time. You can either do the job or you can't. Can you update WordPress? Can you install a plugin? If you need to see the URL, tell me clearly why you need it. 
He also informs me that parts of the website won't work after the update. I know that. That's why I wanna hire someone. It's YOUR job to make sure the website works. Charge what you want, just do a damn good job. Don't tell me the website's probably gonna break but, oh well, it's MY problem.
Although, credit to the guy, he actually read the job description.
But then he spams me with his Skype. So I have to add you to find out more? Why don't you show me you're right for the job first. It would increase my chance of actually bothering to sign into Skype to add you. 
Then there's this guy who spends more time discussing his background than my actual job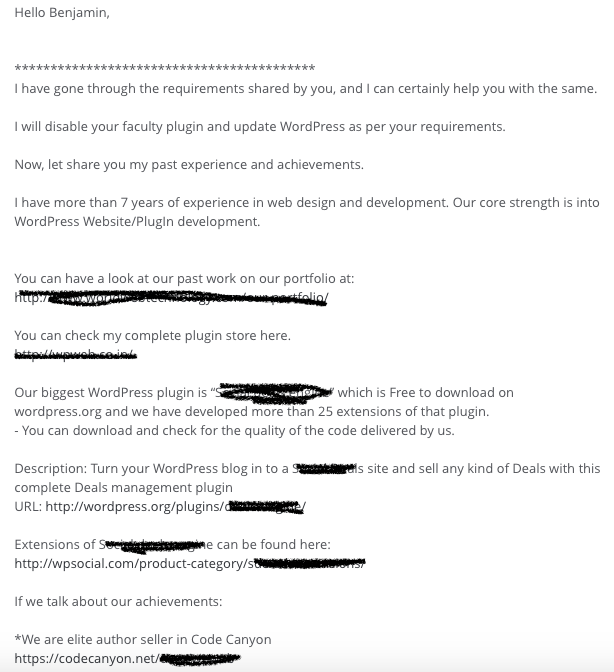 Points for using my name. That's nice and ensures I actually read beyond the first line.
He addresses the job. But only in one line. Then he says, 'Now let share you my past experiences and achievements".
He then goes on to list freaking EVERYTHING. I didn't put the whole message because it's too big and you get the point. 
Unless your experiences and achievements are explicitly tied to how you're gonna help ME, I don't care.
So many links. I've gotta click all those? I'm good, thanks. Go spam someone else. 
There's this selfish guy who is all about ME ME ME!!!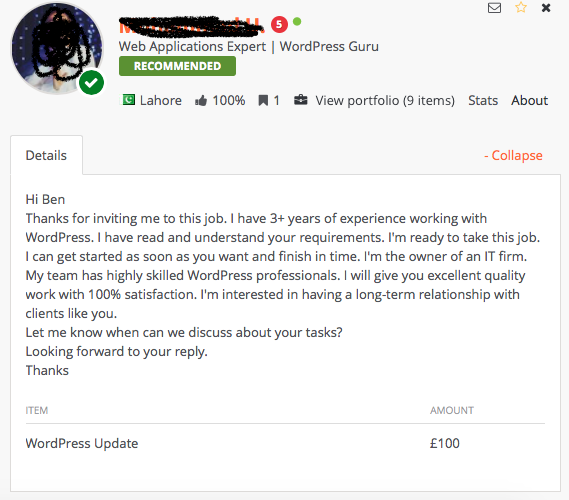 Count how many times this dude says "I".
"I have 3+ years of experience…"
"I have read and understood…"
"I'm ready to take this job…"
"I'm the owner of an IT firm…"
"I can get started…"
"My team has…"
"I will give you…"
"I'm interested in having a long-term relationship with clients like you…"
Fuck. 
Off.
I don't give a damn if you are ready to take the job. I don't care you "own" an IT firm. I don't give a shit whether you are interested in having a relationship with clients like me. Why? You don't know me. 
This guy might be super qualified to help me. But he hasn't demonstrated that. All he has demonstrated is his own self-interest. That is very, very off-putting to clients.
Think about it in terms of your personal life… If you had a friend that just talked about themselves all the time (when they are supposed to be helping you with your problem), how long would they be your friend? Not very long if you have any standards…
Next.
There's this block of boring, useless text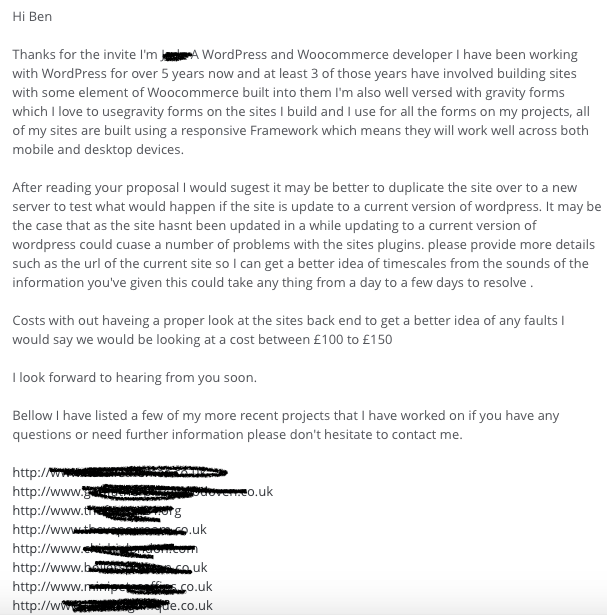 Points for using my name. Always a good start. But then the proposal quickly goes downhill.
Can YOU be bothered reading that first paragraph? Bad grammar and completely focused on THEM and THEIR experience and completely ignoring MY needs. How does YOU being a Woo-commerce developer help me? Hint: it doesn't. So why are you leading with that shit?
The second paragraph actually addresses my job. Good! But no client is going to read that far. You should have started with that and scrapped the first paragraph entirely. It's a shame because the second paragraph is actually reasonably well explained and asks for more information so they can better evaluate the job. That's good stuff.
This person then screws up again by offering me almost 20 links to jobs they have worked on. WTF? I am not gonna sit here and click through all of those links just to find someone who can update my site. In the time it takes to do that, I might as well just do the damn update myself.
Get rid of those links, nix the first paragraph, improve your grammar, and I might have responded to you. You could have gotten my business out of this.
Then there's this cut-and-paste travesty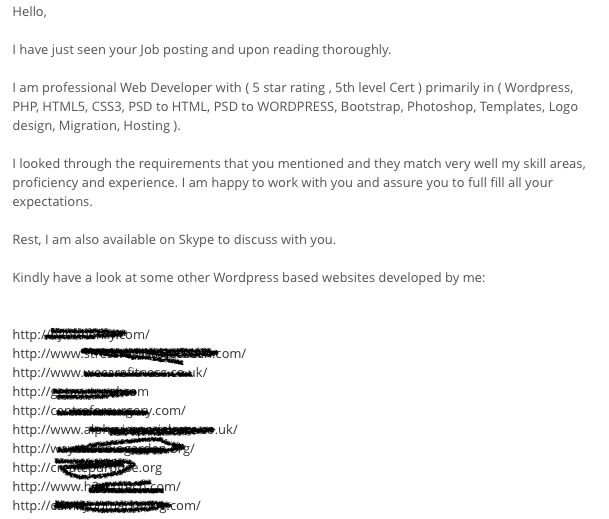 No name.
Bad grammar.
Pointless sentences… "I have just seen your job…" I know… You're responding so must have done.
Laundry list of what programming languages this guy knows. Oh, you know HTML5? You know how to do migration? YOU'RE IN…. NOT! Hint: most clients ain't gonna know what the hell you're talking about. It looks like you're just trying to pull the wool over my eyes. How does any of that help me? 
This guy says he looked through my requirements but, because it's a cut-and-paste job, he doesn't actually specify them. BECAUSE HE DIDN'T LOOK. 
They match his skills well? Yeah, okay, dude…
Then he dumps about 20 websites at the bottom.
Pointless.
There's this guy who reads my job posting back to me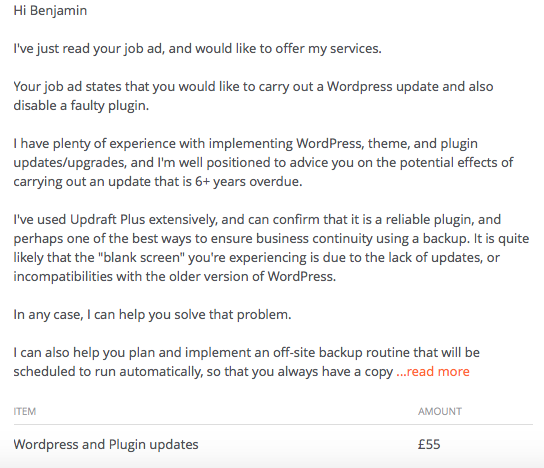 I legitimately thought this guy was from India or the Philippines or Albania. He read the job post back to me (why?), which gave his proposal a distinctly outsourced flavor. Then I saw he was from Edinburgh.
Dude…
If you're from an English speaking country, I expect impeccable grammar and spelling as a minimum requirement. Granted, this guy's grammar and spelling is fine (though many from Canada and the UK have been as bad or worse than those from the Indian subcontinent). But the tone is weird. All fluff and filler and devoid of any personality or attempt to offer value.
There's this guy who clearly tapped out his proposal during his 2-minute morning dump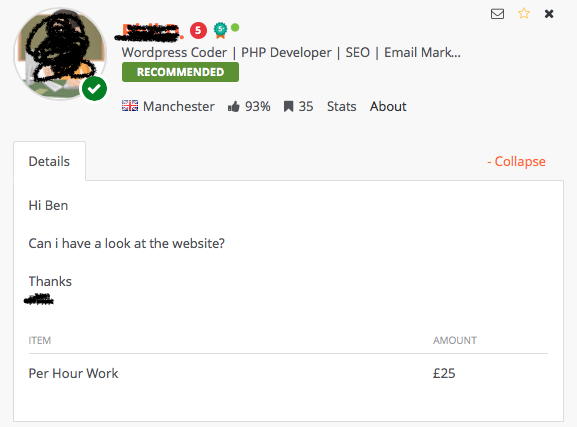 This one annoyed me the most.
Who the fuck are you?
No, you can't have a look at the website.
That's your pitch? 
You couldn't be bothered to write any more than a line with bad grammar. PFFFTTTTT…
But, hey, thanks for using my name. That's something, I guess…
There's this dude who's being weird about price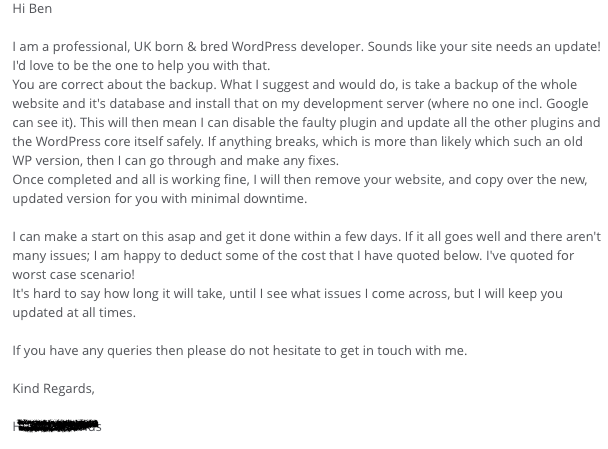 Used my name. Good.
Goes over what needs to be done. Great.
Sounds like he actually read my job description. Awesome.
Suddenly gets really weird and insecure about pricing. Ummm.. Not so good.
He spent an entire paragraph trying to convince me about pricing. 
Imagine you need dental work done. You got to a specialist because you teeth and gums are freaking ruining your life with pain. The dentist sits you down in a nice chair, speaks to you in a soothing voice, and calmly runs you through the procedure. You start to think you're in safe hands. Then he says this:
"If it all goes well and there aren't many issues; I am happy to deduct some of the cost that I have quoted. I've quoted for worst case scenario!"
Yikes.
You're trying to rob yourself of money the client would have gladly spent?
Stop selling yourself on price.
Sell yourself on expertise and people will pay your price.
As a freelancer, I've had people say they will go ahead and employ me once they're "happy with the price". I've also had clients say, "once we agree on price, blah blah blah". But I tell them my price. There isn't any wiggle room. I explain exactly how I'm gonna help them. Then they're happy to pay the price because they know I'll get the job done.
I know it's scary to ask for money from clients. But don't make a big deal out of it. Good clients aren't worrying about price. They're worrying about getting their problem fixed and working with someone they can trust.
How To Write Freelance Proposals That Will Get You Jobs
Okay, enough negativity.
Those are just a few of the types of freelance proposals that popped up in my inbox. We don't have to look at every single one. You get the picture. And you've probably already worked out how to write a good freelance proposal just by reading my asshole commentary. But let's take a closer look at what will set you apart from the bottom of barrel. With just a little bit of effort, you can EASILY stand out from the "competition". I say "competition" in quotes because, as you've seen, it's not much competition, is it?
Freelance Proposal Tip #1: Be Selective
This isn't Tinder.
It's business.
Stop blasting everyone with cut-and-paste proposals. It's just as bad as blasting 100 people with unsolicited dick pics.
Instead, scope out your clients. Actually figure out if you're a good fit for each other. Read their job positing several times over. Make notes. Come up with a plan of attack. How are you going to help them? Figure that out (thoroughly) before you send a message.
Freelance Proposal Tip #2: It's Not About You
Stop this "me, me, me" crap.
Here's the magic ratio for how often you should use the words "I" and "my" compared to "you" and "your": 20/80.
Around 80% of the pronouns are going to be "you" (the client). The other 20% can be "me" (the freelancer).
Here are some useless phrases you are not allowed to use:
"I have just been reading your proposal…"

"This job is perfect for my skill set…"

"I am really interested in this job…"

"I have X years of experience…"

"I have X degree…"
I don't want to read these pointless, mastubatory, useless statements. They waste the client's time and add nothing to their impression of whether you can actually do the job. 
When crafting your proposal, keep the following Japanese quote in mind: "The customer is God".
Japanese service is the best in the world because the servers anticipate your every need. They act like you are God and ensure they do everything they can to please you. 
Go to a Japanese restaurant and your glass will always be full and you won't even notice the waiters filling it. They see your glass getting empty, anticipate your need, and quietly refill it without disturbing the flow of your eating or conversation.
This is the same mindset you need when approaching a client. It's not about you. It's about them. They are God and you must anticipate their every need. Show how your going to help them.
Things that don't help me:
Your past projects (unless they are exactly the same as mine).

Your years of experience.

Your interest in the job.

Your degree.
Freelance Proposal Tip #3: Don't Tell Them How You Can Help. Just Help!
Want to get someone's attention?
Want to get someone to pay you for your services?
Want to start an amiable and profitable long-term business relationship with a new client?
Let's compare three potential approaches. Tell me which one would work if YOU were Mr Big Boss Man and you were looking through hundreds of job proposals.
Approach #1:
"Hi, i can help. contact me if u r interested. thanks."
Approach #2:
"Hello, Mr Big Boss Man!
I'm super interested in your job. I have many years of experience in this area. All you have to do is X, Y, & Z and we'll be off to the races. A job like this is pretty tricky but 9 times out 10, it can be completed in 48 hours. My proposal is for us to hop on a quick Skype and I'll run you through what we need to do. This will cost $XXX. 
Thank you for your time,
Mr Freelancer Person."
Approach #3:
Start helping them immediately. In the terms of my job description, you could start helping immediately by showing them how simple it is to disable a plugin.
Disabling a plugin sounds hard to someone who isn't a techie, but what if you logged into your own hosting panel and took screenshots with arrows and simple directions showing exactly how to delete the offending plugin?
What if you made the instructions so simple a 5-year-old could understand?
What if you then sent that to the client and then walked them through how the update would proceed?
What if you did this with perfect grammar and spelling and you also used their name and stayed away from complicated business speak?
What if you sent a video of you explaining everything, including a video of how you would proceed?
Which one would YOU choose?
If you had armfuls of cash and you needed your problem solved, wouldn't you go for the person who used approach #3? 
A person using the third approach wouldn't have to list their past experience or projects or current skills. They wouldn't have to have lengthy and insecure explanations about price. 
They have demonstrated they are the right person for the job. 
I would THROW MONEY at someone using the third approach. 
How long would an approach like this take?
Making a video or an easy-to-navigate PDF guide is not going to take you much longer than 20-30 minutes in this instance (seriously, chug a coffee). 
You could just do a cut-and-paste that takes 30 seconds.
But don't keep crying when no client responds. 
Take the initial time upfront and you will be rewarded with impressed clients who give you the gig and pay what you want.
That, my friend, is how you can stop writing shitty freelance proposals and start WOWING your client.
It doesn't take much to stand out from the crowd. Now you know what the competition looks like and what you need to do to show your value, all that is left is for you to go and land a client.
Good luck and let me know how you get on.