"Marketing I Love" is a series where I dissect what I love about companies that I personally use. I'm not a paid shill for any of these companies. I'm just a fan of great service and marketing and want to acknowledge and encourage it.
When I'm in the UK, I always get my contact lenses from a company called Vision Direct.
I am loyal to this company.
A lot of people think that's crazy. Why are you loyal to an online contact lens company?
"There's a Boots Opticians up the road or you could pop into Specsavers next time you're in town."
No. I refuse. 
When a company treats you well and dazzles you, you want to support them. You actively want to give them your business. And you want others to give them your business too.
So what is it that dazzled me so much about Vision Direct?
The answer is simpler than you think…
Why I Love Vision Direct
Check out this picture of what I received with my recent contact lens order: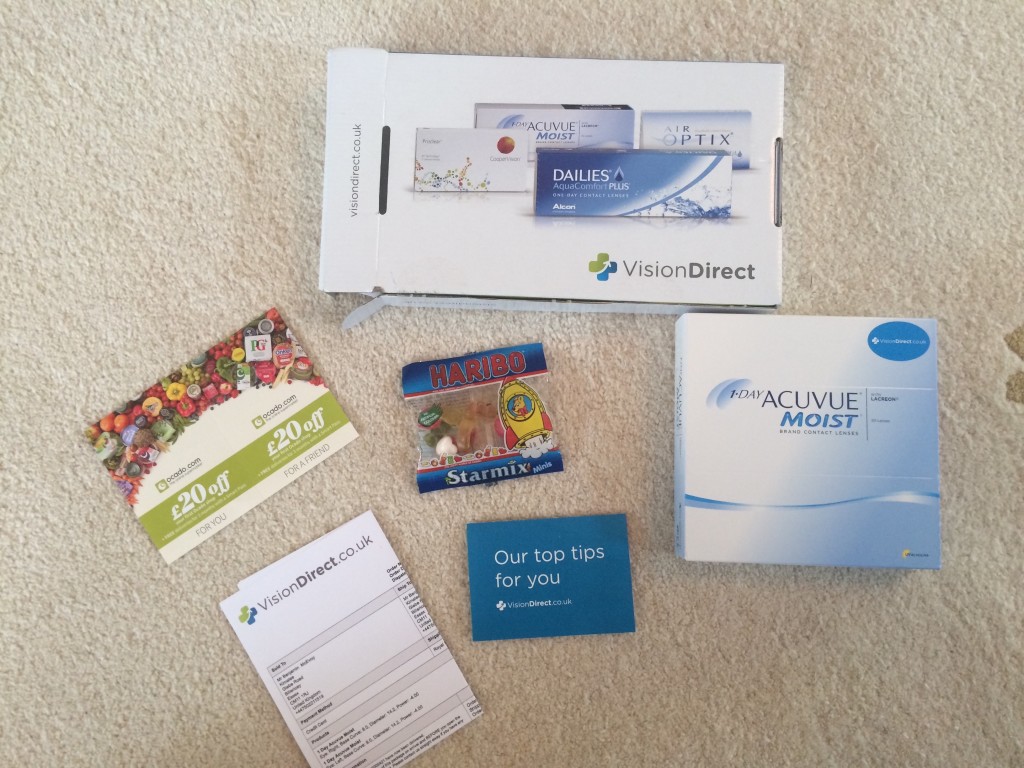 What have we got here?
Contact lenses (great, as expected)

Receipt (as expected)

A tips booklet

A supermarket voucher

Haribo (wait… what?!!?)
You see what I see?
A little pack of children's sweets along with my contact lens order.
It happens every time I order from Vision Direct.
The first time I was confused and thought it might be a mistake or a quirky "one off" because it was around Halloween time.
But then I ordered again and got the little bag of Haribo again.
Call me crazy but I looked forward to my contact lens order because of those Haribo.
I know what you're saying, 'What the heck has haribo got to do with contact lenses? What's so good about that?'
It's got NOTHING to do with contact lenses.
Contact lenses are pretty boring.
But Vision Direct has found a way to make a mundane delivery something that brings you back to your childhood. 
It gives the company a friendly, fun vibe, which is again completely counter to what people typically think of contact lens companies/glasses companies/opticians.
I can hear what a few skeptics are saying… "Big deal, it's just a pack of Haribo. What's so good about that?"
Well, firstly, Haribo are freaking awesome. I like to put the ring ones on my finger and then eat them off.
But, more importantly, Vision Direct got me writing about the company because of this, didn't they?
I can guarantee that the same order minus the sweets would have not resulted in me writing a Vision Direct review. 
It got me recommending the company to everyone I know.
When my mum wanted to go to the local Boots, I directed her to the website and told her it was a better option.
We all know that great customer service is the new marketing because it turns your customers into fans that will market your company for you.
But despite knowing this, how many companies are truly committed to great customer service? (Yes, including a pack of sweets in your order is great customer service.)
The answer is NOT MANY.
The reason Vision Direct were able to get my attention with a little packet of sweets is because most companies have customer service that SUCKS.
In a marketplace where the consumer is consistently disappointed, all it takes is a little bit of creative thought to stand out.
I think M J DeMarco, in The Millionaire Fastlane, called this type of customer service "Superior Unexpected Customer Service."
These days when you call a company up you expect an automated message. You expect to wait. You expect to finally be connected to someone in India. You expect to have to fight to get the help you need. 
So when your ingrained negative expectations from years of crappy service are thwarted, you can't help but be amazed.
Anyways, enough about the Haribo (and the thoughtful supermarket voucher), what about Vision Direct's actual customer service?
I actually never had a cause to get in contact with them because they were so efficient with their deliveries.
The only time I needed to contact them was when I tried to get a delivery to Portugal.
The delivery took forever because the Portuguese postal service (when getting international stuff) is terrible.
I've travelled all over the world and had packages from the UK shipped to places like Vietnam, Thailand, and Croatia but Portugal was basically impossible to get anything through.
So it wasn't the company's fault but I contacted them through email and asked if they knew anything about the status of the package.
The package had been dispatched as normal and arrived in Portugal but customs were holding it.
It was as expected but the company's response was not as expected. Most companies would not help you in this situation. It is out of their hands and not their responsibility. But Vision Direct got back to me within 24 hours (a rare thing for most companies) and gave me a personal response, apologising, informing me of the situation, and trying to make suggestions for how I could get hold of the package (e.g. I might need a Portuguese number).
I appreciated their response but ignored the email. I didn't think there was much either of us could do. But a couple days later, they emailed again. They were still concerned about the situation and asked me to call them.
Now that's impressive.
A company that follows up to a complaint that had nothing to do with them.
I called them up to reassure them that I had grown to expect this sort of thing from the Portuguese postal service but they actually offered to send another box. I obviously refused but the gesture absolutely solidified Vision Direct as a quality company and secured my loyalty.
Vision Direct is a European company that behaves like a Japanese company.
That sounds a little weird but let me explain.
European companies, for the most part, have sucky customer service.
Japanese companies, for the most part, have outstanding customer service.
Japan's strong free market economy demands that companies go above and beyond for the customer. They even have a saying: The customer is God.
In Japan, every company gives you gifts and ensures that they help with all problems you might have. Companies that don't do this don't last very long. 
I wouldn't be surprised if the people running the show at Vision Direct had spent some time in the Japanese business space.
My top recommendation for anyone looking to deliver high quality customer service and stand out from the crowd in Europe is to spend some time in Japan.
Where Could Vision Direct Improve?
If you love a company, you don't just write 1,000 words kissing their backsides.
You look for ways that company could be even stronger.
I love the company's customer service, competitive prices, and brand.
They even have a helpful blog and a pretty cool Instagram (I like what they're doing with Gizmo the Pug). 
The one area I would suggest Vision Direct improve is their email newsletters.
At the moment, they don't reflect the friendly, fun, and personal vibe I get from their deliveries and customer service.
Their emails look like standard commercial newsletters.
They're not super inspiring and they sound like they come from a company… rather than a person.
That's a shame because Vision Direct have a great ethos when they include a pack of sweets in your order. But they're not writing their emails in the same spirit.
Their email newsletters are sales and reminders. 
Really I think they should make some of their emails about the stuff they blog about.
They have headlines that aren't super tempting to open. Just stuff about getting free eyedrops with your next order.
Instead of: Get 5% off your next order.
They could use the headline for this article as the email subject: 5 bad habits contact lens wearers fall into.
Mix stuff like that – helpful, interesting stuff – in with the overtly salesy stuff.
You can read more about my theory on this and even see contact lens company examples here:
Wrapping Up: Vision Direct = Great Company
Vision Direct are a great company to learn from if you want to see simple, practical examples of how to improve your company's customer service.
Many companies would benefit from including a 'gift budget' as part of their marketing budget.
I was telling this to a client recently. I suggested putting together a gift box for her customers that is not conditional on anything except fun. 
My client's got a product launch coming up in the near future. Delivering value up front right now, even when it's not expected, is a great way to secure a successful launch and increase word-of-mouth marketing.
Putting together a little thoughtful package (that doesn't have to cost the earth) as part of your product is a great way to turn your customers into raving fans. 
After all, Vision Direct secured my loyalty from a few packets of Haribo and helpful customer service.