Disclosure: Please note that this Werner Herzog Teaches Filmmaking MasterClass review contains referral links. That basically means I'll earn a small commission if you decide to grab the course after clicking. I recommend this course because I personally bought it and benefitted from it first and my review would be exactly the same with or without referral links. Please only purchase this course if you personally decide it's right for you.
My last review for the Werner Herzog Masterclass was over a month ago! Why has it taken me so long to get around to week 4? Well it's not because I've been putting off the course but rather because there is simply SO MUCH to get through. This is good news for anybody wondering if they'll get their money's worth out of this masterclass. You do. You get more than your money's worth. The lessons are long and packed dense with information that takes a long time to digest. And the homework assignments are crazily extensive and will keep you occupied for ages.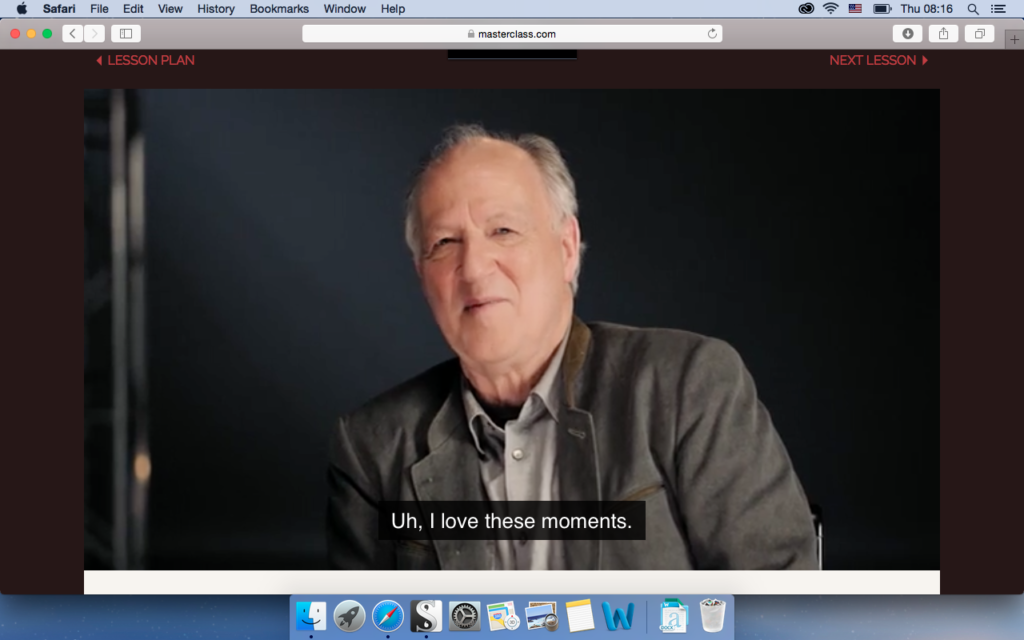 If you've already enrolled in the course, you know exactly what I mean. And if you have enrolled, get in touch and let me know how you're getting on. It's great to see that a bunch of you have already bought the course. I'd love to know if you're loving it as much as me. 
Now onwards with the review!
Werner Herzog Teaches Filmmaking MasterClass Review (Week 4)
Week 4 featured some of the longest and most enjoyable lessons yet. They weren't just enjoyable because of how much great info was packed in, nor was it due only to the amount of actual films we analysed, but it was enjoyable because it really seemed like Werner was having a blast. His enthusiasm was supremely contagious as he talked over some of the following things:
Camera techniques: spatial orientation for your audience, the Kinski Spiral, the Nazarín Walk, disorienting your audience, working with animals.
Working with actors/creating characters: how to cast the right actors, risking everything for the right actor, what matters onscreen, using physicality (Nicolas Cage, Bad Lieutenant case study), using wardrobe and props (Kinski, Aguirre case study), finding the character's voice (The Enigma of Kasper Hauser case study and Aguirre case study).
Working with actors on-set: on rehearsing, how to keep actors on their marks, favouring simple directions over extensive directions, knowing how to control your actors, hypnotising actors (Heart of Glass case study), letting your actors loose. 
Look at all those case studies! And you know what case studies mean? Movie time. That's right, this week was chocked full of analysing movie clips with Werner Herzog himself. It was pure joy and it actually felt like we were right there in the studio with him.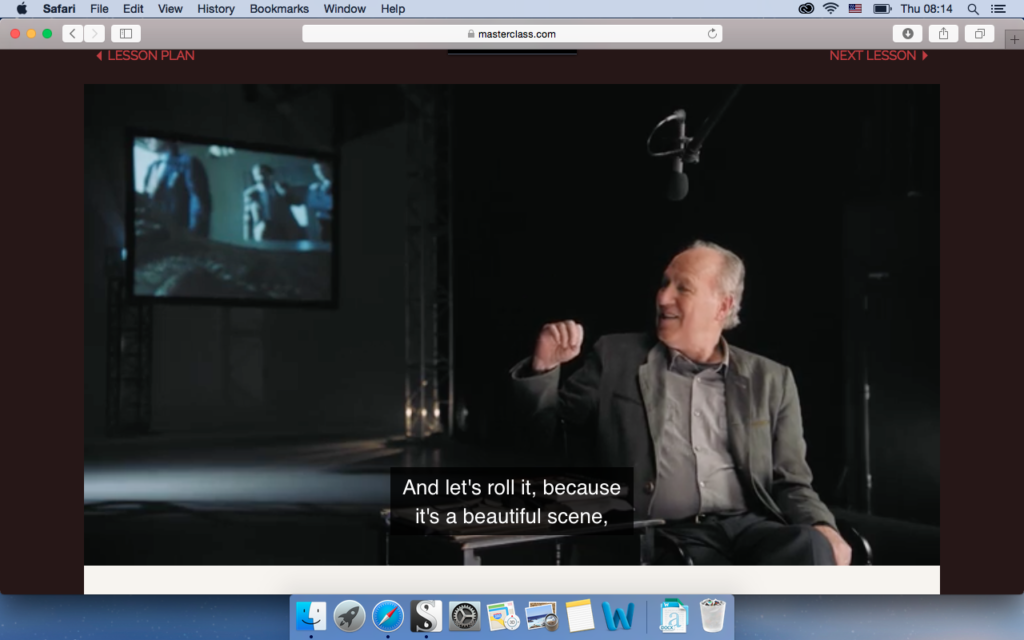 The week kicks off with an examination of the basic principles of filming and how to use a scene of dialogue to explain the invisible axis of filming to ensure that the audience always and immediately knows where they are. We gain and understanding of this by studying Melville's La Deuxieme Souffle.
Werner takes us through a few of his favourite tricks. One of which includes the Kinski Spiral, which was Klaus Kinski's method of pressing himself up against the camera and turn 180 degrees in order to convey a feeling of disorientation. 
Then we have the Nazarín Walk, which Werner learned from Buñuel and applied to great effect in Heart of Glass in order to create the feeling that a character has travelled thousands of miles. 
Particularly striking in this lesson, one that stands out to me personally from all the great examples used, was Werner's analysis of the iguana scene in Bad Lieutenant. I won't go into detail about what effects he used or his rationale but little gems like this are worth the course alone (and there are tons more).
We talk about casting and Werner points out one of the mistakes that the big studios make: putting two of the bestselling actors together in a love story and they have no chemistry. For Werner, it's all about understanding chemistry. And that requires understanding the world and human beings. "You have to know the heart of man."
We learn about casting and how to cultivate an eye for people who have something extraordinary about them, how to spot the depth in actors like Klaus Kinski, Claudia Cardinale, and Christian Bale.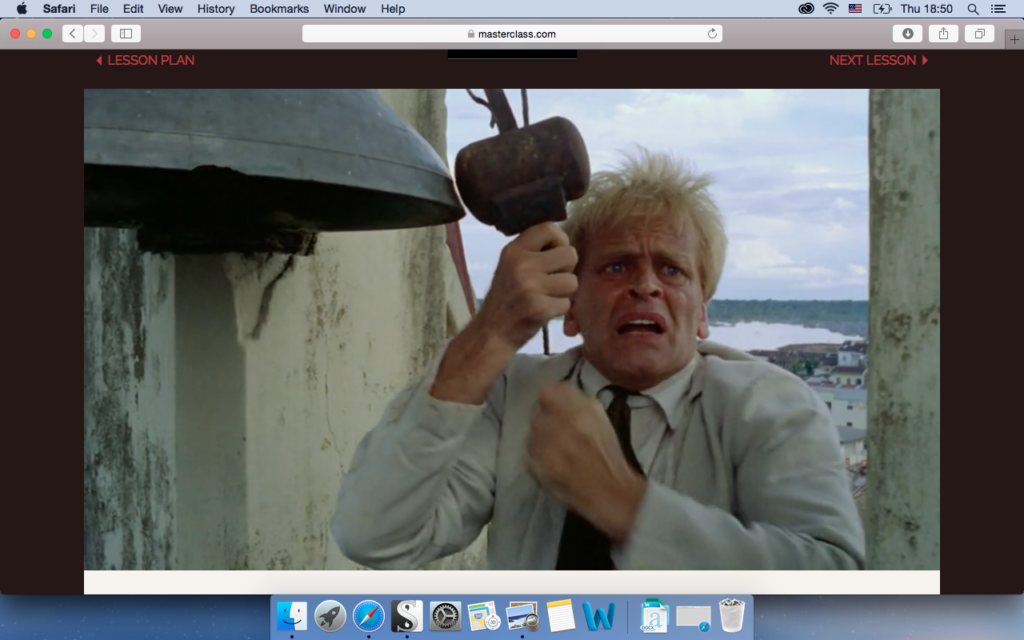 There are fantastic lessons about using physicality and we examine Nicolas Cage in Bad Lieutenant and how Werner and Cage developed the characteristic of having shoulder line "preceded by the gaze". We examine the wardrobe and prop choices for Kinski in Aguirre that led to greater characterisation. 
We even hear about Werner's own acting decisions, for example when he played the bad guy in the Jack Reacher film. Werner's philosophy is very much one of "keeping it low" like Bogart, Cooper, or Brando.
We hear about Werner's disdain for The Actors' Studio and his belief that Brando was better before it. We hear about how to handle actors and why method actors are particularly hard to handle, predominantly from a technical point of view (e.g. they keep stepping out of frame).
Werner uses tons of great stories in order to give his lessons. For example, to emphasise his point on handling actors, we are treated to a great story about how he made Kinski scream himself empty for 2 hours in order to get the scene that he wanted. We are treated to stories of hypnotising entire casts of actors. We are treated to stories of how to improvise timing (e.g. in Nosferatu). The whole week was one big treat.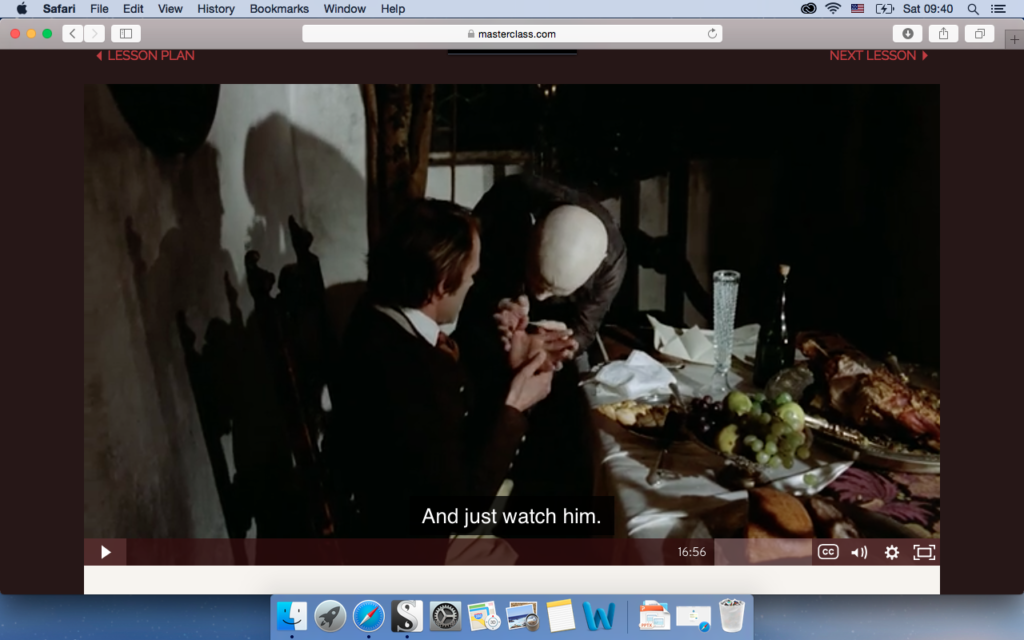 Now, once again, I find myself faced with EVEN MORE homework and I have literally no idea how when I'm going to finish it. That means, despite being super eager to plough ahead with the next week of this masterclass, I'm not sure when the next update will be. 
Is the course worth it? 
Silly question. 
A better question is "where can I sign up?"
If you've already enrolled, be sure to drop me a line so we can talk in detail about how awesome the class is. It would also help when it comes to the homework assignments. I'll be living in Toronto for the first half of 2017 and the second half will be in Tokyo. If you're in either of those places, it would be great to do some filming together.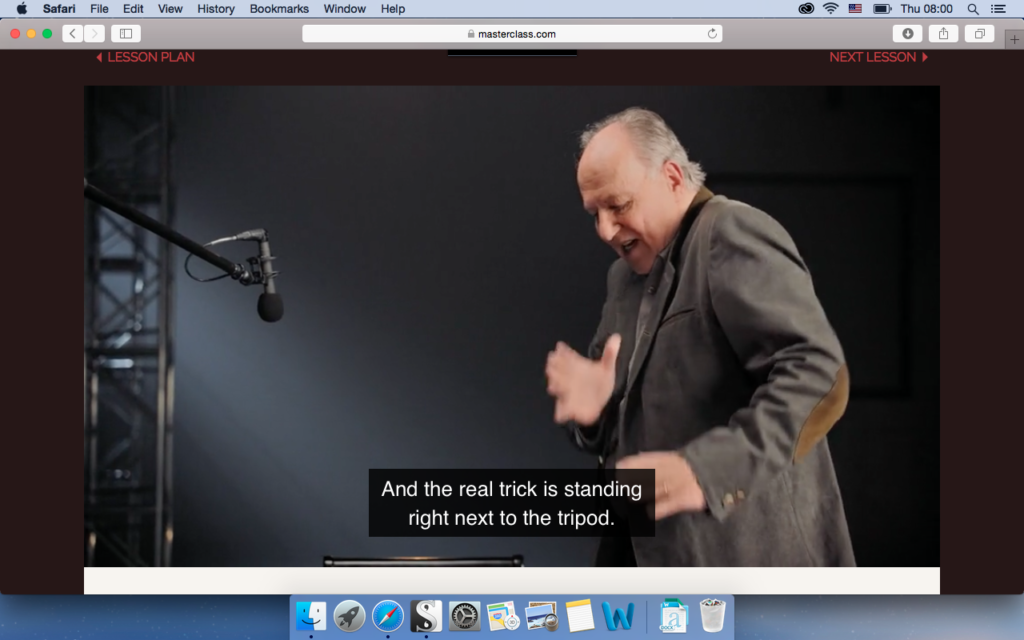 P.S. You can see my reviews for the first few weeks here, here, and here.
Read my other Werner Herzog MasterClass Reviews: