We're halfway into 2016 and some of us writers need a kick up the backside. 
If you fancy a freshen up, here are a few writing challenges you can take.
Let's not get complacent just because summer is here and it's too hot to think straight. Test yourself, stretch yourself and have some fun by making one of these goals your new habit for the next 66 days.
Why do I say 66 days? 
Contrary to popular belief, it actually takes an average of 66 days to make a new habit automatic and permanent (I got this figure from Gary Keller's 'The ONE Thing'). So take one of these challenges for a spin and see how you like the drive.
These challenges are sure to improve your writing or reading. Becoming a better reader or writer is a vaguely worded goal but these challenges are more quantifiable and give you something to shoot for.
Goals and Challenges For Readers
Here are my two biggest reading goals for 2016. Actually the second is my goal for the next 1,000 days. Feel free to make these your own. I'm having a blast with these and I would love to hear what you think.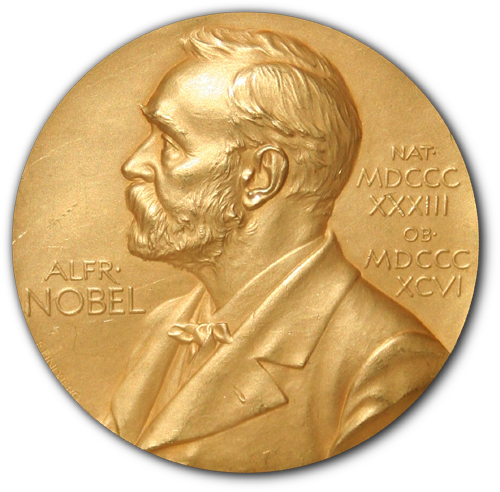 When asked to comment on this reading challenge, Alfred Nobel allegedly said it was 'dyn-o-mite, yo!'
I read Svetlana Alexievich's 'Voices from Chernobyl' in January and I must say it's one of the most outstanding, moving, and informative books I have ever read. And I probably would have never picked it up if I hadn't issued myself this challenge.
In February, I re-read Ernest Hemingway's 'The Old Man and the Sea' and really savoured it. 
You can check out the full 12-month list and follow along or design your own curriculum from the Nobel Prize website. Make sure you let me know what you're reading and if it's any good.
Read 1 Short Story, 1 Poem, and 1 Essay for the next 1,000 days (Bradbury Trio)
Ray Bradbury issued this wonderful challenge and I leapt upon it. I've been doing this for a few months now, in addition to my normal reading, and I'm having a great time. I'm reading authors I never would have looked at and I'm learning a lot.
This will probably only take you 30 minutes a day. Just make it part of your routine. I do this in the morning, whilst I'm waking up over coffee, or in the evening, as I'm dozing off.
I've read some fantastic stuff with this routine.
Here are four of my favourite essays from this challenge:
Here are four of my favourite short stories from this challenge:
Here are four of my favourite poems from this challenge:
If you need some other ideas to stretch your reading habits, here are a few other lovely ideas I have come across:
If you get a handle on your reading, you can get a handle on anything.
Sometimes we can get stuck in a rut with our reading habits but all we need is an exciting challenge to stretch ourselves.
Goals and Challenges for Writers
In addition to finding new areas of interest in your reading, here are some challenges you might find helpful to improve your writing.
Anthony Trollope, one of the most prolific novelists of the Victorian era, sat down every day and wrote 250 word every 15 minutes for 3 hours.
This is a technique that I am committing myself to for my first drafts this year. It kills procrastination. It kills worry. And you always have a result every day if you just force yourself to commit to your word count no matter what.
This technique is great because, with the time ticking away, you're forced to push yourself onwards until you hit positive momentum. You can reach the flow state after about 30-45 minutes of this routine (at least I can).
If you're having trouble getting the words down, don't think too much. Just commit to 250 words every 15 minutes for however long you have to write. It's good to block off a stretch of time so you can get lost in your work. I think a minimum of 3 hours is great but work with what you've got.
Write 1 Short Story A Week (or a day)
If you're really hardcore, you could try to write one short story every day. I did this experiment back in November last year. It forced me out of a period of writing inactivity that had settled due to my editing stint for one of my novels.
Short stories are a different beast to novels. Every word counts. 
With short stories, you are really forced to engage on every level to keep the story moving along nicely.
It's a great exercise and presents many challenges but you can still complete a short story very quickly. This gives you a sense of accomplishment and excitement. It also builds up your oeuvre.
Here's how to write a short story in a day:
Get an idea. You might already be swimming in them. If not, jot down 10 ideas for stories right now. Don't put so much pressure on yourself. Just get the ideas down. One of them is sure to appeal to you. If none of them appeal to you, jot down another 10.
Complete a rough outline. Some authors prefer to dive straight in but I find having a sense of direction will allow your writing to flow more smoothly. My short stories usually have three arcs and the characters all want something. Find out what your characters want and how their desires conflict with the desires of the other characters.
Nail the theme. Good short stories have a central metaphor than can be summed up in a sentence.
Give yourself a block of time and commit to a word count. You can use Trollope's method detailed above.
Write A Novel in a Month (NaNoWriMo)
Every year I say I'm going to do this and every year I chicken out or life gets in the way. But no more! In 2016, I will take part in NaNoWriMo. I love the sense of community around this challenge and can't wait to take part.
May The Writing Force Be With You
There we have it. A few suggestions to revitalise your reading and writing habits.
Do you have any different challenges you are going to do this year? Are you going to do any of the above? Let me know.
P.S. Following the Bradbury Trio is so much more rewarding when you journal about each thing you read (just a small snippet/favourite quote). I find this book journal is perfect for the job.