So I just checked out my earnings from the Amazon affiliate program, Amazon Associates. I don't wanna brag or anything but let's just say the Cristal is on me this evening. Get your ass down to the club because I'm gonna make it rain. Hookers, blow, whatever you want. Time to party.
Check out my profits from the last 10 days: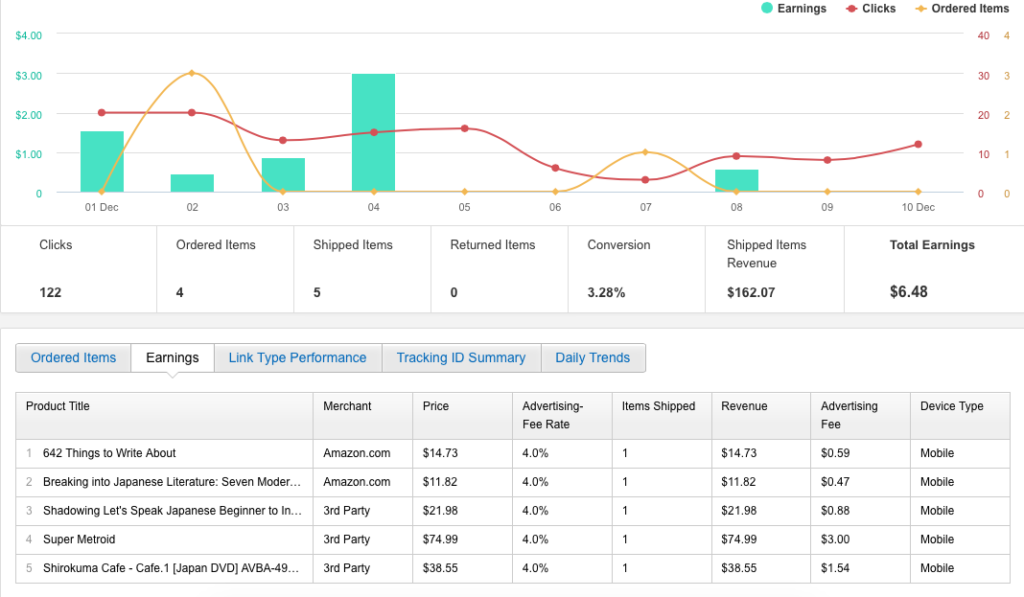 WHOOPS!
Okay, maybe we'll put the Cristal, hookers, and blow on hold. Looks like all we can afford is some White Lightening Cider, paint thinner, and a cardboard box by the side of the highway because….
In the last 10 days, I've sent Amazon business to the tune of $162.07. 
What cut did I get?
$6.48.
That's a massively underwhelming 4% commission. 
"Is there even a point in being an Amazon affiliate?" I hear you say.
Well…. Yes. 
There is a point in being part of the Amazon affiliate program and it has nothing to do with money. Unless you have an audience of millions and still don't mind getting butt-fucked on the lousy commission while have zero control over your income stream, I would NOT recommend the Amazon affiliate program as a way to get rich.
But it is still extremely valuable.
Why You SHOULD Be An Amazon Associates Affiliate
When it comes to making money, there are definitely better programs out there. 
But Amazon Associates gives you great value in terms of information. The market research you get is priceless. 
Sign in to your Amazon Associates account and you can see what your audience is buying, how many of them are buying, and whether there are keeping the product or returning it. 
You know two super important things:
What products you were effective/persuasive in reviewing

What products your audience is already eager for
If you know where you were effective in reviewing, you can go back and analyse your copywriting. You can analyse what it is that made someone click and buy.
Did you have videos?

Did you have original pictures?

Did you point out the flaws in the product first?

Did you promote the product in passing or go in-depth?
If you know what products your audience is eager for you can…
Write more about those products

Create those products yourself (how can you improve them?)
You can see on my analytics page that I managed to get someone to buy a book on shadowing (a language technique that encourages you to mimic speech simultaneously with a native speaker). This isn't the first time someone has bought this product because of my recommendation. This tells me there are opportunities here. Can I make my own shadowing product? Can I review more? Can I give away more information about this subject?
You can also see that someone bought a product about writing prompts. That one shocked me because my post on writing prompts was pretty flippant. But it makes me think I should put more writing prompts up on this site. Maybe there's a gap in the market for another book of writing prompts. 
Obviously all of this isn't a hard science. But it's good data. Trying to build an audience, write articles people are actually interested in, and help people can be daunting at times. It's hard to know where to spend your precious energy and time. But data, like the stuff you get from Amazon Associates, can stop you from floundering in uncertainty and give you a small shove in a promising direction.
So if you're wondering whether it's worth signing up as an Amazon affiliate…
Do it.
But don't do it for the money. Do it for the hard data. 
Now where can I buy some paint thinner for under $6.48? 
Oh, yeah! Amazon of course. Man, they're brilliant.