I was one of the first people to sign up to Aaron Sorkin's Screenwriting Masterclass. I signed up even though
I'm not a screenwriter (yet)

I had only minor knowledge of Sorkin's work.
So why did I sign up?
The main reason is my philosophy that if you get just one valuable thing out of a course or book, it's money well spent.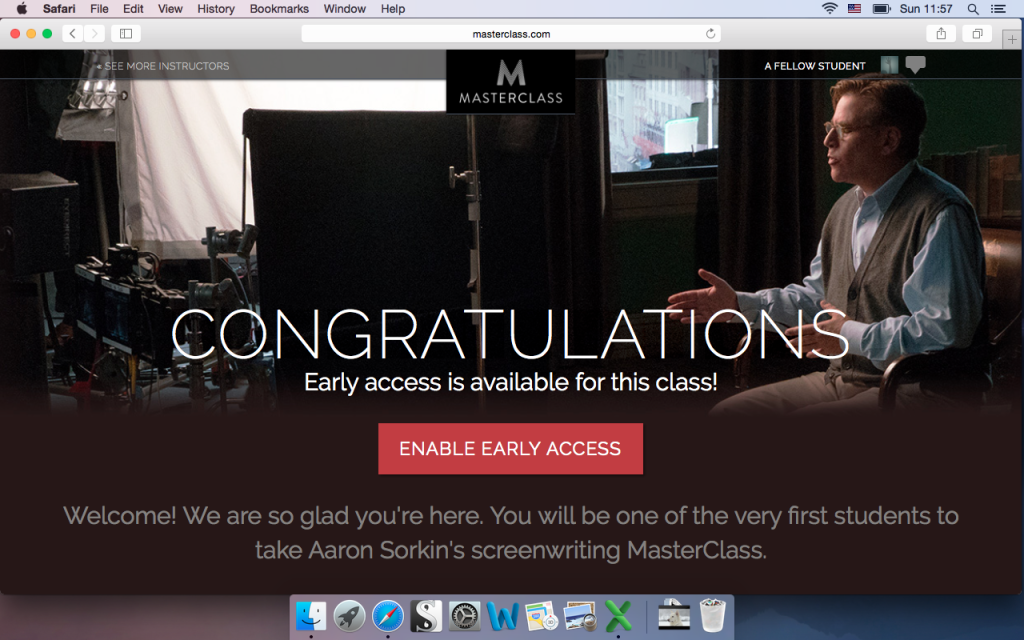 I was actually originally intrigued by the James Patterson Masterclass (which I will still take) but I thought I'd get a fresh perspective on the craft from Sorkin. I'm a novelist and I really wanted some advice from a successful screenwriter. I'm also obsessed with good dialogue. And, after signing up to Sorkin's Screenwriting Masterclass, I went back and viewed some of his works again. I also checked out some of his stuff I didn't know about. Simply put, I was blown away. Sorkin is a master screenwriter.
You've probably already seen this masterpiece before:
If you haven't seen The Newsroom yet, check it out. You're in for a real treat. I just binge-watched three episodes in a row because the dialogue and characterisation were so brilliant. I recommend you grab it on iTunes so you can put the subtitles on and really study the words. This makes the first lesson's homework much simpler too.
Check out this stunning writing:
 

In addition to A Few Good Men and The Newsroom, Aaron Sorkin also wrote screenplays for:
Steve Jobs
Moneyball
Sports Night
The West Wing
The Social Network
Charlie Wilson's War
The American President
Studio 60 on the Sunset Strip
If that isn't a compelling enough reason to invest in Aaron Sorkin's Screenwriting Masterclass, I'm going to give you my honest review of the first week. I'm an affiliate of MasterClass and this review contains referral links (any compensation goes into maintaining the site) but I actually wrote this review before becoming an affiliate and it's my honest opinion.
Aaron Sorkin Teaches Screenwriting Masterclass Review (Week 1)
So why buy Aaron Sorkin's Screen Writing Masterclass?
It's $90. Is it worth it?
Personally I think $90 for a screenwriting course that lasts 6 weeks (5 hours of video content) with Aaron Sorkin is a bargain. I love the internet! Think about how much you would have to pay just to sit down with Sorkin for 1 hour. Think about how difficult it would be to arrange that. 
Like I said, if you get just one great idea or the course fires you up and makes you take massive positive action, it is worth it.
I actually got 10 great ideas from the first couple of lessons alone. 3 were directly from things that Sorkin taught and then the rest sparked from those ideas. I've already got my money's worth.
I was skeptical at first, especially during the intro video because Sorkin seemed a little nervous. But after that, things started to heat up fast. 
Aaron taught me something about characterisation that completely went against my previous beliefs.
I'm sure it will completely go against your beliefs too. But it was so different and so refreshing to hear that it immediately made my work-in-progress so much smoother. That part of the course alone was worth the investment.
Sure, Aaron covers some basic stuff (this is just week one though). He starts off by talking about the importance of intention and obstacle and how to really nail it. We've heard this before but Sorkin really drives this home and stresses the importance of improving the basics to hit mastery. 
Sorkin's coverage of the basic stuff inspired me to rewrite the next scene in my work-in-progress using his very simple method. It was a method that I don't normally do and it made a huge difference in my work. 
It's still early days because there are 5 more weeks to go but, so far, I'm having a blast and I'm super happy with my investment. 
I also love the homework that this course provides. I suggest you actually follow the homework. Don't just watch the classes and make notes. Actually get involved and put it to practice. That's where you're really going to learn something.
Another thing I love about this course is the engagement with other students. It's great to see a real community and an ongoing conversation with other writers at different stages in their career.
You might be wondering whether the Aaron Sorkin Teaches Screenwriting Masterclass is too basic. After all, for $90, you could buy a couple of books and movies. 
I'm not sure if it's too basic for you. It depends entirely on your current experience. If you're not already a successful writer, I would certainly recommend it based on the first week. Masterclass offer a refund in case you're not impressed. But I'm certain that you will be impressed and you'll get something out of it.
Give it a try. If you need some firing up and want to learn from a great screenwriter, sign up and follow along. 
Good writers continually invest in their craft. The Aaron Sorkin Teaches Screenwriting Masterclass is a solid investment. 
I'm already speeding ahead to week 2!
You can buy the Aaron Sorkin Teaches Screenwriting Masterclass here.
P.S. You can read my reviews for the other weeks here, here, here, and here.
P.P.S. Prefer Grey's Anatomy to The West Wing? Rather write like Scandal than The Newsroom? Check out my Shonda Rhimes MasterClass review here.
Read the rest of my Aaron Sorkin reviews here:
November 2017 Update: Now, for $180, you can get access to the entire MasterClass course library with the All Access Pass. This is a total non-brainer and incredible value for money. Just check out their line-up.