Disclosure: Please note that this Wim Hof Method review contains referral links. That basically means I'll earn a small commission if you decide to grab the course after clicking. I recommend this course because I personally bought it and benefitted from it first and my review would be exactly the same with or without referral links. Please only purchase this course if you personally decide it's right for you.
This Wim Hof Method review will take you ~4 minutes to read if you're a fast reader. Thanks to the Wim Hof Method, I can hold my breath at the beginning of this article and not need to breathe until I reach the end. Can you?
I was burned out.
Too many stimulants and pain pills.
Too many sleepless nights and days hunched over without sunlight.
I needed a distraction from the anxiety and aches that had become my constant companions. So I put on an episode of the Joe Rogan Experience.
The guest was "The Iceman" Wim Hof.
If you're reading this article, you probably saw that episode. You were probably as amazed as I was when Joe's guest got him to hold his breath for OVER 3 MINUTES.
I didn't know who Wim Hof was before that show. But he certainly caught my attention. Not just because he was so charming but because his claims were ridiculously audacious.
He can control his immune system through breathing.
He doesn't get sick.
He doesn't get jet-lag.
He has 21 world records. Including swimming under the ice for 120 meters with one breath, climbing Everest in his shorts, and running a full marathon in the Namib desert without water.
And perhaps the most audacious claim of all:
'What I am capable of, anybody can learn'.
The Wim Hof Method, a combination of breathing techniques, cold water therapy, and physical exercises seemed too good to be true:
Burn fat

Recover faster

Sleep like a baby

Feel more creative

Mood improvement

Reduce inflammation

Boundless energy levels

Reduce your stress levels

Enhance athletic performance
And the list went on and on.
Personally, I wanted something that would give me more energy, creativity, and clarity.
Could the Wim Hof Method do that?
The course is pricey. Its $199 as a one-off payment or 3 monthly payments of $79.
I had to think about it. Spending almost $200 on a breathing course isn't an offhand purchase for me. So I watched and listened to a ton of interviews with Wim. The more I listened, the more I was convinced.
I decided, hey, the money's an investment. Not an extravagance.
If the course did even a fraction of what it claimed, it would be worth it.
With more clarity, energy, and greater well-being, you will make that money back. Plus Wim offers a money-back guarantee.
I decided to cut all spending that typically went on addictive substances and put the cash to something that would improve the quality of my life.
As it turned out, I made the money back very quickly and not only that. 
The Wim Hof Method is one of the best purchases I have ever made
I'm actually struggling to think of a better purchase right now.
I'm going to get into the benefits but, before I do, I gotta tell you something in case you think the course is "just" a breathing course.
Listen, before I heard of Wim Hof, I had tried everything.
I'd read and applied stuff from Eckhart Tolle, I winged it with my own simple breathing meditations, pranayama, yoga, binaural beats. Everything. But none of this had the effect that the Wim Hof Method has.
It seemed like the Wim Hof Method got me to a place that would have otherwise taken 10+ years to get to on my own and through other methods.
If you think yoga and meditation is a bunch of woo-woo, you will actually be the one to benefit most from the Wim Hof Method.
You don't have to be a chia-eating marathon runner who says "namaste" in order to relate to Wim and his method. I'm not knocking those people because I've done that stuff too. But Wim's approach is so much better at speaking to me.
Wim's philosophy? In his own words:
"Breathe, motherfucker."
Now let's talk about the course.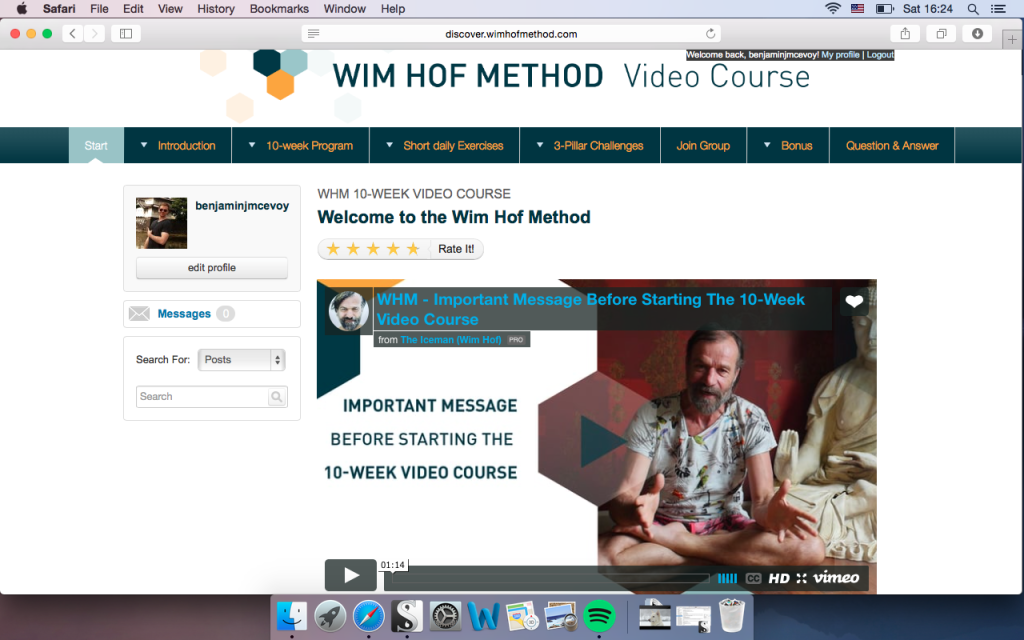 Wim Hof Method Review 
When you join the course, Wim gives you a PDF journal so you can track your progress.
There are some focusing questions and tests at the beginning.
He asks why you want to learn this method. Some examples are no more cold feet, doing 30 push-ups, having more energy, seeing chakras.
I had no idea what chakras were (still don't really, although I'm convinced I'm seeing them now) and I could already do a ton of push-ups. So these were my goals:
More grounded

Increased energy

Less anxiety/worry

Increased creativity

Increased happiness

Increased productivity
Wim asks you to set a baseline at the beginning and see how long you can hold your breath.
My result was dismal: 38 seconds.
As someone who used to smoke in their foolish younger days, I've always been concerned about my reduced lung capacity. If Wim could improve my breathing, that would be an awesome extra benefit.
Then Wim asks you how many push-ups you can do with proper form.
I could do 30. I've been able to do more push-ups at a lower weight but I recently amassed a lot of weight very quickly, so this was actually pretty difficult.
Wim asks if you experience cold hands or feet. Then he asks what your mindfulness is like during the day and what your sleep is like.
My mindfulness? Easily distracted, rarely in the present moment, worrying a lot, procrastinating a lot.
My sleep? Pretty fractured. Less than 7 hours and waking up a lot, finding it hard to drift off, and feeling tired even after sleeping.
It felt like I was a mess but I think you can identify with this too. It's the smartphone, coffee chugging, 24/7 email culture that we currently live in.
Breathing retention times
Increasing my breath-holding time was not the prime reason for me starting the Wim Hof Method. It's probably not why you're interested either. But, trust me, when you see how rapidly your retention time improves, you will LOVE this part of the course.
On the first day of Wim Hof Breathing, I doubled how long I could comfortably hold my breath: 62 secs.
Second day: I tripled it: 94 seconds.
Third day: I quadrupled it: 120 seconds.
Second week: I could hold my breath comfortably for five times longer than when I started: 154 seconds.
I also managed 60 push-ups without any air in my lungs. That's double what I could do while breathing!
By the third week, that turned into 70 push-ups.
By the fifth week, I could do 90 perfect form push-ups in a row with no air in my lungs.
Insane doesn't even begin to cover it…
First week Wim Hof Method results:
First day – Extraordinary difference in mood and energy. I was able to feel fully awake and happy without any coffee (quite an achievement for a chronic caffeine addict). I had consistent and elevated energy all day. I focused on and completed things that I would have typically struggled with.
Second day – Clear thinking, energy, drive, motivation.
By the third day, I already noticed improved sleep quality.
I started to get a slight cold by the end of the first week (just a sniffle). I took this as a sign that my body was changing. I was also ditching a bunch of insidious little addictions so I'm sure they were the main influence.
Second week Wim Hof Method results:
This was a strange week. I felt amazing, happy, powerful, and content. But, at the same time, I also felt like I was detoxing. I literally was detoxing but I do wonder if the cold showers made this feeling more prominent.
Third week Wim Hof Method results:
This is where things started getting REALLY good. This week was a sign of the good stuff to come in the fourth and fifth week.
I felt in control, powerful, positive, creative, focused, alive.
For the first time in years, I leaped out of bed in the morning with a superhero sense of purpose.
I wrote more than my daily word count for the first time in a very long time (I can't remember when I last did that). Not only that, but I had a BLAST while writing. Writing had started to become a drag. But I suddenly remembered why I loved it so much.
I ended up writing some of the best material for one of my new books.
Fourth week Wim Hof Method results:
This was a game-changer week.
Every single day I wrote more than my daily quota. I felt powerful, creative, motivated, and happy. I also slept incredibly well.
Fifth week Wim Hof Method results:
My daily word count kept going up and up.
My gym workouts were insane.
Doing Wim Hof breathing while lifting weights increases your endurance and strength.
My flexibility became ridiculously good.
I can now do stuff I could never do before. I can almost do the splits. I can touch my toes with ease. This is huge for someone who suffered from sciatica in the past.
Most insane benefits I've experienced from the Wim Hof Method
Seeing electric lights (or chakras)
I didn't expect this from the outset and it was never my goal. I also wasn't sure it was possible. But recently I have been seeing blue and white electric lights in my vision when I close my eyes during the breathing. It doesn't last long but I like to think it's an indication of stronger effects to come.
Greater creativity
It's hard to measure this. So I'm just going on feel. I've been able to make connections in my fiction writing that I don't think I would have done before. Surprising plotting and character points come easier to me.
More productivity and focus
Again, using writing as a measure, before the Wim Hof Method my typical daily word count goal was 2,000 words of fiction a day.
I actually write a lot more than that but I don't count stuff to pay the bills.
Before Wim Hof, I was stagnating. Long stretches went by where I didn't write any fiction at all. And when I did sit down to write, I'd have to bang my head against the keyboard and bleed out a measly 300 words.
But 3 weeks into the Wim Hof Method, I started to exceed my standard goal. I was writing 3,000 words on many days and some days even got close to 5,000. It felt like quality stuff too.
Content, Grounded, Happy
Right now I'm happy more than not (pretty much all the time).
It's easy to overlook this benefit when you're just reading about it. But ask yourself, how many days in a row were you truly happy all day long last week?
How many times have you caught yourself singing or dancing randomly for no reason during the day?
How many times has something bad happened and you've been able to return to a happy, stable state within minutes?
You know how you know you've gotten happier?
The people around you are happier. They smile, laugh, and talk to you more.
You laugh more. You see beauty around you. You sleep better. You get more done. You don't binge-eat. You feel grateful. You appreciate the small things. Your muscles feel relaxed. You get more opportunities (remember I said I made the cost of the course back?)
Wim Hof Method Bottom Line
The Wim Hof Method is pricey but it's an investment. It's actually underpriced when you consider how much it will improve your life. There's also a coupon code (at the moment).
Use the coupon code "high25" to get 25% off the Wim Hof course.
Most people easily blow more than $200 a month just on binge-drinking, Netflix, Amazon Prime, and junk food alone. Taking some of the money you would have spent on things like that and making the conscious choice to invest in your happiness and well-being is a very smart decision.
One of the great things about the Wim Hof Method video course is that it tells you exactly what to do in order to feel a certain way.
There's no nonsense. It's streamlined, there's no skipping ahead, and it builds your abilities up in incremental steps that keep you excited, motivated, and committed.
If meditation has failed you before, you'll really be blown away. Laird Hamilton puts this best in the first 10 minutes of this interview.
The bottom line is that you feel like you are in private one-on-one training with Wim himself. The course is made so it's easy to build it into your day.
Commitment and accountability are built into the course.
There is a wealth of beautifully shot, well-ordered videos. The online course feels like a comprehensive library on the subject. There's books and articles and the whole things is just damn fun.
Make sure to use the coupon code (high25).
When you invest in the Wim Hof Method, you'll see why people like Laird Hamilton, Rick Rubin, Oprah Winfrey, Tim Ferriss, Joe Rogan, and many more are raving about it.
Ask me any questions you might have in the comments below.
Thanks for reading.