I was hesitant about signing up to the Steve Martin Teaches Comedy MasterClass. Don't get me wrong. I love Steve Martin. His stand-up comedy and movies were a core part of my childhood. But I knew if I signed up to Steve Martin's MasterClass, there would be no going back.
One of my goals for this year was to get up on an open mic at a comedy club.
I am not a comedian. I have no ambitions to be a comedian. I'm a writer. But I was always the class clown at school. I was always writing funny stories and circulating them amongst my friends. I wrote sketches and performed and filmed them. I wrote jokes instead of doodling in class.
So a significant part of me has always wondered what if? What if I actually tried to get up on a stage and make people laugh?
Being "funny" has been such a strong part of my identity that the idea of actually putting it to the test made me terrified.
As a hardcore introvert, the thought of getting on a stage in front of strangers with the aim of making them laugh makes me feel like throwing up. I am literally feeling fight-or-flight adrenaline course through my body as I type this. So I needed a helping hand.
I could keep on dreaming about "one day" getting up on stage and making people laugh. But I knew if I actually put money on the table and enrolled in a course, I would have to do it. That's how I commit myself to take action.
I did a bunch of research into comedy courses but I couldn't find any that I trusted. All of the instructors were no-name self-appointed comedians whose only claim to fame was one unfunny quip written for David Letterman back in the eighties.
And then I saw my favourite company MasterClass had just snagged one of my comedy heroes: Steve Martin.
If you're going to learn comedy, Steve Martin is the guy to learn it from. 
Steve Martin who…
Acted in over 50 feature films

Published multiple bestselling books

Hosted Saturday Night Live 15 times

Hosted three Academy Awards shows

Starred in and written some of the funniest comedies of all time

Was the first "rock star" comedian, famous for instantly selling out shows

Earned five Grammys, an Oscar, an Emmy, and the Mark Twain Prize for American Humor
So I scheduled my first open mic for December this year and dived right into the course. And I'm so happy I did. 
I also just wanted to say that this review contains referral links, which basically means if you found this review helpful and decide to buy it because of my recommendation, I may get a small commission (which I put back into the site hosting fees and other products to review). I don't recommend much stuff – only the best. And this is one of the best.
You know you chose the right comedy class when Steve Martin turns the entire introduction into a hilarious bit:
Hi, I'm Steve Martin and welcome to your nonrefundable MasterClass!
After getting us warmed up and enthusiastic, Steve becomes more serious and analytical and let's us know that the course will be a combination of practical knowledge and inspiration.
Steve starts by saying the MasterClass will hit on a lot of things like:
The specifics of stand-up comedy

Creativity in general

Performing comedy

Editing

Writing 
He then defines the type of person who would get the most from this MasterClass. You don't need a special gift or talent (he never had it) but there is a quality that qualifies one for a place in show business when starting out:
If you watch someone on stage, do you think, "I wish I was up there"? 
Or if you're a writer and you watch a movie, do you say, "I could have written that"?
That's one qualification. Another is whether you're an introvert or not.
Many comedians start out as introverts and take to the stage in order to become something and get attention. Introverts suppress their subconscious desires and identities because they are shy but on stage you get to bring that out.
Having completed the entire Steve Martin MasterClass, I found that Steve's introduction massively undersells the course. I believe this is because he's a truly humble guy (you'll really like him more and more with every lesson) but allow me to dispense with the humility on Steve's behalf:
You will learn a ton about performing and writing comedy in the Steve Martin MasterClass.
I tried to binge through the 6-week course in just 2 weeks.
I don't recommend you do that. As I progressed through the course, I realised the MasterClass has a highly structured comedy syllabus and homework that requires you to take your time.
The course is set up so that you have a working comedy routine that you have tweaked, tested, perfected, and taken to the stage by the end.
I'm now going back over the course and currently following the homework schedules in the correct order and I'm getting a ton of value out of it.
Remember, I'm not a comedian.
If you already have experience on the circuit, you might be able to binge the course without detriment. But if you're a beginner or even an intermediate, my suggestion is that you follow the plan laid out and take 6 weeks to complete the MasterClass.
Week 1: getting started in comedy, what about comedy speaks to you, going where the action is, being so good they can't ignore you, talking about comedy, thinking about comedy all the time, gathering material, educating yourself, mining your friends for material, finding a vacuum you can fill, using what everyone's thinking, finding your comedic voice, liberating your individuality, tapping into your cultural perspective, characterising yourself, establishing a manifesto, defining your taste, developing a comedic persona, choosing who to be, imaging yourself at your best, exploring your worst quality, dressing the part.
Week 2: jokes and bits, making yourself the subject, establishing expectations and then twisting them, adding irony, thinking beyond punchlines, developing a bit from one idea, using old jokes in new contexts, going on and on and on and on, delivery, timing, speaking with your body, staying ahead of the audience, making it look spontaneous, crafting your act, using everything you've got, precision and creating movement, using every moment, creating unity through callbacks, giving your act meaning, not overstating your message, how to test new material incrementally, going with your best, workshopping a student's first stand-up act, discussing onstage identity.
Week 3: workshopping an up-and-coming comic's act, opening and closing your act, using your opening to set the tone, workshopping a student's opening, ending with purpose, how to button up your act, profanity and morality, foul material, identifying your morality, kind comedy, growing as a performer, developing a catalogue of material, how to rehearse onstage, giving yourself room to be bad, embracing your mistakes, taking the next step, building confidence.
Week 4: dealing with nerves, dealing with hecklers, the benefits of bombing, looking at the audience, dinner shows, a life in the arts, about rivalries, embracing the struggle, negative feedback, analysing comedy, artistry and the stage, creating characters, being a person, carrying simultaneous emotions, exploring the many faces of emotions, channelling your own weirdness, following quirks to characters.
Week 5: story techniques, working backwards from an idea, creating a basic structure, filling in the blanks, free writing, character dialogue tips, on clarity, enlisting the help of your subconscious, screenwriting case study with 'Roxanne', finding character through physicality, taking excursions from story, editing, the first draft, practice reading, cutting, objectivity, sparing the audience predictable scenes, leave in the refrigerator laughs, feedback sourcing tips.
Week 6: editing, student comedian sketch workshop, the audience as editor, writing case study with 'Meteor Shower', character inserts, Steve's comedic inspirations, early influences, physical comedy influences, Steve's journey, falling in love with performing, developing as a performer, experiencing success, learning to relax, bonus speech case study, starting with subject, location, and circumstance, testing material inconspicuously.
There is A LOT in this course.
That's just a basic overview of the Steve Martin MasterClass. There's a lot more in the form of in-depth long video classes and structured homework. 
This course is legit and the deeper you get into it, the more confident you become that you can put together a compelling and hilarious comedy routine.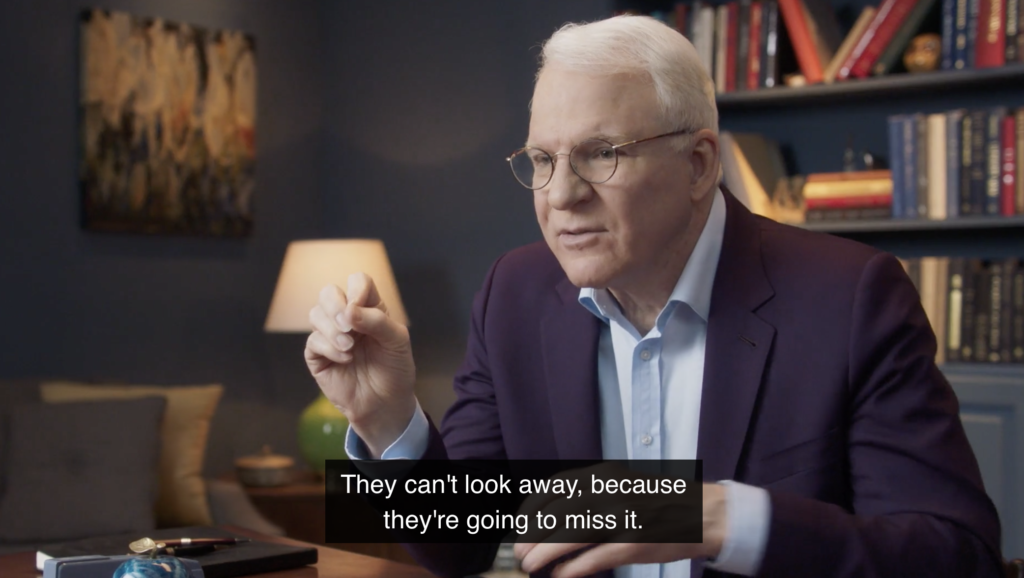 There really is so much in this MasterClass and the value comes with following it and putting everything into practice as you build your comedy routine and persona from the ground up so I find it hard to single out only a few factors that I loved. Nonetheless here are a few major things that stood out about this course:
Persona development is the foundation of the Steve Martin MasterClass
Everything in comedy extends from persona. So Steve focuses on creating a comedic persona and then branching out from there.
He begins with giving us a riveting exercise in creating our own comedy manifesto. This means defining who you are, what you talk about, how you talk, and exactly what kind of reaction you want from the audience.
This manifesto is a springboard for your entire act.
Steve's own comedy manifesto begins like this: I'm going to try to be really funny without telling jokes.
Steve goes into embracing your unique cultural group and niching down in order to go wide. 
He goes into labels and uses comedians like Chris Rock, Richard Pryor, Louis CK, Amy Schumer, and George Carlin as examples we can learn from.
You're creating an artistic image of yourself on stage determined by the things you put in, things you leave out, it's level of intellect (high or low), the use of language, everything is determining who you are as an artistic being on the stage.
Steve then goes into the topic of visualisation. I've been a fan of visualisation for a few years and find it extraordinary that someone who achieved his level of success used visualisation techniques throughout this career.
The value is when Steve Martin teaches jokes and bits
After the first week lays the foundation, the second week is where the Steve Martin MasterClass really takes off.
This is the nitty-gritty of joke-writing.
There is so much material, so much to dig into, and so much homework that you have already got your money's worth and there are still four weeks left in the course!
We analyse Steve's jokes and the jokes of other comedians. We look into misuse of language, how to reverse meaning with facial response alone, and go deep into the varieties of jokes – there are so many different kinds of jokes just like musical notes or ingredients in a recipe.
We study logical fallacies and how to draw false conclusions for comedic purpose. We go into irony and how to present social truths in a soft and comedic manner.
There's a great discussion on the nature of punchlines, which extends to a long meditation about whether a comedian can do an act completely without punchlines and what the effect of that would be. Steve talks about creating and diffusing tension in many different ways.
We go deep into nonsensical bits and 13 different comedic structures from double entendres, incongruity, and observation-recognition to compare and contrast and benign retaliation.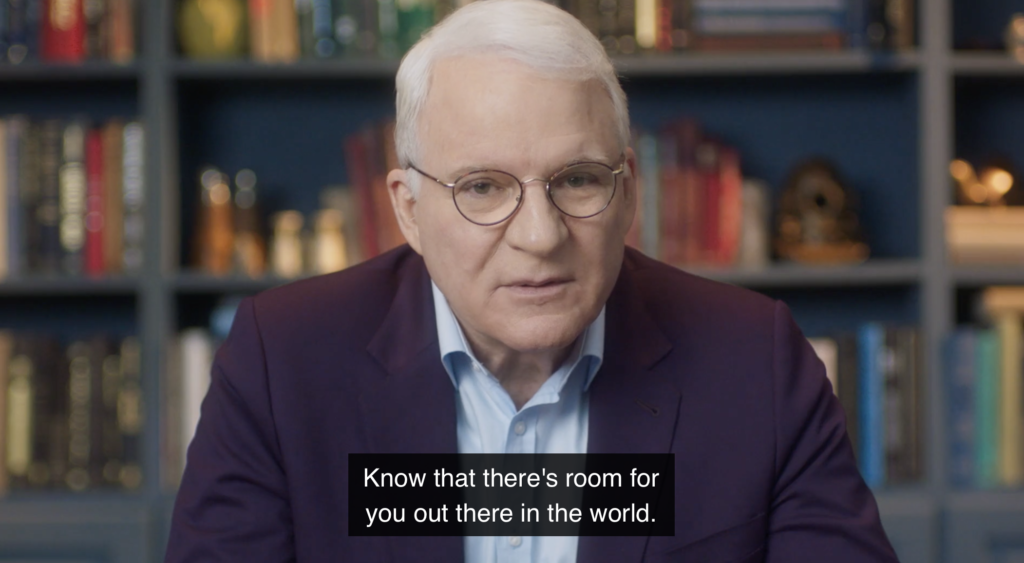 Delivery, pacing, timing – it's all here. 
We learn how to physicalise our comedy in many different ways and how to craft the "illusion of the first time".
I could go on and on about this MasterClass but the value is in engaging with it.
If you're determined to create a solid comedic persona and comedy routine – whether it's your first time or one-thousandth time – you are going to get a ton of value from Steve Martin's course.
Steve Martin gave me the confidence to take to the stage
Like I said, I'm heavily introverted.
I'm drawn to the stage – always have been – but the mere thought of standing up there alone and vulnerable and trying to make a room full of strangers laugh makes me feel like vomiting.
I got so much practical advice on how to craft jokes from Steve Martin but perhaps the most valuable thing I got from the course was a sympathetic mentor who understood what I was feeling.
You can tell, despite his exuberant stage persona, that Steve is an introverted, sensitive soul. He knows exactly the struggle that comedians are going through and even still gets nervous today.
Because he understands, Steve was consistently comforting and inspiring throughout the course.
When I enrolled in the MasterClass, I thought it would help me make a better comedy routine. But what it really has done is empowered me.
I'm still nervous about hitting the stage but now I'm also extremely excited.
I can't wait to test out my material.
The Steve Martin MasterClass provided so much value and I definitely recommend you check it out.
November 2017 Update: Now, for $180, you can get access to the entire MasterClass course library with the All Access Pass. This is a total non-brainer and incredible value for money. Just check out their line-up.